JARROD Cameron remembers the backyard battles with his brother Charlie.
He particularly remembers his older sibling getting the better of him on many occasions. It's why he's keen to square the ledger at AFL level at some stage in the future.
Jarrod, a 180cm forward out of Western Australia, is in a similar mould to Charlie – who has risen up the ranks to become one of the game's most exciting players at Brisbane.
He's quick, skilful, tackles with plenty of vigour and has a great goal sense that enables him to become a threat of hitting the target virtually any time he's within range.
NAB AFL DRAFT HUB Latest news, video and more
But while he doesn't quite have the leap of Charlie – who pulled down a Mark of the Year contender against Hawthorn earlier this season – he does have him covered elsewhere.
"He goes all right," Jarrod told AFL.com.au with a laugh.
"He's got more of the speed and the jump, but I've probably got him in some other skills."
PHANTOM FORM GUIDE Cal Twomey's latest update
Charlie, who is six years older than Jarrod, has quickly become one of the game's most watchable footballers. Claimed as a rookie by Adelaide, he played an integral part in its road to the 2017 Grand Final, before being granted a trade to Brisbane later that year.
Having seen his brother live through that experience has made Charlie a good source of advice for Jarrod throughout his draft year, often turning to him for some words of wisdom.
"He's just said to not take it for granted and make the most of it," Jarrod said.
"He said to not let it catch up on you, with the media stuff. But that hasn't bothered me.
"We try to avoid having footy chats, we just try and get away from that and chat about just the general stuff. He's been a good role model for me."
BEST OF THE BEST Combine's standout performers
Like his brother, Jarrod grew up in Queensland, playing rugby league until he was 16.
When he eventually made the transition into footy, players who Jarrod could aspire to replicate were few and far between. Charlie proved the perfect person to inspire him.
"With our backgrounds, going from rugby league to footy, I've basically tried to model my game on his and how he goes about it," Jarrod said.
"We didn't play much footy as kids. We played a few games together in the backyard, where he probably got the best of me, so I wouldn't mind playing against him again.
"I suppose there would be a bit of a rivalry there. If I ever played against him in the AFL, I'd probably have a good crack at him."
Jarrod Cameron in action at the NAB AFL Draft Combine. Picture: AFL Photos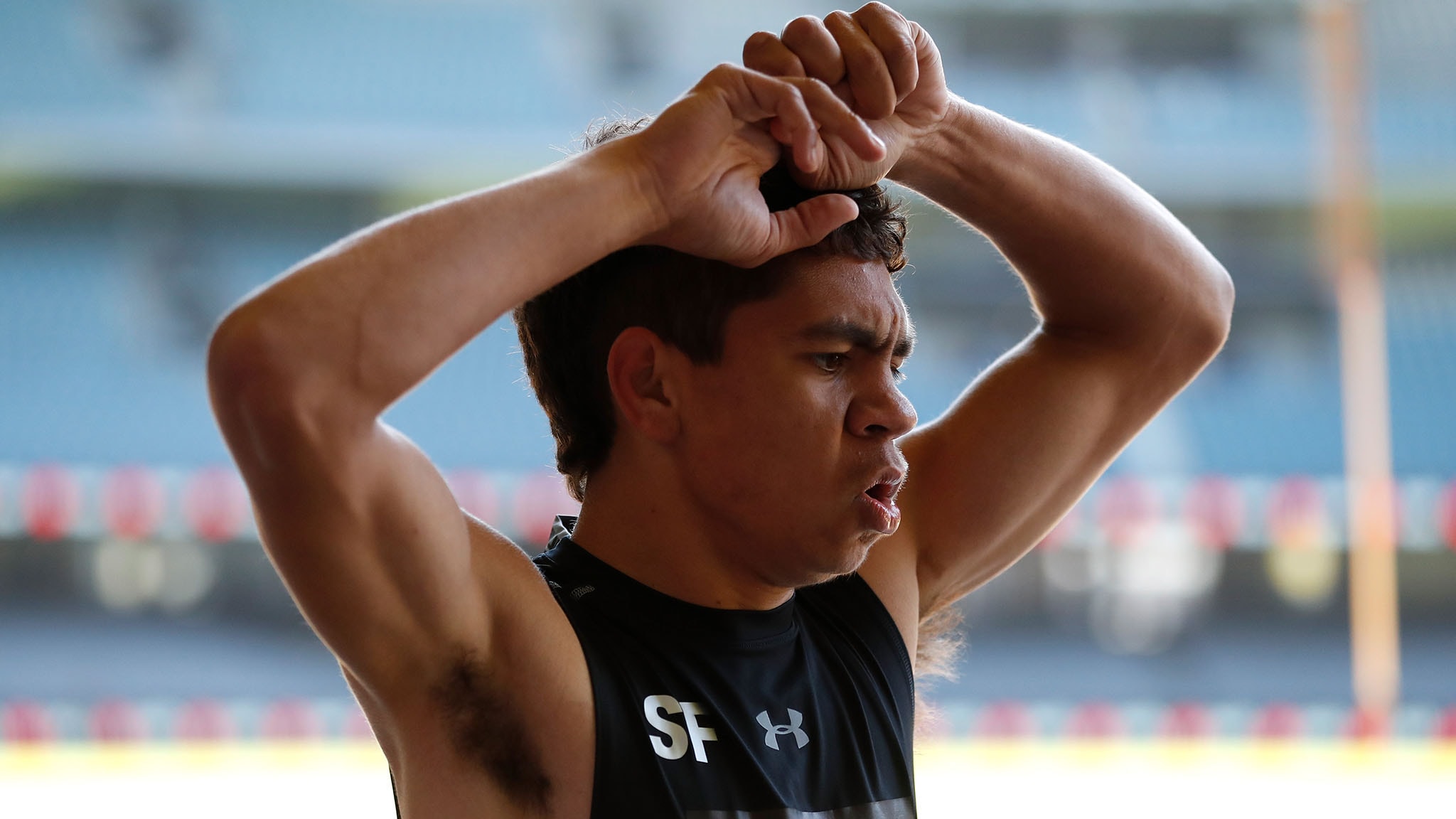 While Charlie is located on the other side of the country with the Lions, Jarrod's future looks destined to be in Western Australia – and, in particular, with the Eagles.
Jarrod is expected to be the first graduate of West Coast's Next Generation Academy program later this year, with the Eagles able to match any opposition bid on the talented small forward during next month's NAB AFL Draft.
He's trained with the senior team on several occasions throughout the year, particularly inspired by the work rate and tackling pressure of Jamie Cripps in their premiership side.
"One of the main strengths of my game is my tackling pressure and I think I've brought that across from rugby league to footy," Jarrod said.
"I try to look at 'Crippa' and how his work rate comes into the game. He works so hard, back and forward, so I try to watch how he goes about it.
"He's probably been one of the main ones I look at, as a high half-forward, so I watch the way he uses his pressure and stuff like that."
INDICATIVE DRAFT ORDER Your club's picks
Working within West Coast's elite program has made it a year of learning curves for Jarrod.
Having earned his senior Swan Districts debut in early August, the talented teenager then played a key role in helping their colts side reach the Grand Final late in the season.
He kicked four goals in their qualifying final victory over Peel Thunder, before booting another two goals to go with 11 disposals and four tackles in a narrow Grand Final loss to Subiaco.
But while playing senior footy in the WAFL was a unique experience for Jarrod, nothing could compare to training with West Coast and working alongside the game's best.
WHO'S LEAVING YOUR CLUB? All the latest retirements and delistings
But it was an Eagles coach in former 332-game player Drew Petrie who taught him the most.
"It was pretty eye-opening with how they go about it and their professionalism," Jarrod said.
"Compared to WAFL footy, they just speak different languages. It was a bit weird in there. I learnt a lot, especially with guys like Drew Petrie and being able to work with him.
"We'd do gym sessions together and we'd go to team meetings. You'd see how they'd go about it, then I was training one-on-one with Drew.
"It was great working with him and with his knowledge. He just told me to embrace it when I was in there and to try and make the most of it."