Taylor Adams – 7
In what was a seriously tight, contested game, Adams was in his element against his former side. Finished with 24 disposals playing through the midfield. Had a bad turnover to the wrong Langdon (Zac, rather than Tom) but otherwise went well.
James Aish – 5
There was a horror patch in the third quarter when Aish fumbled a loose ball in the forward line, missed a set shot and, not long afterwards, turned the football over on a wing with an errant handball. For the rest of the match though, he impressed with his tackling and found Mason Cox with a nice kick early.
Mason Cox – 5
After a quiet qualifying final against West Coast, Cox was far more involved on Saturday night. While Phil Davis ensured Cox took just three marks and didn't kick a goal, he created a contest whenever the football went in his direction. Pressured Jeremy Cameron well when the Giant thought he could run around the big American.

PIES FLYING HIGH Full match coverage and stats
Jack Crisp – 5
Not overly influential down back. There was an intercept mark in the third quarter, but the resulting turnover straight to Stephen Coniglio was a shocker and cost his side a goal. Helped set up De Goey's second and third goals though.
Jordan De Goey – 8
Spent the match as the deepest forward and, after an early injury concern, De Goey stood up when it counted. All his goals came at important times – one on the brink of half-time on his left, another in the third term and then again early in the last quarter. His gather and handball to Travis Varcoe in the final term was very important and created a goal as the Pies burst the game open.
PLAYER FOCUS De Goey delivers on big stage
Jordan De Goey's kicked a half-time buzzer beater before tensions boiled over after the siren.#AFLFinals pic.twitter.com/fPz8w8xYlT

— AFL (@AFL) September 15, 2018
Tyson Goldsack – 7
This man was absolutely desperate to return after a left knee reconstruction in March and is playing with that attitude. He crunched Dylan Shiel in a marking contest and did well while lined up against Jeremy Cameron for much of the night. A second-quarter one-one-one victory against Cameron in the goalsquare was important, while a kick-in that went out on the full early in the third term was regrettable.
Levi Greenwood – 4
Spent time on Brett Deledio and Zac Langdon. Had a huge clash with Lachie Whitfield in a marking contest, but made a couple of bad kicking errors, while a terrible handball in the third term wasn't capitalised on by GWS.
Brodie Grundy – 6
Not his most dominant performance but Grundy was good nevertheless. Put it on a platter at times early in the last quarter, while an early kick from the wing going inside to Taylor Adams was superb, particularly so for a ruckman.

NO KICKS FOR TOBY Five things we learned
Will Hoskin-Elliott – 6
Kicked the Pies' third goal of the night after marking a Zac Williams kick-in. Some of his aerial work was very impressive, particularly in the final quarter. Made the margin 15 points as the Pies broke clear in the final term with a snap that was massive for his side's fortunes.
Jeremy Howe – 6
The high-flier took his standard speccy in the second quarter over Harry Himmelberg, then tried to outdo himself with an attempt over Matt de Boer in the third, but couldn't hold on to it. It's easy to focus on the flashy stuff with Howe, his intent to impact in contested situations was impressive.
Another Howe hanger for the collection! #AFLFinals pic.twitter.com/kGsqMIBmn6

— AFL (@AFL) September 15, 2018
Tom Langdon – 6
There were a couple of shaky moments – a dropped mark early in the game and then not doing enough to stop Himmelberg winning the football and creating a Stephen Coniglio goal in the second term, but Langdon stood up late with his marking and held firm as the Giants came home hard.
Brayden Maynard – 9
Manning Toby Greene in a final at the MCG must be one of the scariest tasks for a defender to face, but Maynard was exceptional. Contest after contest he beat the classy Giant and kept him to nine disposals and zero goals. His performance was epitomised by a one-on-one in the final term, when Maynard didn't let Greene mark and helped the ball out-of-bounds. There was the occasional error with the football, but Maynard was otherwise superb.
Chris Mayne – 5
Spent most of the match on a wing and had 19 disposals without a great deal of influence. There was a shocking turnover at half-back, but the Giants weren't able to score.

WATCH Three moments that mattered
Brody Mihocek – 3
Pretty quiet up forward, although Mihocek nailed an opportunistic banana goal that was important in a low-scoring affair.
Brody's on the board with the banana!#AFLFinals pic.twitter.com/jVptXIeQd3

— AFL (@AFL) September 15, 2018
Scott Pendlebury – 8
Lifted after a quiet performance last week in the loss to West Coast. Showed good vision on a wing to find Phillips in the third term, and executed the handball well. A dropped mark under little pressure soon afterwards was surprising, but a right foot kick from defence to Crisp in the final term exemplified the captain's poise and smarts. Also laid 11 tackles.
Tom Phillips – 7
As he has done all season, Phillips ran hard all game on his way to winning 29 disposals. Finished with a couple of behinds, and although they weren't simple chances, the wastefulness in front of goal threatened to cost Collingwood.
Steele Sidebottom – 9
Putting together an excellent finals series after an excellent home and away season. Sidebottom's clean hands around the contest were evident, particularly early. He became a touch scrappy in the third term, but a left foot kick while running along the boundary in the fourth quarter to find Brody Grundy was simply outstanding, as was a huge late spoil.

It's been a big year for Steele Sidebottom. Picture: AFL Photos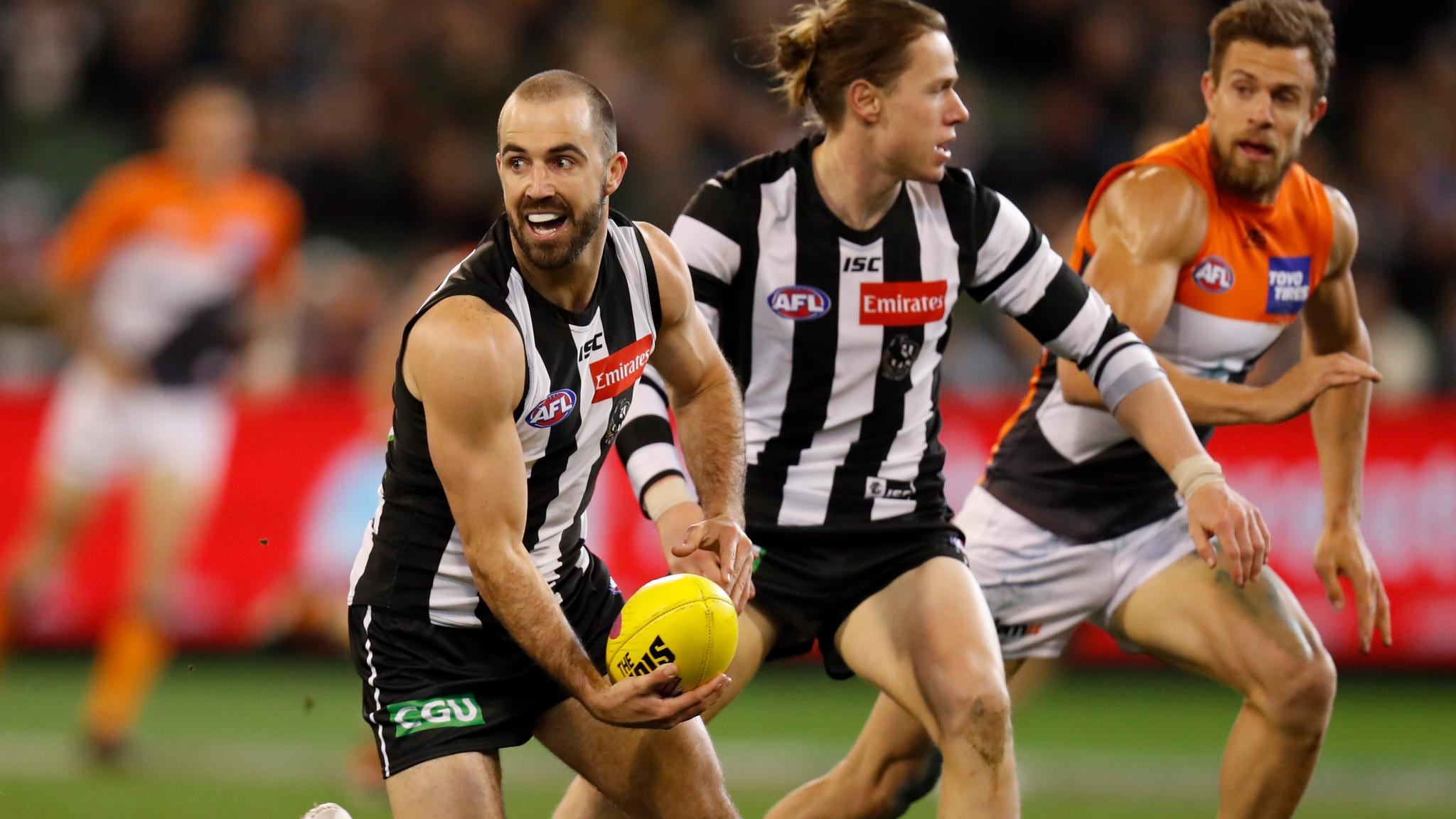 Brayden Sier – 6
Was awesome early, with nine disposals in the first quarter and showing a clean pair of hands, before a left thigh injury slowed him down. Finished with 19 disposals.
Jaidyn Stephenson – 3
The NAB AFL Rising Star winner has struggled to break loose in the finals so far. Missed a tough left foot snap and finished with 0.3.
Josh Thomas – 6
Had 15 disposals and didn't make his impact felt a great deal across half-forward, but to nail two goals in a clash where they were hard to come by meant Thomas did his job.
What a start from the Pies!

Josh Thomas the man with the major.#AFLFinals pic.twitter.com/vVjcsf34UG

— AFL (@AFL) September 15, 2018
Adam Treloar – 7
Since returning from his double hamstring injury, Treloar seems to have done more work on the inside. He collected 29 disposals against the Giants and was tough in the clinches. Missed a couple of shots, although none of his chances at goal were easy.
Travis Varcoe – 5
Very quiet for most of the game, but a goal on the run early in the last quarter to extend the margin to nine points in favour of the Pies was massive. Wrapped a far bigger man in former teammate Lachie Keeffe with a tackle after that to force a ball-up.
Travis Varcoe!

Perfect start for the Pies.#AFLFinals pic.twitter.com/fdU2MDOWhJ

— AFL (@AFL) September 15, 2018