THE 2017 Virgin Australia International Rules Series between Australian and Ireland starts in Adelaide this weekend.
Here, the AFL's national and international talent manager Kevin Sheehan, who has been involved in the IRS program as a team manager, selector and laws moderator since 1984, outlines 10 key facts about the hybrid game and its evolution.
1. FIFTY YEARS AGO…
This year marks the 50th anniversary of organised games between Australian and Irish footballers.
Kevin Sheehan: "In 1967, a group of VFL stars jetted off to challenge the All-Ireland champions from County Meath, at their own game. The players were household names: Ron Barassi, Bob Skilton, Alex Jesaulenko, Royce Hart and John Nicholls.
"Ex-umpire and media star Harry Beitzel was the one who made it happen. This was trailblazing stuff. Beitzel's vision and courage led to the formalised IRS concept we have today.
"There were plenty of critics in the media. They doubted the concept would ever work. The tourists were dubbed the 'Galahs'. But they played like champions and the Irish connection began."
2. TAKING SHAPE
After three tours by the Galahs (1967, 1968 and 1978), schoolboy groups headed to Ireland in 1981 and 1984, with the success of those trips paving the way for further development.
KS: "The schoolboy teams included emerging future AFL players in Garry Lyon, Stephen Silvagni, Ross Lyon and Steven Hocking. This led to the idea of Australia playing Ireland at senior level, with a set of rules combining the best features of Australian and Gaelic football.""
3. FUTURE LOCKED IN
The concept revived in 1998.
KS: "In April of that year, Ian Collins (the AFL's football operations boss) signed an agreement with the GAA to reintroduce the International Rules concept at senior level. The meeting followed a tour of Ireland by the Australian under-17 team, now known as the NAB AFL Academy. Later that year Wayne Carey led the Australian team against the Irish at Croke Park as the series was reestablished."
4. NOT ALWAYS A 'FRIENDLY' RIVALRY
IRS matches have for the most part been competitive, tough encounters. On several occasions, that competitiveness has spilled over.
KS: "Playing for your country certainly drives players' passion. We saw Chris Johnson lose his cool at Etihad Stadium in 2005. A year later Barry Hall dropped his knees into Tadhg Kennelly at the opening bounce at Croke Park in Dublin. They were teammates at Sydney – but it was on for young and old! Ireland walked off for 10 minutes in front of 80,000 people that day. Tadhg lead them back on the ground eventually."
5. THE CREAM ALWAYS RISES
IRS matches require players with specialised skills, so it's no surprise that some of the AFL's greatest players have also shone on the international stage.
KS: "I could reel off plenty of names, but these have been among the best: Dustin Fletcher, Stephen Silvagni, Paul Roos, James Hird, Shane Crawford, Nathan Brown and Nathan Buckley. Robert DiPierdomenico was already a huge personality before he played, but turned into an even bigger one after touring Ireland."
Craig Bradley, James Hird and Michael O'Loughlin at Croke Park in 2000. Picture: AFL Photos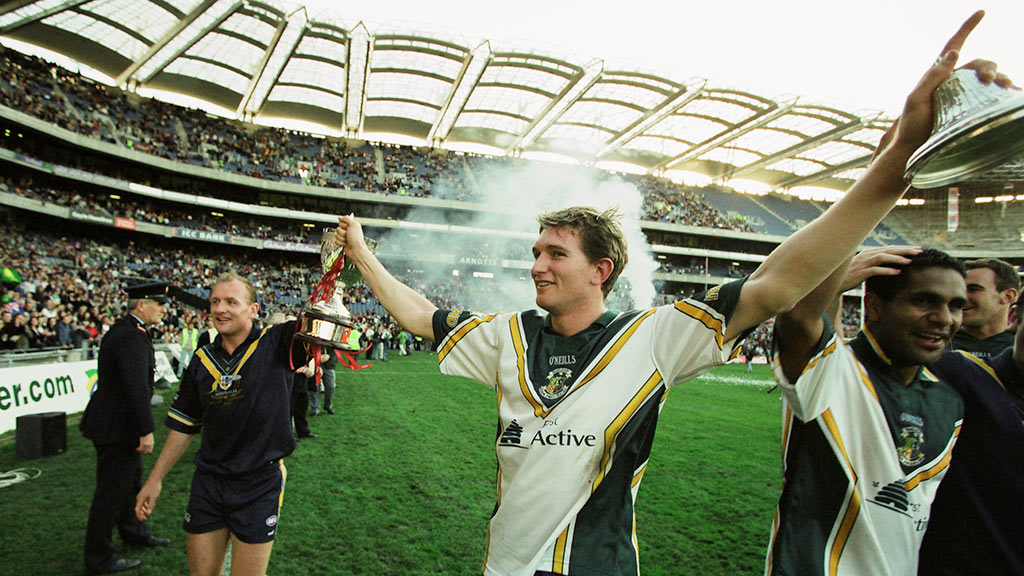 Australia's best ever International Rules side
6. SHOWCASING TWO UNIQUE CODES
The IRS has broader appeal than we might previously have known.
KS: "Australian and Gaelic football are indigenous games played predominantly in the respective countries. Over the years, however, we've learned that IRS matches have helped grow interest in the two codes, particularly among sports fans of Irish heritage living in places like New York and Boston in the United States who enjoy watching great athletes. The large Irish population on the east coast of the United States was one of the reasons we took the Australian team to New York in 2015 for a training camp before heading to Dublin for a Test. We're really keen to play a Test in New York in the near future."
7. LEADING THE WAY
A host of the Australian Football's most successful coaches have been in charge of Australian IRS teams: Ron Barassi, Neil Kerley, John Todd, Kevin Sheedy, David Parkin, Robert Walls, Mick Malthouse, Alastair Clarkson and Chris Scott.
KS: "To a man, they've spoken about how wonderful the experience was and how it made them even better coaches. 'Sheeds' summed it up: 'It's one of the greatest honours and thrills of my football life'."
8. THE IRISH CONNECTION
Irish-born players have made a significant impact on Australian Football.
KS: "Without some of the early work done, we might never have seen the likes of Sean Wright, Jimmy Stynes, Tadhg Kennelly, Pearce Hanley and Zac Tuohy. Over the past 30 or so years, the Irish have become a key part our game."
9. FROM STRUGGLER TO LEGEND
Jimmy Stynes' story is one the greatest in the game's rich history.
KS: "What a story of perseverance. What he achieved in winning a Brownlow Medal and becoming one of the game's toughest and most durable competitors is genuinely amazing. Jimmy was one of the true believers in the IRS concept. He represented both countries (Australia in 1997 and Ireland in 1990) and was an assistant coach for Australia. His impact on our game and the IRS was profound."
10. IT'S THE IRISH IN FRONT…
One thing is clear after 40 Tests between the two countries: the rivalry is real. Ireland has won 21 and Australia 17, with two ties.
KS: "The competitive nature of the Tests shows the concept works. Ireland had averaged 57 points per Test to Australia's 53. Some of the Tests have been unbelievably tight and compelling."