• Keep up with all the deals with the Trade Tracker
• All the latest trade and free agency news
• Indicative draft order: Keep up to date with all the picks
• Who's hanging up the boots? Keep track of 2017's retirements and delistings
Dockers sign off on hardline Weller position
GOLD Coast and Fremantle are poles apart on what it will take to make Lachie Weller a Sun, with the Dockers signing off on a club position that the 21-year-old will only be traded for a top-four draft selection.
The Dockers met with the Suns on Wednesday to clarify their position after a package of second-round picks was suggested as compensation for losing the contracted half-back.
As well as pick No.2, Gold Coast holds selections No.21, No.24 and No.26. It is understood the club has suggested packaging some or all of these picks together as part of a trade for Weller.
But Fremantle has told the Suns it would not accept a pick falling outside its own No.5 selection, ruling out St Kilda as a possible third party that could get involved with its picks No.7 and No.8.
Carlton holds pick No.3 and North Melbourne follows at pick No.4.
Still, there is significant ground to be made before a deal can be struck inside Thursday's 2pm AEDT deadline, with the Suns frustrated by what they believe is an unrealistic position from the Dockers.
Weller ramped up pressure on Fremantle on Wednesday to make a deal happen by appearing on NAB AFL Trade Radio, saying:
If a trade did not happen now he would play out the last season of his contract and then seek a move to the Suns
He had been encouraged by meeting new Suns coach Stuart Dew, CEO Mark Evans and co-captains Steven May and Tom Lynch
It was logical for the clubs to deal now and it would be "pretty silly" of the Dockers not to take the Suns' offer
He did not want to live in Perth long-term and was keen to move back to the Gold Coast, where his partner's family is based
Fremantle's preferred position is to retain Weller, but the club would grant him his wish if pick No.2 was offered, or if the Suns slid to pick No.3 or No.4 and passed that on.
It is understood Suns CEO Mark Evans has made a commitment to Weller and his management that the club will get the deal done.
Gibbs nearly a Crow
Carlton midfielder Bryce Gibbs was on the cusp of becoming an Adelaide player late on Wednesday afternoon before a sticking point arose before the official paperwork could be lodged.
It's understood the Crows had agreed to part with two first-round picks – pick No.10 and a future first-round pick (Adelaide holds both its own and Melbourne's) – for Gibbs, while the deal also included a future second-round selection or selections being exchanged.
It was around that secondary part of the deal where a misunderstanding was discovered, one that was sufficient to ensure Gibbs will remain in limbo into the final day of the Trade Period on Thursday.
How close did the deal get to being done?
Adelaide list manager Justin Reid arrived at AFL House shortly before 4pm AEDT on Wednesday, but after waiting in reception for nearly 30 minutes left without talking to a waiting media pack.
During that time there was no sign of Carlton list boss Stephen Silvagni or any Blues officials, and it became apparent soon after the clubs still had some work to do to consummate a deal.
Will Bryce get home?
Where the Crows baulked at offering the Blues two first-round picks for Gibbs in their doomed 2016 talks, they have met the costliest part of Carlton's asking price this year.
In theory, sorting out a later pick exchange should not be too hard before Thursday's 2pm AEDT deadline.
But relations between the Crows and Blues were strained during last year's Trade Period, and Wednesday afternoon's misstep caused temperatures to rise on both sides.
But both clubs have too much to lose to let the deal slip: the Crows a classy midfielder who can bolster their 2018 premiership quest; the Blues an array of picks that, among things, would help them snare young midfield targets Matthew Kennedy (Greater Western Sydney) and Darcy Lang (Geelong).
Bryce Gibbs (right) is keen on getting closer to Eddie Betts. Picture: AFL Photos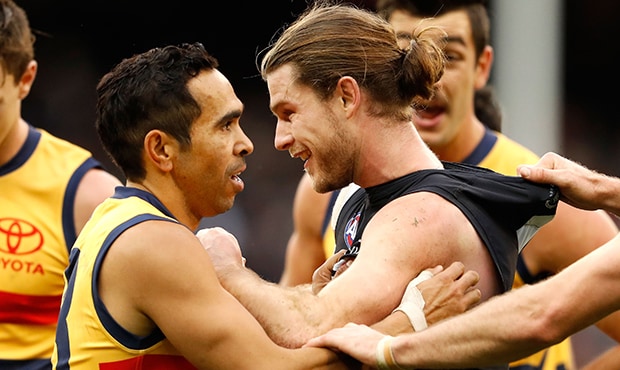 Suns looking at pick for Ablett
Gold Coast had wanted a Geelong player in return for Gary Ablett, but Cat Darcy Lang's decision on Wednesday to pursue a trade to Carlton effectively put an end to that bid.
The Suns are now targeting a pick for Ablett, but accept the Cats' first two picks, Nos.19 and 22, are out of bounds.
Geelong's next pick, No.35, shapes as a likely return, and should get the deal done.
Can the Suns still recoup Ablett's front-ended payments?
As part of the trade, the Suns had been seeking the return of money effectively paid in advance to Ablett in the first two seasons of his heavily front-ended three-year deal.
If Gold Coast had secured a Cats player, it would have required Geelong to pay his salary up to about $300,000.
But without a Geelong player crossing to Metricon Stadium, the Suns can't recoup any of this money through the Cats.
Fortunately for the Suns, Ablett, as previously reported, is prepared to dip into his own pocket in this regard, and is expected to do so by forgoing his remaining salary payments and bonuses at the club.
Gary Ablett looks set to get his desired return to Geelong. Picture: AFL Photos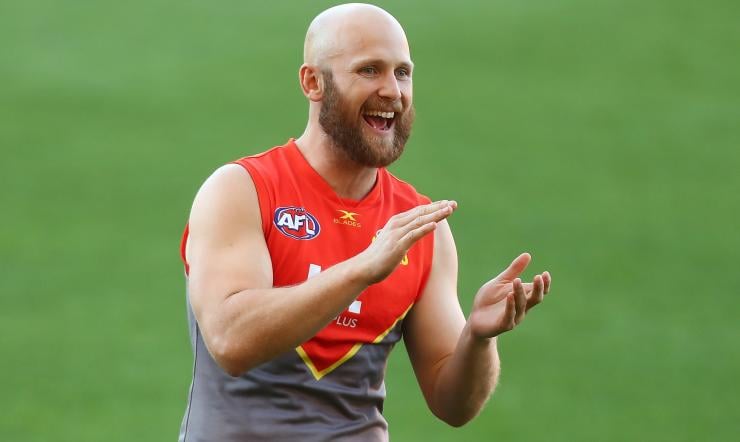 Stringer in limbo
The Western Bulldogs' attempts to turn picks No.25 and No.30 into West Coast's first-round selection fell short on Wednesday.
Failing a deadline-day change of heart from the Eagles, who have so far refused to relinquish their pick No.13, the Bulldogs face the likelihood of accepting two second-round picks for Jake Stringer or holding onto the 23-year-old.
Picks No.25 and No.30 are the Bombers' final offer for Stringer, and they have left the Bulldogs to find a solution to the current deadlock.
Stringer flew out of Melbourne to the US on Monday, telling reporters he would not return to the Kennel in 2018.
Jake Stringer insists he won't be back at the Western Bulldogs in 2018. Picture: AFL Photos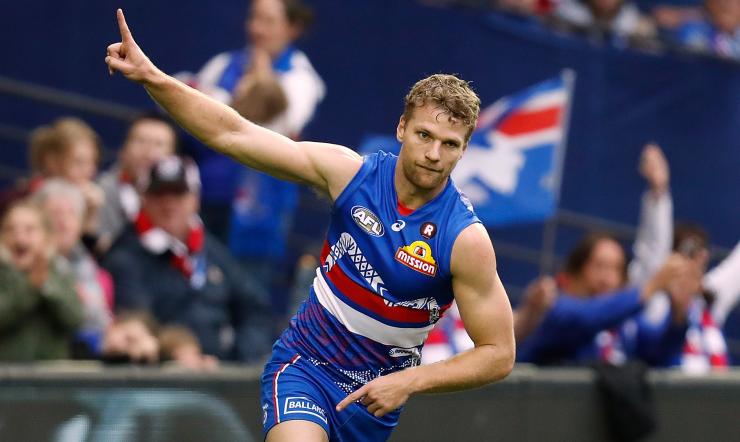 Crow speedster in a hurry to get to Queensland
Charlie Cameron was forced to reaffirm his wish to be traded to the Brisbane Lions on Wednesday after speculation he had been convinced to see out his 2018 contract with Adelaide.
His manager, Andrew McDougall, told AFL.com.au on Wednesday night: "Charlie is 100 per cent committed to living in Queensland and again today has told Adelaide he wishes to be traded to the Lions".
The Lions have offered the Crows pick No.20 in exchange for Cameron, but the Crows have refused to engage in negotiations.
There is hope in the Cameron camp that a deal sending Bryce Gibbs to Adelaide will convince the Crows to release their contracted forward for a draft pick.
Charlie Cameron still has his heart set on the Lions. Picture: AFL Photos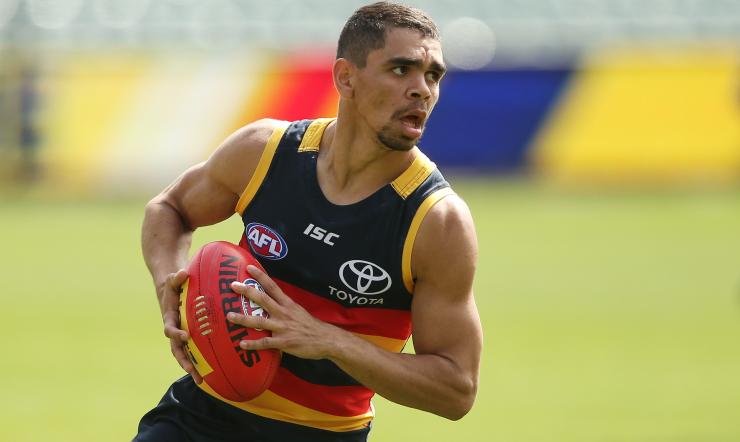 What else you need to know
GWS defender Nathan Wilson will be traded to Fremantle on Thursday, but the clubs are still haggling over the deal. The Giants are keen to see how the Dockers' negotiations with Gold Coast over Weller play out and what picks Fremantle is left with. Fremantle's offer is a future second-round pick, but the Giants are holding out for something more.
The Giants are hopeful a trade will be facilitated sending Matt Kennedy to Carlton on Thursday for a pick inside the top 30. GWS is hopeful a suitable pick will become available to the Blues following the Bryce Gibbs trade.
But wait, there's even more
In addition to the big names above, former Hawthorn captain Luke Hodge's impending move to the Brisbane Lions is still to be finalised, as is Gold Coast small forward Brandon Matera's long-mooted move to Fremantle.
Swans rookie Sam Murray is expected to get to Collingwood, while Port Adelaide ruckman Matthew Lobbe has been linked to Carlton after earlier interest from the Lions and Suns appeared to fizzle. However, his Power teammate Aaron Young should end up at Gold Coast to boost the Suns' forward depth.
There's also a host of gettable players who teams could make late plays for before Thursday's 2pm AEDT deadline, chiefly Josh Schache, Aaron Francis, Anthony Miles, Billy Hartung, Trent McKenzie and Matt Shaw.
And clubs are expecting a flurry of pick swaps on the last day, although some believe the top nine selections in the draft are unlikely to change hands.
Want more trade news?
• Giants holding firm on Wilson price
• Trade drama: Gibbs to Crows deal hits a snag
• Dockers 'pretty silly' not to accept Suns' offer
• Suns pounce to trade for versatile Crow
• Pies eyeing 'top-of-the-tree' Sun, admits Walsh