THE COUNTRY'S best junior female players will be aiming to impress coaches and recruiters from the eight AFL Women's teams when the NAB AFL Women's Under-18 Championships start in Adelaide on Friday evening.
This year's carnival will be played over two rounds, with eight states and territories competing in round one, from May 12-June 17. Northern Territory, South Australia and Tasmania will play in a tri-series during round one, with the best players from matches involving those three teams then selected to play for an Allies team in round two, which will feature six teams.
Round two runs from July 10-14, with six teams playing three games over five days. The new format is expected to enhance player welfare and provide players a broader football educational experience.
Many of the players involved in this year's championships will be eligible to be drafted by AFLW clubs in October. Players to watch include:
Alyce Parker, Haneen Zreika and Jordan Jolliffe (NSW/ACT)
Arthurina Moreen, Calista Boyd and Danielle Ponter (NT)
Ruby Blair, Arianna Clarke and Gabby Collingwood (QLD)
Chloe Scheer, Brianna Walling and Katelyn Rosenzweig (SA)
Courtney Webb, Daria Bannister (TAS)
Darcy Guttridge and Jordyn Allen (VIC COUNTRY)
Monique Conti and Madison Prespakis (VIC METRO)
Sonia Dorizzi, Courtney Hodder and Tayla McAuliffe (WA)
Queensland's Ruby Blair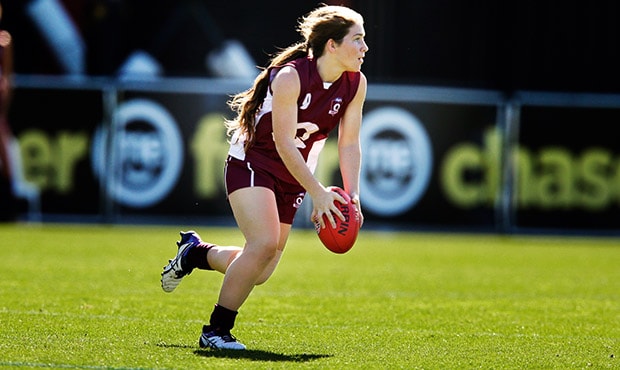 NAB AFL WOMEN'S UNDER-18 CHAMPIONSHIPS
ROUNE ONE
6pm Friday, May 12
Tasmania v South Australia
City Mazda Oval
4.35pm Saturday, May 13
South Australia v Northern Territory
Adelaide Oval (curtain-raiser to Adelaide v Melbourne AFL match)
10am Sunday, May 14
Northern Territory v Tasmania
City Mazda Oval
6.30pm Friday, May 19
NSW/ACT v Queensland
Blacktown International Sportspark
2.30pm Saturday, May 20
Western Australia v NSW/ACT
Blacktown International Sportspark
11am Sunday, May 21
Queensland v Western Australia
Blacktown International Sportspark
2.30pm Saturday, June 17
Vic Country v Vic Metro
Simonds Stadium
Vic Metro's Madison Prespakis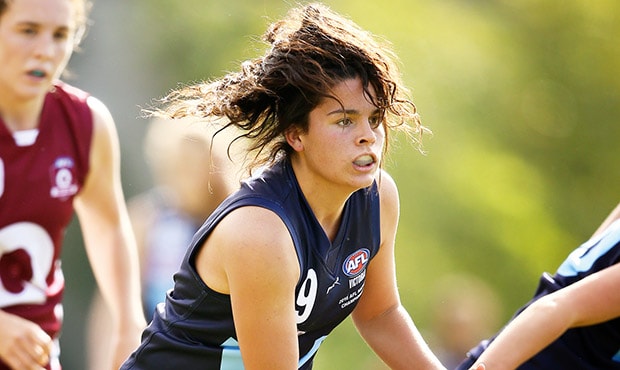 ROUND TWO
Monday, July 10
10am Queensland v Vic Country
11.40am Allies v NSW/ACT
1.30pm Vic Metro v Western Australia
Bond University
Wednesday, July 12
10am Queensland v Vic Metro
11.40am Vic Country v NSW/ACT
1.30pm Western Australia v Allies
Broadbeach Football Club
Friday, July 14
10am Vic Metro v NSW/ACT
11.40am Vic Country v Western Australia
1.30pm Allies v Queensland
Broadbeach Football Club
VENUES
City Mazda Oval Milner Road, Richmond, South Australia
Adelaide Oval War Memorial Drive, North Adelaide, South Australia
Blacktown International Sportspark Eastern Road, Rooty Hill, NSW
Simonds Stadium Moorabool Street, South Geelong, Victoria
Bond University University Drive, Robina, Queensland
Broadbeach Football Club Dunlop Court, Mermaid Waters, Queensland
Go to aflcommunity.com.au for full scores and to afl.com.au/womens for news and updates. All matches will be streamed live on the AFL Women's YouTube channel.