MELBOURNE'S drought-busting 2018 campaign was a key driver in ex-Docker Ed Langdon's decision to join the Demons despite their struggles this year.
Langdon and fellow recruit Adam Tomlinson are set to be Melbourne's new wing combination and were at Gosch's Paddock on Monday for the official first day of pre-season.
>> The 2019 NAB AFL Draft runs from November 27-28. Follow all the latest news in the draft hub
Most Demons took part in a staggered 3km time trial in small groups around the Tan but Tomlinson and Charlie Spargo, who had a moonboot on his right leg, were among those who skipped it.
A group of Demons run the Tan.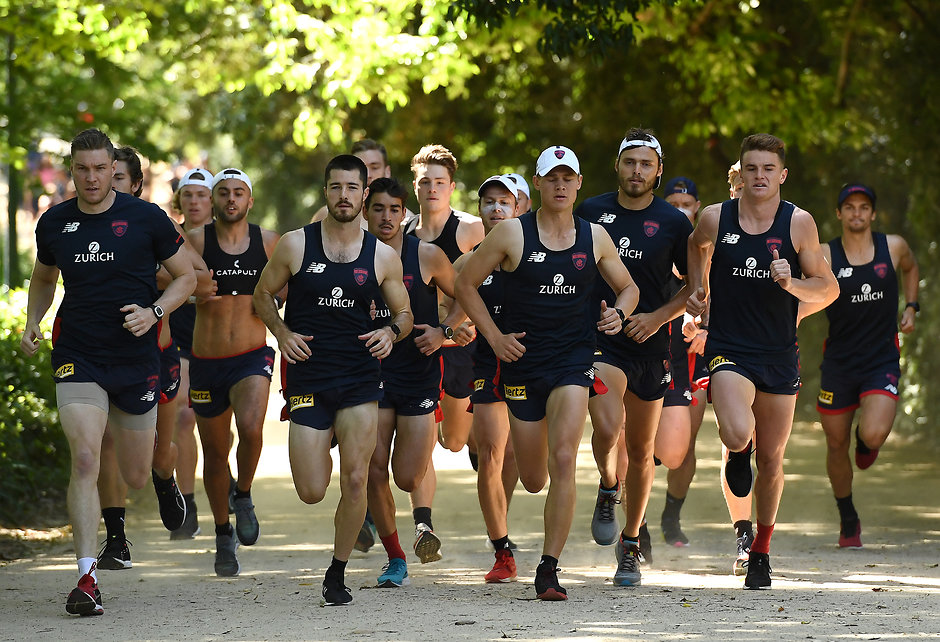 It was a far cry from this time last year, when Melbourne's list was demolished from 17 post-season surgeries.
Tom McDonald, Jake Lever, Neville Jetta, Sam Weideman, Aaron vandenBerg and Aaron Nietschke, after having his first season wiped out by an ACL setback, took part in training to varying degrees.
Langdon arrives after consecutive top-five placings in Fremantle's best and fairest award, including averaging a career-high 25 disposals in 2019.
He played in the same Sandringham Dragons team that produced Christian Petracca and Angus Brayshaw, so he already has some familiarity with the Demons' line-up.
Giant Tommy Sheridan, a mutual friend of Langdon and Tomlinson, has also played a role in the new duo coming together.
Nibbler takes it out.

⏱ 3km time trial

The Tan pic.twitter.com/sqjhxnkvWi

— Melbourne FC (@melbournefc) November 18, 2019
"It's been a long time coming to move back to Melbourne and being at a big Melbourne club, so it's really exciting to get underway," Langdon said.
"I wanted to be at a big Melbourne club; mum and dad live across the road; my brother (Magpie Tom Langdon)'s obviously next door; and I knew I'd be living in the city.
"Plus, the way the Demons played two years ago was unbelievable and just to be part of that again this year, hopefully, is an exciting prospect."
Steven May (right) gives Petracca a hug.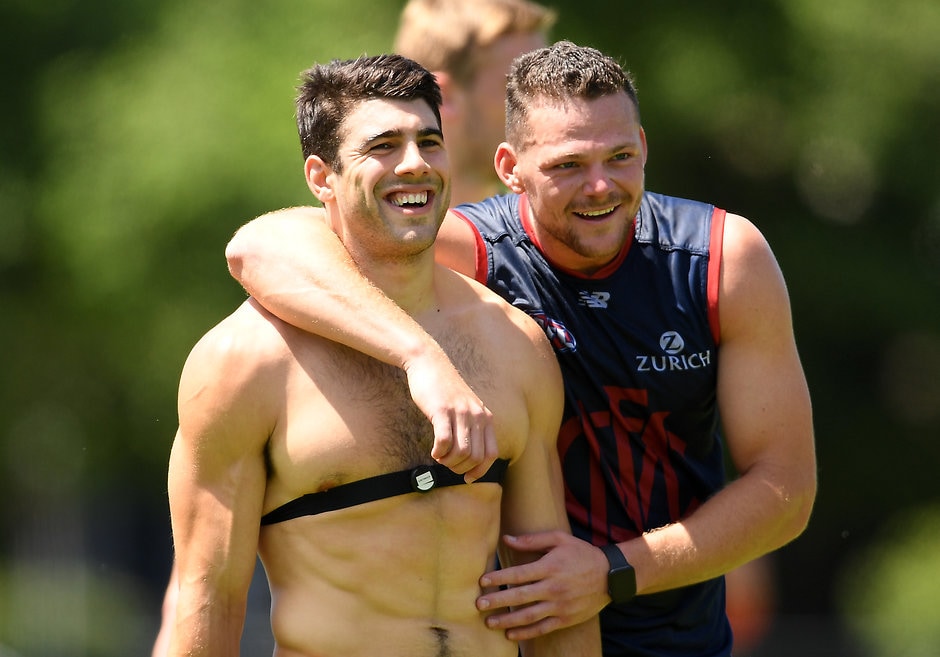 There was no hiding from Melbourne's difficult 2019 campaign, with team leaders and coaches addressing the second-from-bottom finish at the start of the session.
"I wasn't here for that but the way the boys spoke about that this morning; it obviously hurt them and cut them pretty deep," Langdon said.
"I think everyone's pretty keen to put that year behind us and move onto next season.
INDICATIVE DRAFT ORDER Your club's latest picks
"Team goals would certainly, I imagine, be to get back to finals. I imagine it was pretty hard to go from a top-four finish to a bottom-four finish.
"Personally, if I can just continue to do what I was doing over at Freo, then I'll be pretty happy if I can help the team."
Langdon in full stride during training.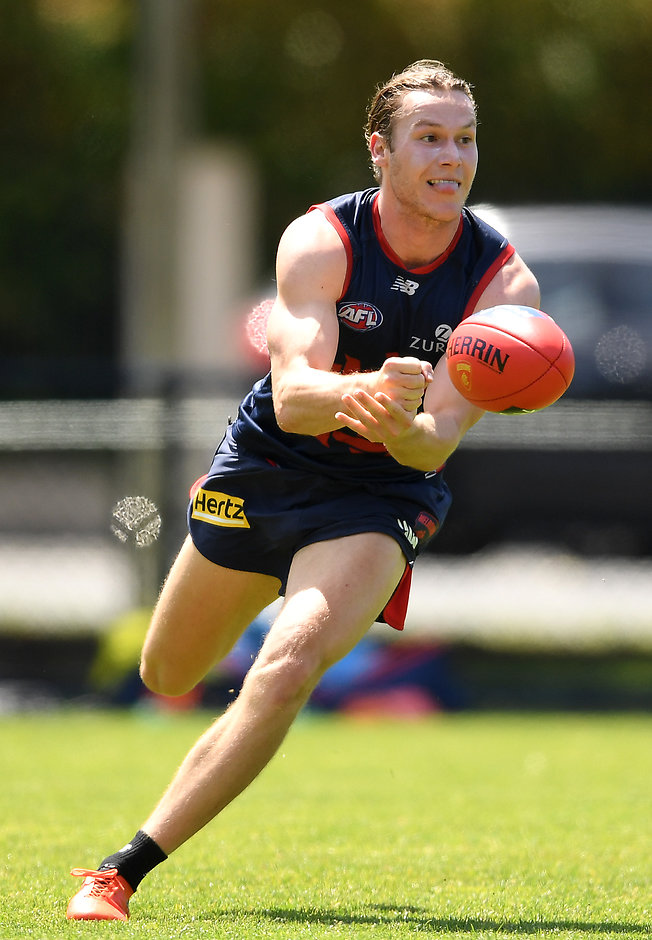 Langdon identified how he used the ball as an area he needed to improve, an issue that also plagued the Demons for much of last season.
However, the 23-year-old said he wouldn't "be trying to reinvent the wheel", believing his approach had worked well for him out west.
Langdon is looking forward to renewing acquaintances with former Dockers teammate Harley Bennell, who will start training with Melbourne in December in a bid to earn a contract.
Sam Weideman keeps his eyes on the ball.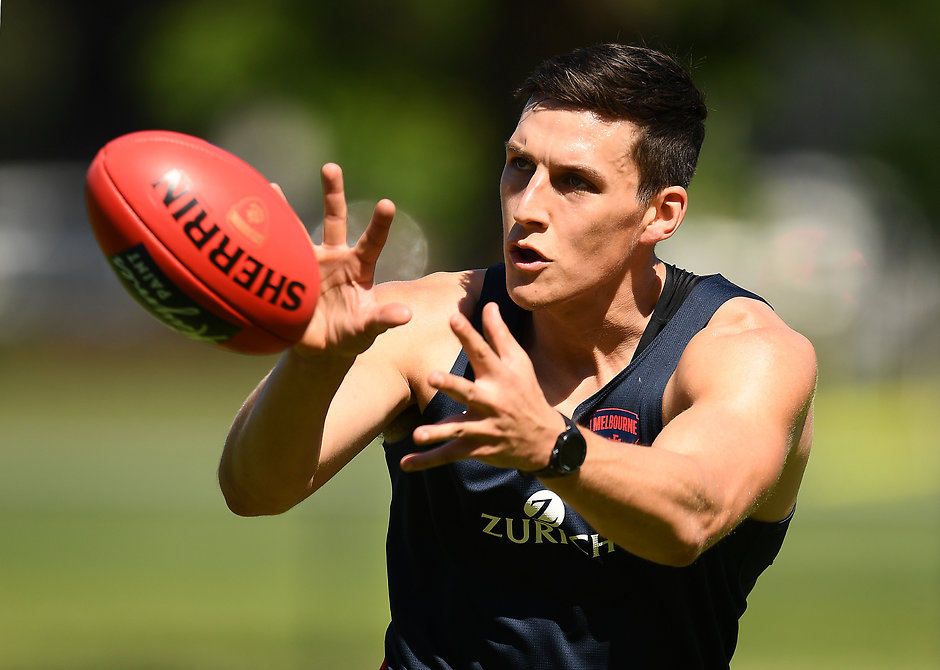 "I've spoken to Harley a bit and that's really exciting – I couldn't be happier for him," Langdon said.
"He texted me saying he might be here in a couple of weeks. It's great, and I think it's unbelievable for Harley.
"It's a great opportunity for him and hopefully he can get his body right, because we obviously all know how good of a player he is, so it's really exciting."