THE 2019 NAB AFL Draft is here.

Not quite up to date with the who's who of this year's draft pool? Want to know how you can follow the coverage of the AFL's player lottery?
We've got you covered every step of the way. >> ONE-STOP SHOP Follow all the latest news in the draft hub
Draft Night LIVE
Not a subscriber? For the first time ever, Cal Twomey, Nat Edwards, Mitch Cleary and Riley Beveridge will bring you Draft Night Live on AFL.com.au and the AFL Live Official App on day one of the 2019 NAB AFL Draft.
You can stay up to date with everything that's happening with in-depth analysis of the players and a step ahead of the decision-making in the draft rooms with Cal's unparalleled knowledge of what the clubs are thinking.
We'll also bring you interviews with some of the young players who are fresh off realising their childhood dream of becoming an AFL player. Watch Draft Night LIVE from 6.30pm AEDT.
CAL TWOMEY'S 2019 PHANTOM DRAFT Top 30, your club's whispers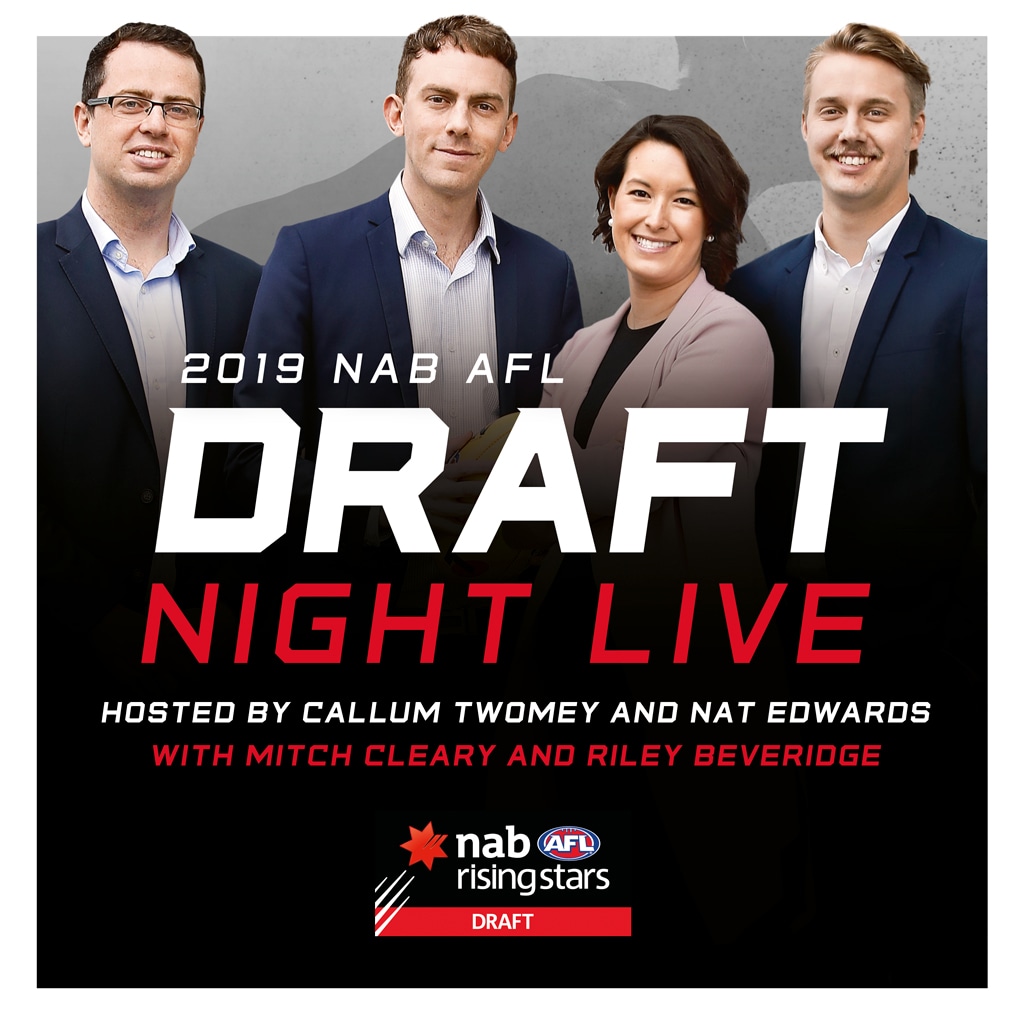 Draft Night Countdown
Callum Twomey, Riley Beveridge and Mitch Cleary will bring you all the build-up to the NAB AFL Draft from 2pm AEDT on Wednesday, November 27 on AFL.com.au and the AFL Live Official App.
Guests will include Geelong master list manager Stephen Wells, Fremantle's new coach Justin Longmuir, Brisbane recruiting manager Stephen Conole, player managers, draft hopefuls, plus the parents of the putative No.1 and 2 draft picks Matt Rowell and Noah Anderson.

THE WEDNESDAY LINE-UP
14.15pm: Geelong list manager Stephen Wells
14.30: Draft guns Lachie Ash and Dylan Stephens
14.40: Fremantle coach Justin Longmuir
15.03: Brisbane recruiting manager Steve Conole
15.20: Player manager David Trotter
15.45: Player manager Jason Dover
16.00: Player manager Robbie D'Orazio
16.30: Port Adelaide football manager Chris Davies
Kevin 'Shifter' Sheehan's Draft Countdown
Would you rather Buddy or Pendles? What about Pav or the Bont?

Kevin 'Shifter' Sheehan goes through each pick in the top 15 to find the best selection in history in his draft countdown on AFL.com.au and the AFL Live Official App.
Shifter's Draft Countdown starts from 5pm AEDT on Wednesday, November 27.
Find Road to the Draft on Apple Podcasts, Google Podcasts and Spotify.
Fox Footy's NAB AFL Draft Show
Catch all the action as it unfolds as Sarah Jones, Tom Morris and Sarah Olle spearhead Fox Footy's live draft coverage over two massive days.
Junior talent gurus Kevin Sheehan and Mick Ablett will also cast their expert eye over the talent pool as each pick happens.
And if you're a Telstra Official AFL Live Pass subscriber, you'll be able to watch every second of Fox Footy's coverage on Wednesday and Thursday on the AFL Live Official App.

Draft Tracker
Follow every pick as as it happens via our Draft Tracker, which features video highlights, stats and bios for every player taken on Wednesday and Thursday.
So even if you can't watch the draft live, you'll have access to information you won't find anywhere else.

Then, once it's all over, Cal Twomey and Riley Beveridge will have the club-by-club wraps so you can familiarise yourself with each player your team drafted and what needs they'll fill.

100-PLUS PROFILES Get to know the top players ahead of the NAB AFL Draft