RICHMOND looked north for its draft haul on the second night of the NAB AFL Draft, taking two cubs right out of the Lions' den with consecutive picks. 
The Tigers weren't content with that move, also adding the athletic but raw St Kilda Next Generation Academy defender Bigoa Nyuon after the Saints decided against matching pick No. 54. 
Earlier, Richmond successfully placed bids on two Brisbane Academy players, with the northern club choosing not to match on selections for Noah Cumberland (pick 43) and Will Martyn (44). 
Noah Cumberland has joined Richmond.
National recruiting manager Matthew Clarke said the club had no qualms about bidding on Academy players.
"Why not? That's what we're paid to do," Clarke said.
"We never sit at the start of the night planning to bid on a player, we have a ranking and if they come up at our picks and they're still available, we're paid to pick the best players for the Richmond footy club.
"If they're our picks, we bid, and if it's matched, we go to the next one on the board. It's pretty clear-cut for us."
Clarke did admit he didn't expect all three bid selections to pass through unmatched.
"Maybe we rated them a bit higher than the others, that's fine."
Medium pressure-forward Cumberland is from Maroochydore, while classy midfielder Will Martyn – from Aspley – won Brisbane academy's MVP. 
The Lions seriously considered matching the bids, taking nearly their full allotment of five minutes each time, but ultimately the Tigers won through.
TIGERS' DRAFT HAUL Highlights and bios of Richmond's newest players
Cumberland, who has developed his midfield game in recent years, was a strong player for the Lions' academy side which played a series of games against NAB League teams. 
The clean Martyn's biggest strengths are his elite hands out of packs and strong vision, setting up teammates well from the middle of packs. 
EVERY PLAYER, EVERY FACT All you need to know about this year's draftees
The pair also represented the Allies during the NAB AFL Under-18 Championships. 
Clarke said Nyuon, nicknamed 'Biggy', could play a variety of positions.
"Biggy's a great athlete. He's a pretty good footballer, but he's a great athlete. He's got really good speed, great vertical (jump), fantastic agility and he's got really good endurance.
"He's a multiple-package, so he's got real potential."
The Tigers also landed Sandringham Dragon Hugo Ralphsmith, an athletic midfielder who slid somewhat to pick No. 45. 
Hugo Ralphsmith in action at the NAB AFL Draft Combine.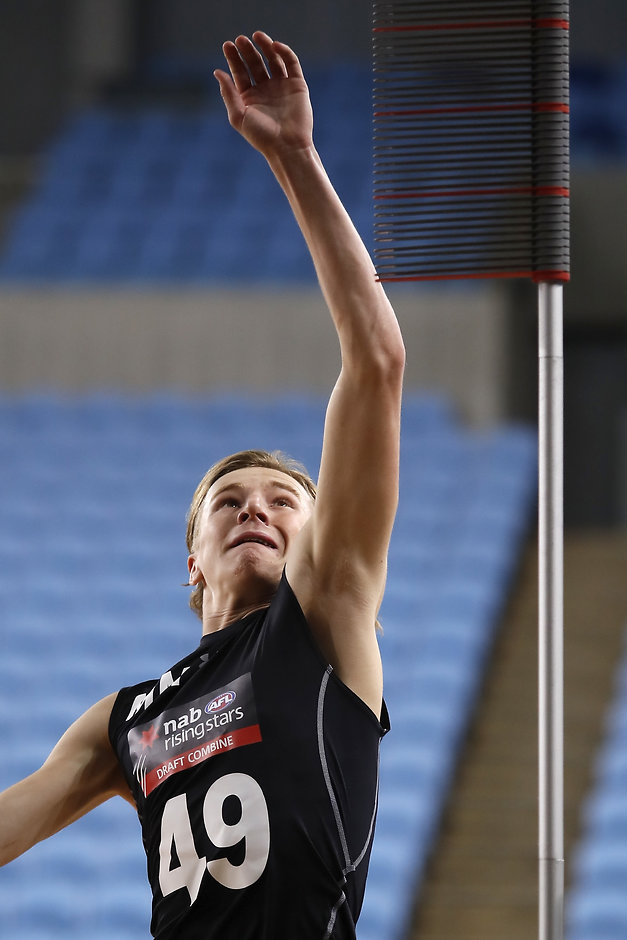 The elite runner is a strong overhead mark who can also find the goals.
Richmond came into the second night of the draft having selected lively midfielder Thomson Dow with pick No.21 in the opening portion.
Thomson Dow in his new Tigers polo.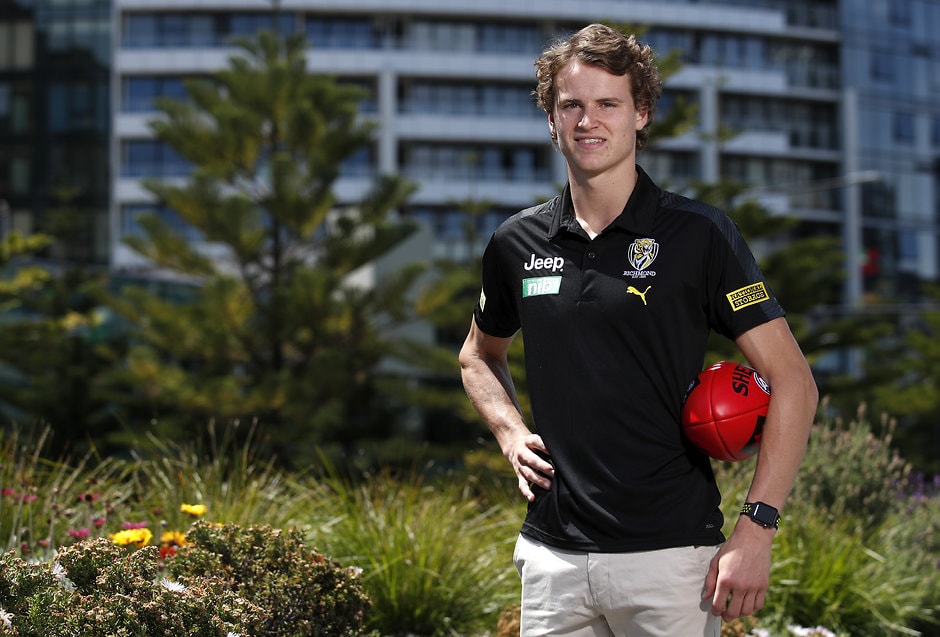 They had been keen on speedster Sam Philp, before a pick swap between Port Adelaide and Carlton saw the Blues swoop with pick No. 20.
"We rated Thompson higher, we were really happy to have Thompson fall where he fell. We think he's a really exciting player, a really exciting person from a great family, so we're rapt to get him."