• Eight burning questions about the bans
• What the Dons' round one team could look like
• Timeline: Three years of turmoil for Essendon
• Where are the Essendon 34 now?

ON TUESDAY morning, 34 past and present Essendon players were found guilty of taking banned substance Thymosin Beta-4 during the 2012 season. 
The Switzerland-based Court of Arbitration for Sport delivered its verdict, with Essendon confirming the players had been suspended for the 2016 season. 
In March, the AFL Anti-Doping Tribunal found insufficient evidence to declare the players guilty of doping offences, with that judgement appealed by the World Anti-Doping Authority. 
On Tuesday, CAS found the players guilty.
We look back at the major moments from the almost three-year-long saga.
February 5, 2013 – The drama begins
Following weeks of speculation, Bombers coach James Hird, CEO Ian Robson and chairman David Evans contact the AFL and Australian Sports Anti-Doping Authority (ASADA) to launch an immediate investigation into supplement use at the club.
February 11, 2013 – Dank speaks
Stephen Dank, the man at the centre of the scandal, speaks publicly for the first time, saying Hird was aware of the supplements program. Dank, a biochemist, told ABC television's 7.30 there was no intravenous application of peptides and that any peptides within formulations given to players were "very, very legal" under the WADA code.
February 27, 2013 – Dons commission independent review
Evans announces the club will launch an independent and external review of its "irregular practices" from 2012. The commissioned review is to be headed by former Telstra chief executive Dr Ziggy Switkowski.
April 12, 2013 – Hird's warning to medical staff
Essendon continues its unbeaten start to the season with an emotion-charged comeback win over Fremantle at Patersons Stadium. In the preceding days Dank claimed Hird had used supplements at the club last year. Emails revealed Hird had instructed the high-performance team at the club to not cross the line with its supplement program.
May 6, 2013 – Independent report findings
Switkowski's review is released, revealing "a disturbing picture of a pharmacologically experimental environment never adequately controlled or challenged or documented within the club". The report shows a lack of internal governance, practices and procedures. It highlights a disconnect between the responsibilities of former football manager Paul Hamilton and current one Danny Corcoran.
June 24, 2013 – Watson admits to taking AOD-9604
Captain Jobe Watson admits on Fox Footy's On the Couch he was given the anti-obesity drug AOD-9604. The World Anti-Doping Authority (WADA) had said in April the drug was banned, although the Australian Crime Commission (ACC) report was less than clear.
July 27, 2013 – Evans resigns
Following a Friday night loss to Hawthorn, Evans drops a bombshell the next day and quits, handing power to Paul Little. 
August 13, 2013 – Charges laid by AFL
The AFL charges Hird, doctor Bruce Reid, football boss Danny Corcoran, assistant coach Mark Thompson and the Essendon Football Club with bringing the game into disrepute.
August 27, 2013 – Penalties handed down
The AFL hands down its punishment. Essendon is excluded from the 2013 finals, Hird is suspended for 12 months, the club fined $2 million and stripped of its first two draft picks for the 2013 draft and a second-round pick in 2014. Corcoran is banned for six months (two months suspended), and Thompson is fined $30,000.
Paul Little took over as chairman after David Evans stepped down. Picture: AFL Media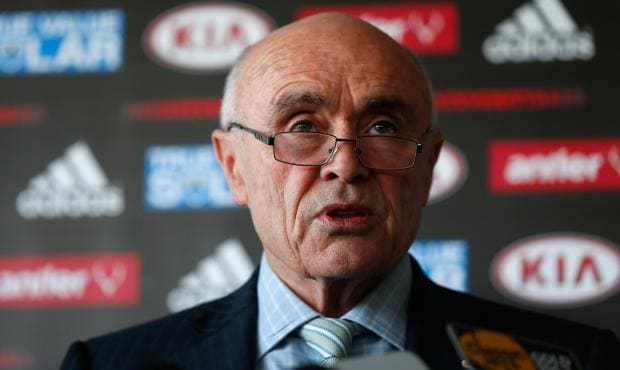 March 20, 2014: Tania Hird enters the fray
Hird's wife Tania – a lawyer by trade – joins the battle, claiming AFL chief executive Andrew Demetriou had tipped off the club. Hird said she was listening on a speaker phone when her husband spoke to Evans on July 25.
June 12, 2014: Show-cause notices handed out
The 34 current and former players are issued with show-cause notices, alleging they were administered the banned peptide, thymosin beta-4. The following day, Hird and Essendon launch Federal Court action against ASADA, claiming the joint investigation with the AFL was unlawful. 
August 11-13, 2014: Federal Court hearing and findings
The trial before Justice John Middleton is heard in the Federal Court. Hird and former ASADA CEO-turned-consulted Aurora Andruska give evidence. On September 19, Middleton returns to deliver his final orders, declaring ASADA had complied with the rule of law. Later in the year (October 17) fresh show-cause notices are issued to the 34 players.
October 2, 2014: Hird appeals to Federal Court
Hird launches an appeal to the full Federal Court. Essendon does not. Hird's appeal fails, with Federal Court Justice Susan Kenny delivering the unanimous judgment on January 30, 2015.
November 14, 2014: Infraction notices issued to players
AFL general counsel Andrew Dillon issues infraction notices to the 34 players. They begin provisional suspensions, although Dustin Fletcher and Watson appear in an International Rules Test against Ireland later in the month.
December 15, 2014: Hearing begins
The hearing begins in private at the County Court. The AFL provides brief daily updates. The hearing ends on February 17, with an expectation that tribunal chairman David Jones would hand down his decision in four to six weeks.
March 31 2015: Players cleared
The AFL Anti-Doping Tribunal announces all 34 past and present Essendon players were found not guilty of using a banned supplement.
April 20, 2015: No appeal from ASADA, but WADA decides to
ASADA announces it will not appeal the ruling. However, on May 11, WADA announces it will appeal to the Court of Arbitration for Sport (CAS).
June 26, 2015: Dank's life ban
Dank is handed a lifetime ban for his role in the saga.
August 18, 2015: Hird resigns
Hird resigns as coach believing the club would not be able to move on from the controversy while he was still in charge.
November 9, 2015: Worksafe Victoria fines Bombers
Essendon is fined $305,000 by Worksafe Victoria for breaches of the Occupational Health and Safety Act.
November 16, 2015: WADA's appeal begins
WADA's appeal of the AFL Anti-Doping Tribunal's not guilty decision begins being heard at the CAS in Sydney. 
January 12, 2016: The final verdict
Former Dons coach James Hird departs his resignation press conference.