PUSHING stars Joel Selwood and Patrick Dangerfield forward occasionally might speed up the development of Geelong's emerging midfielders, Mitch Duncan says.
The dominant duo finished first and second in the club best and fairest and polled 53 Brownlow votes between them as they led the club to a preliminary final finish.
However the post-season assessment was that those surrounding that pair, including Duncan, Cam Guthrie, Mark Blicavs and Steve Motlop, needed to become more consistent for the team to push for a flag.
"Paddy and Joel are predominantly midfielders, but if one of them can push forward they are always going to be a dangerous match-up," Duncan told AFL.com.au.
"If other guys can then get through there we are going to have more development through the middle."
That Duncan's influence on games has been subdued since he hurt his foot in 2015 is undeniable.
The loping gait that bounced him into space like a flighty colt seemed diminished.
However pinning down the exact cause for what he describes as "an up and down" season in 2016 is more difficult.
An Achilles problem disturbed his pre-season and then he took time to adjust to the new-look midfield.
Many suspect being on the receiving end of a Shane Mumford shirtfront in round two didn't help, although Duncan says it had no effect on his form.
Add the inclusion of Dangerfield, Scott Selwood and Sam Menegola and it becomes clearer why an adjustment was necessary, particularly given Duncan's game is based on his outside running.
"You struggle a little bit because you are relying on other people to get the ball all the time, [as] the only way you can get the ball is by receiving it rather than winning your own ball," Duncan said.
Not that Duncan has ever been a player to not put his head in the hole.
It's just that his offensive running made him more valuable when his nose remained out of the trough.
He admits that he would like to spend as much time as possible in the middle.
"When I was playing my best footy … I was playing in the middle. I really enjoyed that and found I could use my strengths really well," Duncan said.
Joel Selwood and Patrick Dangerfield polled 53 Brownlow votes between them in 2016. Picture: AFL Photos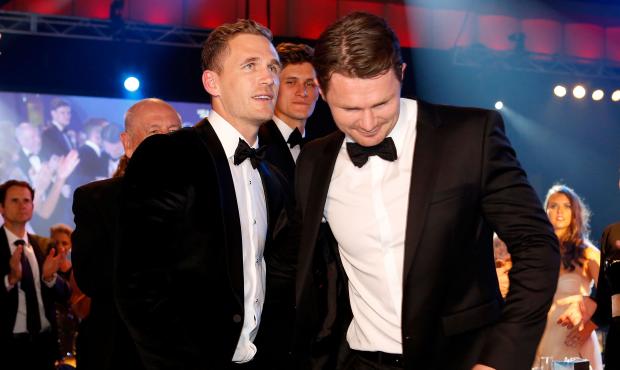 Because of those strengths, he was one of the midfielders the Gold Coast showed some interest in during the off-season, but Duncan wanted to stay at Geelong.
Contracted until the end of 2018, when he becomes a free agent, he has business to attend to such as standing alongside skipper Selwood with another premiership medallion around his neck.
Duncan was good enough to play in a premiership in his second season and his trajectory remained upward until the end of 2014 when he finished third in the best and fairest.
But he understands the past two seasons have been anything but plain sailing, and he has appreciated the Geelong environment.
"I've been very lucky at this club and I owe them a lot," Duncan said.
The past two seasons have also been an eye-opener for Duncan to the realities that face anyone during a long career.
"I learned a lot about myself as a person," Duncan said.
With 135 games behind him he should be entering his peak years.
All Australian selection is not out of the question if he plays consistently at the high level he's capable of playing, but he has not consciously set such a goal.
"I just want to earn the respect of my teammates and things like [All-Australian] cap off a good year. Winning a best and fairest would be the pinnacle for me."