ESSENDON players still embroiled in the supplements scandal are trying to focus on pre-season training as they await the Court of Arbitration for Sport's imminent decision on doping charges faced by 34 current and former Bombers.
CAS is set to hand down its verdict into the World Anti-Doping Authority's appeal in the week beginning Monday, January 11.
Essendon coach John Worsfold said those of the original 34 who remain at the club were anxious but would be relieved to finally know their fate.
"I think it's a combination of everything. What we've talked a lot about is they have no control over it at all, so let's focus on what we can control and be positive about that," Worsfold said.
"But that doesn't take away any anxiety that they may feel."
WADA appealed the AFL Anti-Doping Tribunal's 'not guilty' verdict that cleared the players of doping offences back in March, with CAS hearings held in Sydney in November.
Worsfold said the Dons still didn't know the exact date the verdict would be handed down.
"Only updates around possible timings; it's becoming imminent. Hopefully next week we'll have a finalisation to everything," he said.
"All that's totally out of our control – certainly out of my control – so everything for me is business as usual and then the club has contingencies in plan around any decision that's handed down.
"We've got people around the club who have constantly kept the players informed and talked to them, and will be on hand next week as well."
Merrett predicts bright future for rebuilding Dons
The Bombers' 2012 supplements program has already had a major impact on the club, which was booted from the 2013 finals series, stripped of top draft picks and heavily fined by the AFL for failures of governance.
Dyson Heppell is on the verge of returning to full training. Picture: AFL Media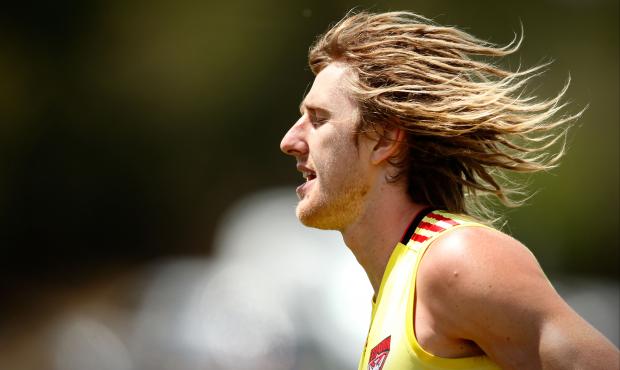 Meanwhile, Worsfold said star midfielders Jobe Watson and Dyson Heppell, plus key defender Michael Hurley, are close to resuming to full training ahead of next month's NAB Challenge.
Heppell has been battling a mystery injury and Worsfold would only reveal that the complaint was to the vice-captain's lower body.
"He had a bit of soreness that he carried through the second half of last year and it didn't settle through the game against the Irish (in November's International Rules Series)," he said.
"We rested him for a little pre-Christmas and then he came back and did a couple of runs and there was some slight awareness still … now we hope that as he builds up training, that's resolved.
"We're pretty confident that it's not going to be a drama.
"He had the awareness for most of the second half of last year anyway. Ideally he has no awareness and plays uninhibited, but we're confident that it's all right."
Eat, sleep, train, repeat: Parish gets to grips with AFL life

Heppell trained with the Bombers' main group on Friday, while veteran Adam Cooney rode a stationary bike on the sidelines.
Watson and Hurley are on the comeback trail from shoulder reconstructions and are nearly back into full training.
"In terms of full contact, (Hurley's) not far off that either, so he'll start to build that in now. Both he and Jobe have just about got the all-clear to do full training," Worsfold said.
Essendon's first NAB Challenge is not until February 28 against Carlton and Worsfold said he would use the pre-season series mainly so that his players are match-hardened, rather than trying to test his game style.