IN THE brave new world of free agency, it's fast becoming an accepted football rule that a player who puts off contract talks at the start of a season will be at a new club by season's end.
So when whispers began to emerge that Adelaide star Patrick Dangerfield was in no hurry to shun free agency and re-sign with the Crows, the natural inclination was to think he was out the door.
The strong suspicion whenever this occurs is that the player in question has already made up his mind to move.
Lance Franklin put off contract talks with Hawthorn in February 2013, but later insisted he only decided to move to the Sydney Swans via free agency after the Hawks beat Fremantle in that year's Grand Final.
Most footy fans took the superstar forward's version of events with a truckload of salt, given just a day earlier Swans chief executive Andrew Ireland had said Franklin's manager approached the club about a move to Sydney shortly after the 2012 Grand Final.
It's widely suspected that Gary Ablett, Campbell Brown, Nathan Bock and Jarrod Harbrow secretly signed with Gold Coast in late 2009, more than a year before the expansion team entered the competition, and that Callan Ward, Phil Davis and Tom Scully did the same with Greater Western Sydney a year ahead of its inaugural 2011 season.
Until the AFL embraces an NRL-like culture where players routinely announce their looming departures mid-season, such players will hide their upcoming moves behind flimsy cover stories about needing more time to decide their future or wanting to focus on their football for the rest of the season.
This is the new age of player movement, one which AFL.com.au will explore over the next six days in a suite of articles that reveal how long-held traditions of player and club loyalty are being challenged like never before.
Let's now consider the main issues the Crows will have to confront in 2015, their 'Year of Danger'.
Which clubs are the Crows' main rivals?
Fortunately for the Crows, they appear to have only one genuine rival for Dangerfield's services – Geelong.
Although some Melbourne clubs could be prepared to offer Dangerfield up to $1.2 million a season, the Cats aren't about to blow Adelaide out of the water with a deal of Buddy-like proportions, especially when they are seeking to re-sign a star restricted free agent of their own, key forward Tom Hawkins.
Most club sources think the Cats will offer no more than $850,000 a season, but even if Geelong is prepared to offer Dangerfield $1 million a year, one list manager suspects Adelaide is well placed to match it.
AFL.com.au understands the Crows have plenty of room in their salary cap and will have even more if veteran midfielder Scott Thompson retires at the end of this season.
And if the Cats offer Dangerfield a long-term contract of five years or more, the Crows should have no hesitation matching it given Dangerfield is yet to turn 25.
Unfortunately for Adelaide, this is one free agency battle that won't be decided by money or contract length.
If Dangerfield decides to accept an offer from Geelong, it may simply be that the pull of being close to his family in Moggs Creek, 50km down the Great Ocean Road from Geelong, has been too hard to resist.
Geelong is expected to make a concerted effort to lure Dangerfield to the Cattery. Picture: AFL Media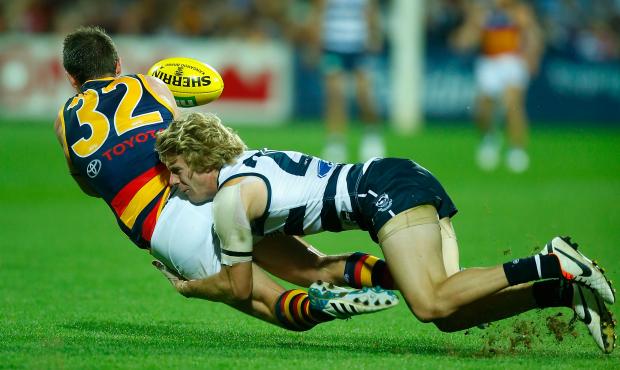 Should the Crows have traded Dangerfield last October?
Melbourne made a serious play for Dangerfield last October, offering the Crows pick No. 2. The Demons did not give up easily either, dangling the prized pick under Adelaide's nose time and time again.
One senior AFL coach told AFL.com.au he thought Adelaide had made a mistake. Pick No.2 in the hand was too good to refuse, he argued, when the Crows' best possible return via free agency compensation would be one first-round draft pick.
That compensation pick would be no better than No. 10 if the Crows repeat their 10th-place finish of last season, or pick No. 12 at best if they make the 2015 finals.
But the list managers AFL.com.au spoke to unanimously supported the Crows' trade period stance.
"When all you're really risking is sliding down a few picks in the first round of the draft, Dangerfield is too good a player to just trade out," one list manager said.
"Your best bet is to hang onto him and back yourselves that you'll be able to convince him to stay over the next year."
Another source pointed out that while the Western Bulldogs had been prepared to trade Brian Lake to Hawthorn a year before he was due to become a free agent, Lake was 30 at the end of 2012 and Dangerfield does not turn 25 until April.
How much should the Crows prioritise the Dangerfield negotiations?
Dangerfield said in March last year he would not be rushed into re-signing with the Crows and the 24-year-old has given no indication since that he is in a hurry to get to the negotiation table.
As good as out-of-contract midfielder Rory Sloane is, Dangerfield is clearly the Crows' biggest unsigned fish.
But, as desperately as Adelaide will want to keep Dangerfield, the Crows have about 18 other players set to come out of contract at the end of this season.
Chief among them are Sloane, free agent Richard Douglas and emerging youngsters Sam Kerridge, Matt Crouch and Luke Brown.
The Crows have already shown they are prepared to get on with other important contract negotiations when they signed prospective free agent – and now captain – Taylor Walker in November.
They are also believed to have the salary cap room to move ahead with other contracts – even Sloane's – without worrying that any ground they give on those players' salaries might eat into money set aside for Dangerfield.
In this respect, Adelaide is better placed than Collingwood was in 2012, when it was trying to ward off a concerted play by Fremantle for its restricted free agent Travis Cloke.
At the time, the Pies were coming off two consecutive Grand Final appearances and had re-signed premiership stars Scott Pendlebury, Dane Swan and Dale Thomas in 2011, so their salary cap was extremely tight.
Collingwood eventually re-signed Travis Coke in 2012, after long negotiations. Picture: AFL Media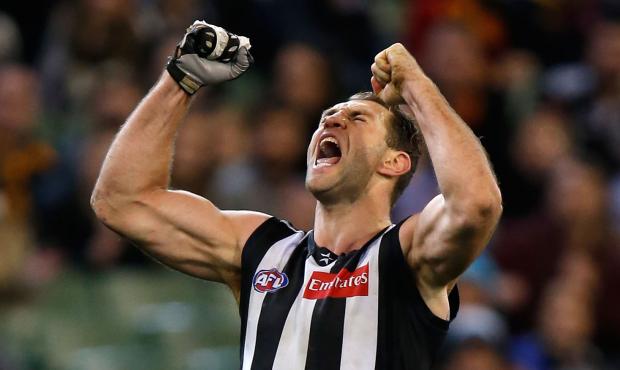 It was only after a frustrated Collingwood suspended talks with Cloke in late July that year that they re-signed 2011 All Australian Ben Reid and soon-to-be 2012 All Australian Dayne Beams a month later.
The Pies eventually locked Cloke away on a five-year deal, but just weeks later parted company with out-of-contract midfielder Sharrod Wellingham (West Coast) and contracted key forward Chris Dawes (Melbourne) in the trade period.
The Crows, on the other hand, should be free to move to sign Sloane immediately, for say $550,000-$600,000 a season, without fear that it will ultimately force other players out the door.
Most of the list managers AFL.com.au spoke to like the Crows' chances of re-signing Sloane, Douglas and co. if they move now.
Should the Crows put a deadline on negotiations?
Knowing where Dangerfield wants to play will help the Crows better prioritise their own player re-signings, but it will also give their recruiting staff more time to woo any rival targets.
If they know Dangerfield is on the way out – or all of their communications with him suggest that he is – the Crows then know they have the salary cap space to make an aggressive play for out-of-contract opposition players such as South Australian Brisbane Lion James Aish or Greater Western Sydney spearhead Jeremy Cameron, whose Dartmoor family home in south-western Victoria is closer to Adelaide than Melbourne.
As one list manager noted, clubs that start "wining and dining" rival players late in the piece are generally at long odds to trump clubs who started their groundwork earlier.
The Crows could also use the money set aside for Dangerfield to sign a free agent, but are extremely unlikely to make a play for any of this year's crop, knowing that in doing so any Dangerfield compensation pick would be downgraded or forfeited altogether.
So how do the Crows buy themselves the time they'll need to make Dangerfield contingency plans?
This is where things get tough.
As one list manager noted, the Crows could push Dangerfield out the door if they set a contract deadline he considers unreasonable. In his view, the Crows will largely be beholden to the timeframe Dangerfield and his manager Paul Connors set, whether they like it or not.
Hawthorn reportedly set a July 31 deadline for Franklin to make a decision in 2013, upping their contract offer to almost $5 million over five years just a few weeks beforehand in a vain bid to convince their two-time premiership spearhead to stay.
Two list managers told AFL.com.au the Crows might be better served adopting a more subtle approach.
For instance, the Crows could make an agreement with Dangerfield to start talks after round four. If that time comes and Dangerfield is not ready to talk, they could push the start date back to round eight and, if he is still not ready, then to round 12.
But if Dangerfield is still reluctant to talk turkey after round 12, the list managers said the Crows could reasonably ask him what they should read into that. Or as one of them plainly put it: "What exactly are you telling me here? Do we have a problem?"
If Geelong tables an offer, should the Crows match it?
Dangerfield is set to become a restricted free agent, which means the Crows could keep him by matching the exact terms of any official rival offer.
But in free agency's three-year history no club has exercised its right of refusal to hang onto a restricted free agent. Nine times rival clubs have lodged official bids for restricted free agents, nine times they have got their man.
However, there is speculation in the football industry that the Crows will consider bucking that trend if the Cats lodge an offer for Dangerfield when this year's free agency period opens in October.
The Hawks chose not to match the Swans' massive offer to Lance Franklin in 2013. Picture: AFL Media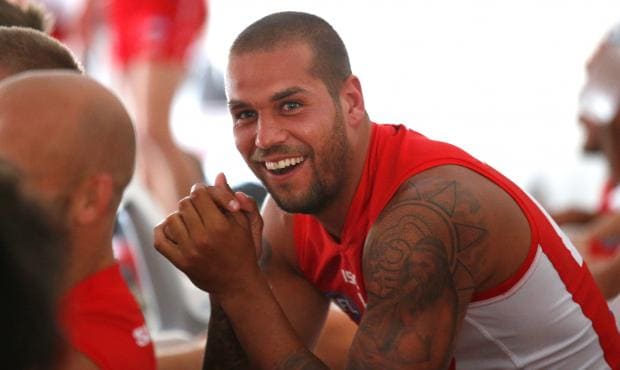 Where in the past St Kilda and Hawthorn refused to match the big-money offers thrown at Brendon Goddard and Lance Franklin by Essendon and the Swans, the Cats are banking on beating the Crows to Dangerfield's signature via the lure of home rather than piles of lucre.
However, just because the Crows could match a Geelong offer doesn't mean they should.
Doing so would mean the Crows forfeit their right to a free agency compensation pick and would not guarantee Dangerfield's presence at West Lakes in 2016.
The midfielder could still elect to refuse the Crows' matching offer and enter the national or pre-season drafts in a last-ditch effort to get to Geelong. Dangerfield also has the right to ask the Crows for a trade at this point, but that seems highly unlikely. If the Crows match a Geelong offer, it shapes as an all-or-nothing strategy.
Of course, if they finish below Geelong this season the Crows could hang on to Dangerfield simply by drafting him for the second time in eight years.
But would the Crows really want to force Dangerfield's hand if he's set his mind on going home? Would they want to keep a player who doesn't want to play for them?
One list manager noted there are precedents of clubs refusing a player's trade request and then successfully welcoming him back to the fold. For instance, the Swans did so with Ryan O'Keefe after the 2008 trade period, West Coast with Mitch Brown after 2012.
But the consensus among the list managers AFL.com.au canvassed was that if Dangerfield accepts an official offer from Geelong, the Crows will let him go, bank the first-round compensation pick and go to the trade market to mitigate their loss.