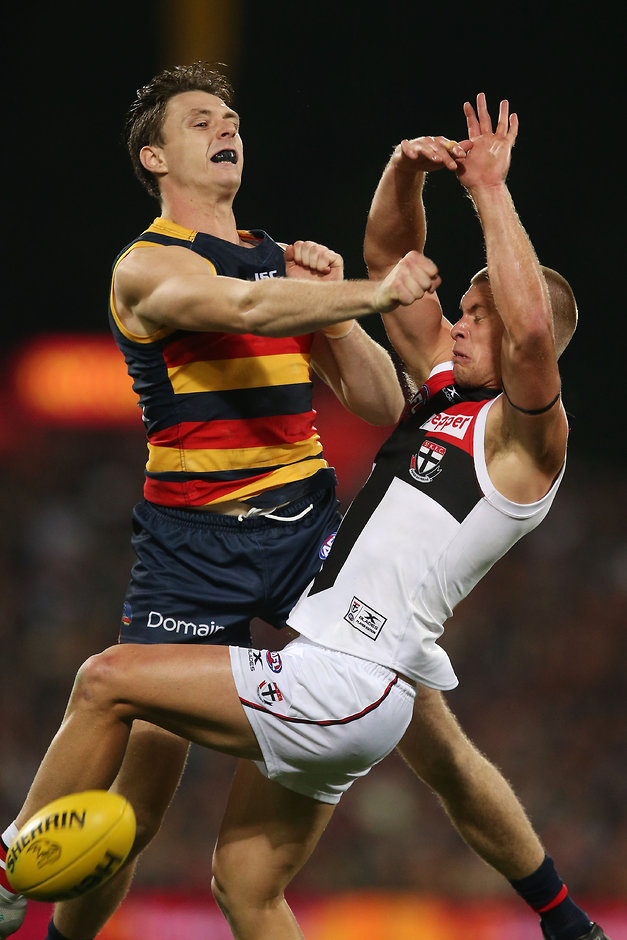 WITH the collective bargaining agreement finally signed off, Adelaide will ramp up efforts to re-sign out-of-contract stars Jake Lever and Mitch McGovern.
Lever has repeatedly said he was waiting until the CBA was finalised between the AFL and the AFLPA so he knew what the salary cap was before putting pen to paper.
McGovern will also be highly sought after by rival clubs, but Crows coach Don Pyke said the club remained confident that with the pay deal done and dusted, they could now retain the duo.
"It certainly clears the way for it, the uncertainty has been removed," Crows coach Don Pyke said.
"The result of the CBA, I haven't gone into it in detail, but both parties seem pretty happy with the outcome.
"It's a positive for the players, a positive for the League, from our view point, from a list management viewpoint, it gives that certainty, we know what we're dealing with.
"Both those guys have indicated a really strong desire to stay, we'll keep working with them to try and finalise something."
Lever is having a break-out season and is developing into one of the premier defenders in the competition.
A hamstring tendon injury has prevented McGovern from continuing the exciting form in the forward line that he showed last year.
Players received a 20 per cent rise under the CBA signed off on Tuesday, with the salary cap raised from $10.37 million to $12.45m this year.
That will be followed by increases of 1.2 per cent next year, 1.3 per cent in 2019 and two per cent in 2020, 2021 and 2022.
Pyke said that rather than using the extra funds on topping up the salaries of the club's top wage earners, said it would be spread around the group.
"We've got some guys playing good footy and they'll get rewarded accordingly," he said.
"It's a fairly simple model in my eyes.
"You reward guys on the basis of performance, and we've got guys performing well and they'll get paid well.
"There's a bigger pie, the players have earnt that and they'll get rewarded."
Pyke didn't give much away when asked if McGovern would make his return in Thursday night's clash with Hawthorn at Adelaide Oval.
However, he confirmed defender Luke Brown was available for selection after recovering from a fractured cheekbone, while winger Paul Seedsman will need probably a couple more weeks in the SANFL to build his match fitness after a long-term groin complaint.
McGovern hasn't played in the AFL since a hamstring tendon injury in the round three Showdown against Port Adelaide.
He booted four goals in the SANFL two weeks ago while having his game-time managed.
"He may have trained," Pyke said of McGovern.
"Whether he trained with us or elsewhere is another issue.
"He's fully fit and he's available for selection.
"It's just a matter of weighing up bringing him back in versus giving him another look for another week to build.
"We're looking from that from a short and long-term view point, what's going to be his interests and our interests."