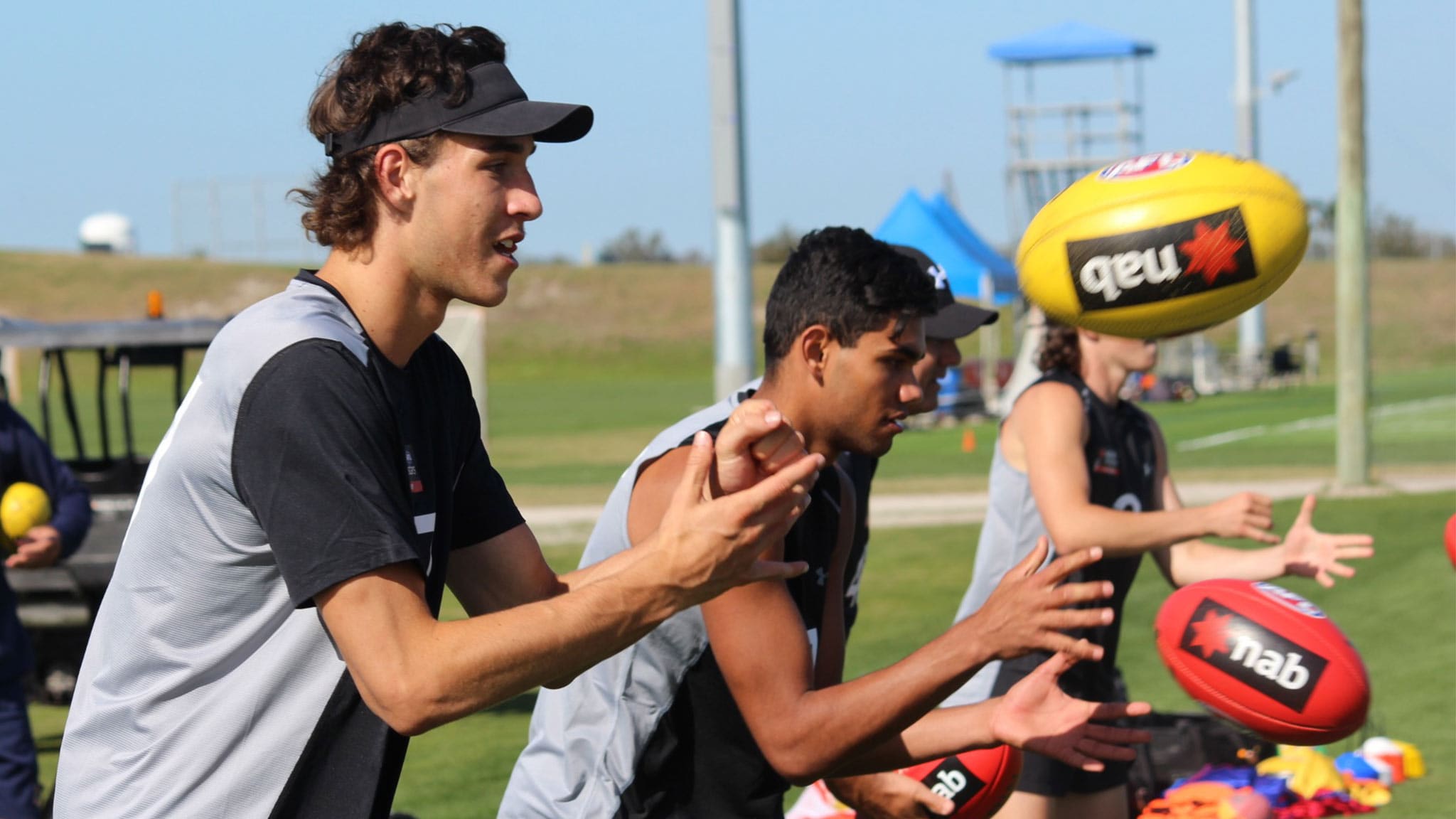 The NAB AFL Academy is in America for a 10-day high performance camp in Florida and Los Angeles. Throughout, highly rated Vic Metro and Sandringham Dragons key forward Max King will be writing a diary for AFL.com.au. Here is the first update.
Day one: Sunday, January 14
Melbourne to Bradenton, Florida
It was an early start on Sunday as we prepared for a long trip to the IMG Academy, which saw us wake up at 5am to get to Melbourne Airport before our flights to Sydney, then Los Angeles and then Tampa.
All of us have heard about the IMG Academy which is a world class sporting complex and school with students and athletes from around the world, so we were pretty keen to see it first-hand. Personally I have a few goals for the trip and across the pre-season, including improving my contested footy and building my endurance, so hopefully the next 10 days will be a good starting point for that.
As one of the taller guys in the squad it was an especially long trip given the little leg room – I did notice our coaches, including Luke Power and Brad Johnson, had the exit row seats – but I did a bit of homework when I could and tried to get in some rest.
After nearly 30 hours in transit we arrived at the IMG Academy around 8pm and settled into our rooms. I'm rooming with Bailey Williams and Riley Bowman and we all went straight to bed before what will be a big week.
Spotlight on: The last thing you want after a long flight is to not see your luggage on the bag carousel at the airport, but that was the case for Jack Bytel, whose bags were left in Sydney. But he put on a brave face and has had to borrow a few clothes to start his trip.
Day two: Monday, January 15
Bradenton, Florida
Part of being in America on this trip is about taking in information from different people, so it was great to hear from Jerry Angelo this morning about the importance of an athlete's character.
Jerry was the general manager of the Chicago Bears in the NFL and recruited players over many years, and something that stuck with me was how he said your talent determines your potential but it is your character that will decide if you can reach it.
Coming into this year, my final season of under-18 footy, I'm focused on backing up what I showed last year and being more consistent so Jerry's message was a good one.
It was nice to stretch the legs after the long trip over with a touch session out on one of the many soccer fields here at IMG. We were broken into little groups and did various coordination drills, involving tennis balls, handballing, and little competitions before finishing with a soccer game.
We split into four soccer teams, and we finished third – I was goalkeeper and take some responsibility after letting one through. Connor Rozee fancies himself as a good soccer player and set up a goal which he was pretty happy with.
Spotlight on: Sam Walsh's competitiveness makes him a great player, but for a muck around game of soccer he did take things quite seriously.
Twins Max (right) and Ben King at training at the IMG Academy

Day three: Tuesday, January 16
Bradenton, Florida
Across the week every player in the squad will take part in Gatorade's sports science testing to find out which fuels are best for your body during a session.
It was my turn this morning, which meant getting to their lab on campus around 7am and getting hooked up to a mouthpiece and running on a treadmill for about 15 minutes. It feels uncomfortable with all the equipment around your face, but it's worthwhile to get results about what works for you.
Some of the players during the main session later in the day wore bands on their arms to test their sweat for the Gatorade guys as well as for their testing.
We got the footballs out for what was a pretty tough couple hours on the track, with some conditioning and running thrown in which made it pretty full-on. A lot of the drills centred on winning the contested ball, with a focus on improving defensive work, which is one of the big aims of the whole trip.
Rhylee West impressed me with his toughness in tight and I'm looking forward to playing with him at Vic Metro this year. Everything Izak Rankine does is quick and classy which made him a standout, while my brother Ben also trained well and we were competing at times in marking drills.
It's been special to share my footy journey with Ben, who's my twin, and to have both of us over here is great. We're best mates and although at times we get on each other's nerves, we really want the best for each other and want each other to succeed (even though there is a little bit of healthy competition).
Spotlight on: With us here at the IMG Academy are four Irish players who are also keen to be picked up by an AFL club, and it's good to get to know them. They'd already shown their athleticism, but Anton Tohill surprised a few of us by revealing his flexibility by doing the splits before training.
The NAB AFL Academy group outside the Gatorade Sports Science Institute

Day four: Wednesday, January 17
Bradenton, Florida
Our third day on the ground began with a running technique session out on the IMG Academy's athletics track with running coach Loren Seagrave. I've never done anything as specific to focus on my running and some of his key messages included minimising contact with the ground.
Some of the drills felt awkward at the start, but once you started to put it into practice and ran at higher intensity it seemed to click more.
In the afternoon we did another craft session, which included some handball games at low intensity. We really try to hone in on specific skills during these sessions and in this one we tried to keep the ball zipping around, so having quick hands and clear vision to spot teammates was a focus.
We also did some tackling drills, which is something Luke (Power) values. Personally I have to try to lower myself when I tackle so I don't give away as many free kicks, so he has helped with that and it's something I'm still working on.
After dinner, a few of us, including my roommates, as well as my Sandringham teammate Bailey Smith, went over to the IMG basketball stadium to watch one of the younger teams in a match which was a bit of fun. It's been good to bump into athletes from around the world the past few days.
Spotlight on: During the craft session we also did some set shot goalkicking with blindfolds on to focus on the feel of the ball drop. It felt very weird and was difficult to do, but Zane Barzen was one of the guys I noticed who did this well.
Bailey Smith won the @AFL Academy's 2km time trial this morning, running 6:07. Sandringham midfielder has been good this week. Geelong Falcons pair Ned McHenry (6:10) and Sam Walsh (6:20) the next best. pic.twitter.com/THcg65V7Id

— Callum Twomey (@CalTwomey) January 19, 2018
Day five: Thursday, January 18
Bradenton, Florida
Everyone thinks of Florida as a sunny and warm place, but when we woke up this morning it was zero degrees and we were told it was the coldest day here in nearly a decade. It meant all of us were rugged up for the running session which followed yesterday's introduction to running techniques.
The main training session that followed continued along the same lines with more competitive and contested drills, made harder by the colder weather which it's fair to say most of us weren't expecting over here.
Chayce Jones has impressed me with his intensity during every session and it's good to see him back after his broken leg last season. Jye Caldwell is also really clean and always finds the ball and Jack Bytel's leadership is also something that stands out.
We hopped on the bus in the afternoon and headed the Tampa Bay Buccaneers' headquarters for a tour of their home base. I don't follow the NFL, but it was good to get an insight into how they prepare for each game and they put a lot of time into the details of every room.
From there we went further into Tampa for an NHL ice hockey game between the Tampa Bay Lightning and the Vegas Golden Knights. Recruiters from nine clubs are on the trip as well and they joined in, but it wasn't the best game for the home side, who lost 4-1 and conceded a goal in the first minute.
After a training session, run this morning and a visit to the Tampa Bay Buccaneers, time for the NAB @AFL Academy boys to check out some ice hockey. Tampa vs. Vegas. pic.twitter.com/I9Al7zJP0j

— Callum Twomey (@CalTwomey) January 19, 2018
A long day meant we were all pretty tired on the hour-long trip back to the IMG, and everyone is starting to get a bit sore after a busy week. But with a few days left in the camp and our LA leg to come, everyone is staying optimistic and keen to get the most out of what is left.