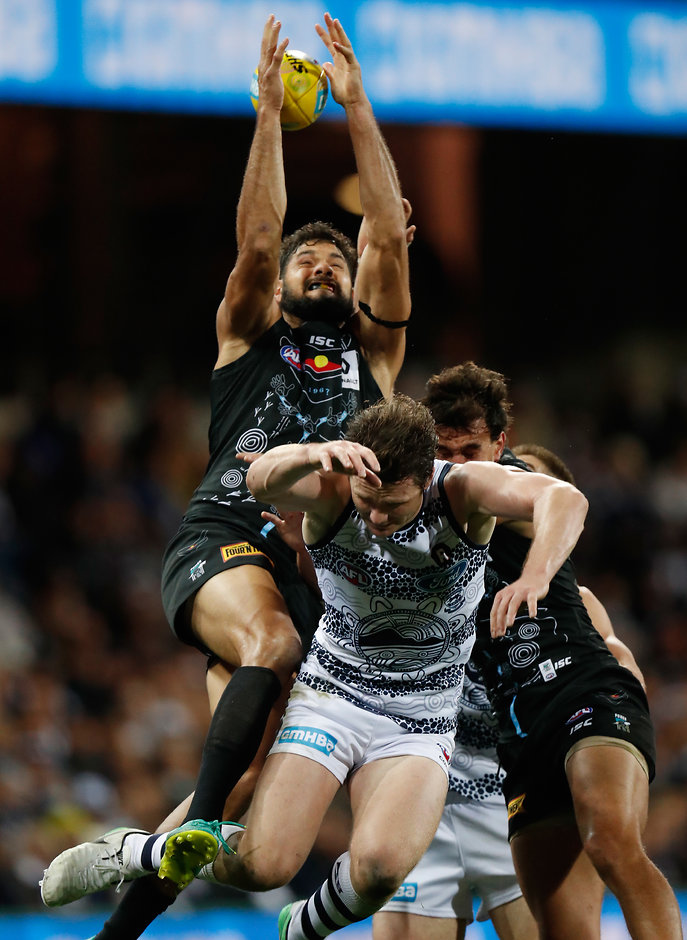 PORT Adelaide and Geelong will launch next month's inaugural AFLX tournament when they clash in the first ever game of the League's high-octane version of the sport in Adelaide.
The Power and Cats will contest a round-robin competition at Hindmarsh Stadium on Thursday, February 15, along with Fremantle, Adelaide, West Coast and Collingwood.
Two other six-team round-robin competitions will held across the following two nights.
Carlton, Melbourne, North Melbourne, Hawthorn, Essendon and St Kilda will play at Etihad Stadium on Friday, February 16.
Greater Western Sydney, Richmond, Brisbane Lions, Sydney, Western Bulldogs and Gold Coast will clash at Sydney's Allianz Stadium on Saturday, February 17.
In each of the three competitions, the six teams will be divided into two pools of three, wherein teams will play each other once. The winners of each pool will then play off in a Grand Final.
"AFLX allows us to showcase the best and most thrilling skills of Australian Football in a different and new way for fans, players, clubs and broadcasters," AFL CEO Gillon McLachlan said.

"Fans have the chance to be part of history as tickets to the three AFLX Tournaments are on-sale now via X.afl.

"Fans who can't get to the venues, are able to watch live nationally on the free-to-air channels of Seven and its digital platforms, on Fox Footy only on Foxtel and its digital platforms and in partnership with Telstra via the official AFL website AFL.com.au and the Official AFL Live App created by Telstra, and will deliver the action live, fast and data-free for Telstra mobile customers. Fans will also be able to watch replays in full via the Telstra TV AFL App.
"The three tournaments across three days in three cities, are a great way to introduce the AFLX version of the game and especially to those who haven't experienced AFL before.

"Footy fans, kids and families should expect the unexpected during the 2018 AFLX tournaments with plenty of fun happening on and off field."
Games will consist of two 10-minute halves with a two-minute break at half-time.
AFLX will be played on a rectangular field with dimensions similar to that of a soccer field, with 10 players a team.
It is a seven-a-side format with three players on the bench and there is no limit to rotations.
In order to create a fast and free-flowing game, the last touch out-of-bounds rule has been introduced, while the ball will be kicked in after all scores.
To promote high scoring, the League has also introduced a 10-point super goal for majors kicked from outside the 40m arcs.
Hindmarsh Stadium, Thurs Feb 15
Pool A: Port Adelaide, Geelong, Fremantle
Pool B: Adelaide, West Coast, Collingwood
Schedule (times in ACDT)
6.10pm – Port Adelaide v Geelong
6.38pm – Adelaide v Collingwood
7.06pm – Geelong v Fremantle
7.34pm – West Coast v Adelaide
8.02pm – Fremantle v Port Adelaide
8.30pm – Collingwood v West Coast
9.03pm – Grand Final
Get your AFLX tickets now by visiting the AFLX hub at X.afl
Etihad Stadium, Fri Feb 16
Pool A: Carlton, Melbourne, North Melbourne
Pool B: Hawthorn, Essendon, St Kilda
Schedule (times in AEDT)
6.40pm – Carlton v Melbourne
7.08pm – Hawthorn v Essendon
7.36pm – North Melbourne v Carlton
8.04pm – Essendon v St Kilda
8.32pm – Melbourne v North Melbourne
9.00pm – St Kilda v Hawthorn
9.33pm – Grand Final
Allianz Stadium, Sat Feb 17
Pool A: Greater Western Sydney, Richmond, Brisbane Lions
Pool B: Sydney, Western Bulldogs, Gold Coast
Schedule (times in AEDT)
4.10pm – GWS v Richmond
4.38pm – Sydney v Western Bulldogs
5.06pm – Richmond v Brisbane Lions
5.34pm – Western Bulldogs v Gold Coast
6.02pm – Brisbane Lions v GWS
6.30pm – Gold Coast v Sydney
7.03pm – Grand Final