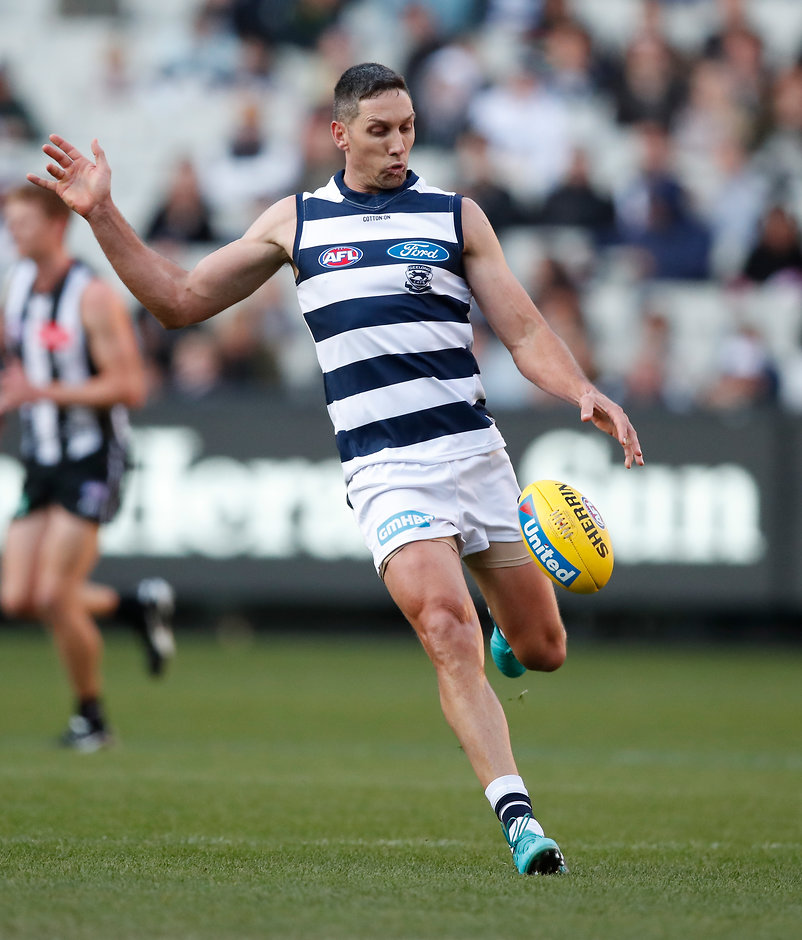 A NUMBER of tweaks to Geelong's defensive style is responsible for yet another impressive shutdown job, coach Chris Scott says.
A week after conceding four goals to Greater Western Sydney, the Cats allowed the Pies just five majors on Sunday.
It was only the third time a Scott-coached Geelong outfit had conceded five or less goals at the MCG, and comes after they shipped 13 and 17 goals against Melbourne and Hawthorn to start the season at the same venue.
The Cats have now conceded more than seven goals just once in the past five matches.
CATS IN A SCRAP: Full match coverage and stats
"Last week we had one goal kicked against us from turnovers, today it was not quite as good but still pretty good. I think we're defending those situations a bit better," Scott said post-match.
"It does take an adjustment (to play at the MCG), there's no point sticking your head in the sand and saying 'it's a normal game of footy and there's goals at either end'. The game is played slightly differently.
"It's a combination of tweaking our defensive style for this ground and also being aware of what the opposition were trying to do."
Even Collingwood coach Nathan Buckley was left scratching his head as the Cats executed their defensive plans exactly as the Pies prepared for.
"They have the slowest ball movement in the comp by design, so they don't lose shape when they turn the ball over," Buckley said.
"They have got that aerial advantage so they play the game that way and they are able to enforce that style on us for the most part."
BIG SAV STANDS UP: Five talking points
The Cats welcomed back Harry Taylor to lead the defence, while Tom Stewart's rise continued, picking up a career-high 28 disposals roaming across half-back.
"I wouldn't confine the praise just to Stewart, I think the way Harry Taylor came in and complemented that defence was a positive," Scott said.
"That's a bit of an unknown, even as good a player as he is as an individual, there's a potential that could disrupt the (defensive) cohesion a bit."
Scott said Gary Ablett was "dangerous" in his comeback match and provided the Pies a "handful" with his team-high 32 disposals.
George Horlin-Smith earned a reprieve to replace Scott Selwood, who sustained a back injury the coach said stemmed from training on Thursday, with the club confident it didn't relate to his back surgery in 2011.
"It's a bit hard to predict at the moment," Scott said.
"The feedback we've got is that it's not serious … he just jarred his back at training."
WATCH: Chris Scott's full post-match media conference
Brandan Parfitt looks a chance to face Essendon at the MCG on Saturday after a foot injury, while Lachie Fogarty is set to return after being rested.
Concern surrounds Daniel Menzel's return, who missed for a third consecutive match with a groin injury.
"I wish I could give you clarity on Menzel but I just don't know," Scott said.
"He's just a really strange one that no one can explain. They're (medical staff) saying they're not too worried, I might be a bit more worried than them.
"We want him in the team. We took him out to manage him and he hasn't come back."
Scott said he would be extra wary of the Bombers coming off a week of scrutiny after losing to Carlton on Saturday.
"I have some empathy for those internally at footy clubs that have to listen to people saying they're in disarray and don't have any method.
"I'm very confident, knowing John Worsfold and the coaching staff, I know Mark Harvey well, he's a very smart football person, they'd be clear on what they're trying to do.
"We're aware it can turn around really quickly."
The Cats will also welcome back Tom Hawkins back after he was suspended for a week for making intentional contact with an umpire.