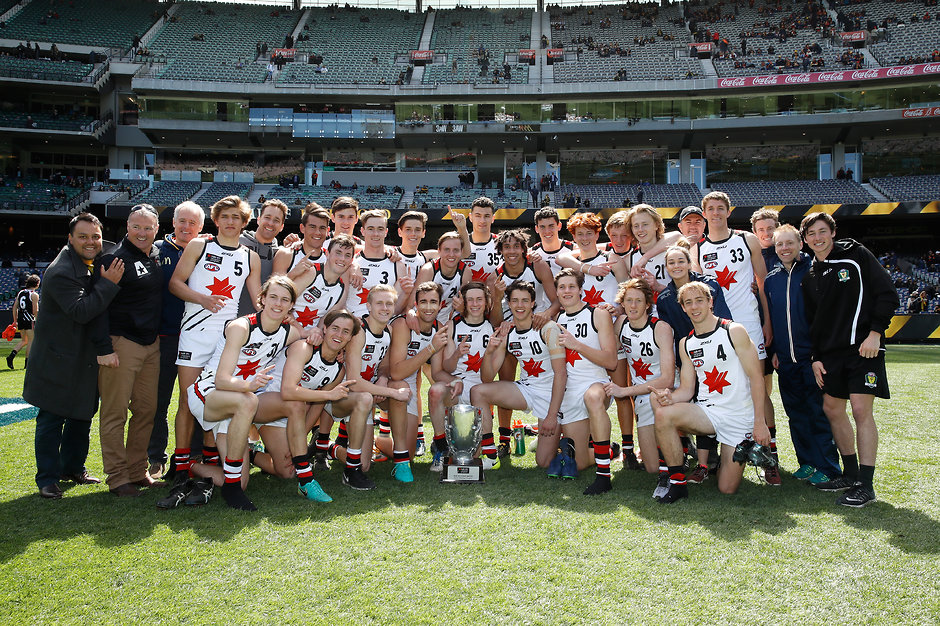 EXCITING Oakleigh Chargers trio Matt Rowell, Noah Anderson and Dylan Williams will take to the MCG on Saturday morning as part of the NAB AFL All Stars under-17s curtain-raiser.
In a clash that starts at 10am and will be broadcast live on AFL.com.au and the Official AFL Live app, the best prospects for next year's draft will play ahead of the AFL Grand Final.
>> Watch it LIVE in the player above
The players will be split into two sides named after former champions Nick Riewoldt and Jimmy Bartel.
Rowell was named best afield in last week's TAC Cup Grand Final and is a hard-bodied midfielder, while Williams starred in the finals as a lively and versatile forward. Anderson is a big-bodied midfielder who can also push forward.
Others to look out for are Kysaiah Pickett, who is the nephew of North Melbourne and Port Adelaide premiership player Byron, while South Australian defender Will Gould was named an All Australian at the under-18 championships this year.
SQUADS
TEAM RIEWOLDT
1. Kysaiah Pickett (SA - Woodville West Torrens)
2. Rhai Arn Cox (WA - East Perth)
3. Malcolm Rosas (NT - Darwin)
4. Connor Budarick (QLD - Suns Academy)
5. Jack Mahoney (VIC M - Sandringham Dragons)
6. Trent Bianco (VIC M - Oakleigh Chargers)
7. Dylan Stephens (SA - Norwood)
8. Mitch O'Neill (TAS - North Hobart)
16. Jackson Mead (SA - Woodville West Torrens)
17. Deven Robertson (WA - Perth)
18. Sam Flanders (VIC C - Gippsland Power)
19. Dylan Williams (VIC M - Oakleigh Charger)
20. Lachlan Ash (VIC C - Murray Bushrangers)
21. Brock Smith (VIC C - Gippsland Power)
22. Tom Green (NSW/ACT - Marist)
24. Noah Anderson (VIC M - Oakleigh Chargers)
25. Darcy Chirgwin (VIC C - Geelong Falcons)
26. Brodie Kemp (VIC C - Bendigo Pioneers)
31. Liam Delahunty (NSW/ACT - Giants Academy)
32. Joshua Rayner (NSW/ACT - Swans Academy)
33. Joshua Worrell (VIC M - Sandringham Dragons)
34. Charlie Dean (VIC M - Sandringham Dragons)
35. Luke Jackson (WA - East Fremantle)
36. Andrew Courtney (VIC M - Sandringham Dragons)
TEAM BARTEL
1. Hewago Paul Oea (QLD - Suns Academy)
2. Caleb Serong (VIC C - Gippsland Power)
3. Matt Rowell(VIC M - Oakleigh Chargers)
4. Will Chandler (NSW/ACT - Murray Bushrangers)
5. Flynn Perez (VIC C - Bendigo Pioneers)
6. Will Martyn (QLD - Lions Academy)
7. Ryan Gardner (VIC M - Northern Knights)
8. Cameron Taheny (SA - Norwood)
9. Darcy Cassar (VIC M - Western Jets)
16. Lachlan Potter (VIC M - Northern Knights)
17. Elijah Taylor (WA - Perth)
18. Jeremy Sharp (WA - East Fremantle)
19. Hugo Ralph-Smith (VIC M - Sandringham Dragons)
20. Hayden Young (VIC C - Dandenong Stingrays)
21. Trent Rivers (WA - East Fremantle)
22. Cooper Stephens (VIC C - Geelong Falcons)
23. Mitchell Georgiades (WA - Subiaco)
24. Karl Finlay (SA - North Adelaide)
31. Will Gould (SA - Glenelg)
32. Fischer McAsey (VIC M - Sandringham Dragons)
33. Bigoa Nyuon (VIC C - Dandenong Stingrays)
34. Jack Buller (WA - Claremont)
35. Emerson Jeka (VIC M - Western Jets)
36. Jack Bell (VIC M - Sandringham Dragons)