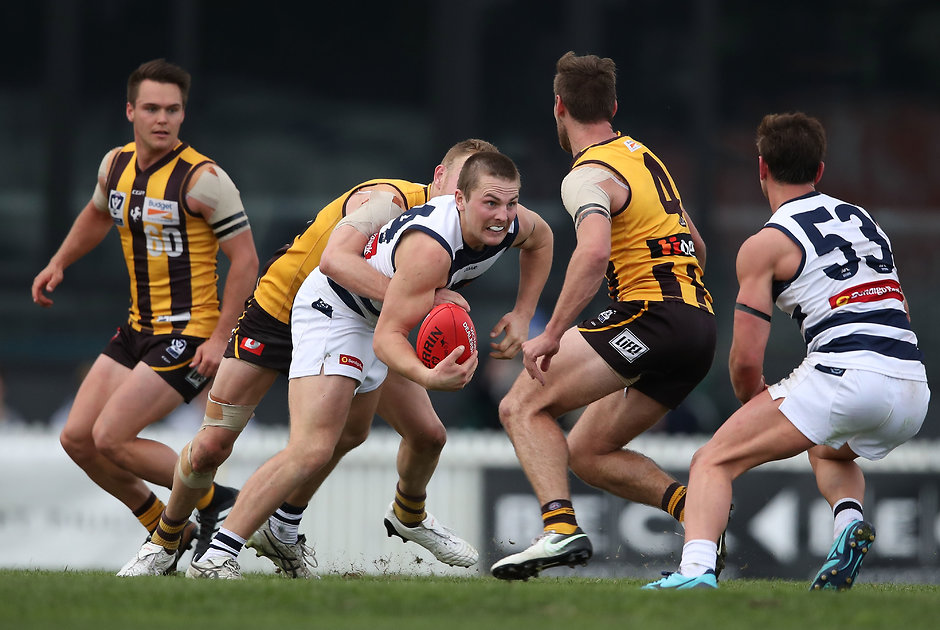 LOCAL product Tom Atkins has declared a move from midfield bull to small forward will give him the best chance in 2019 to emulate a long line of Geelong VFL success stories.
After five years in Geelong's VFL program, a second best and fairest award for Atkins this season proved too much for Cats recruiters to refuse, selecting him at pick 11 in the NAB AFL Rookie Draft.
And while he has forged his name as an inside tackling machine at state league level, the 23-year-old believes a star-studded Geelong midfield might force him to look elsewhere.
"If I had to guess, I would probably say a small forward role and maybe helping out in the midfield where needed," Atkins, who stands 180cm, said.
CLUB LISTS COMPARED Oldest? Youngest? Most experienced?
"I played midfield most of this year but might have played as a small half forward a few times, but two or three years ago I pretty much played the whole year in that role.
"From that I have learnt a bit of the craft, but obviously it is a different thing doing it at AFL level."
Sharing a place in the VFL team of the year in 2016 with then teammate Tom Stewart, Atkins booted 15 goals from half-forward before a permanent move to the midfield in 2017.
A text from message from Geelong head of football Simon Lloyd implored him to keep pushing for an AFL berth after he missed out on the 2017 draft.
"Hi Tom, obviously a difficult period for you. You are rated highly by many at the club and were discussed at length," Lloyd's message read.
NAB AFL DRAFT HUB Latest news, video and more
"We will continue to support you in whatever way we can to help you develop & reach your goal of playing AFL in the future."
Returning to the VFL for 2018, Atkins was named captain, while also spending the year finishing an accounting degree.
Full-time work as a superannuation advisor was then cut short, Atkins' last day coming on the day of the draft as he drove home to find his dream had been realised with a text from recruiter Troy Selwood.
"I rang my boss on Sunday and he is a pretty big footy nut, so he knew what was going on," Atkins said.
This year Atkins will reunite with Stewart in the Cats' locker room, hoping to follow in the footsteps of players such as Scott Thompson and Shane Mumford in forging impressive AFL careers.
Incredibly, Atkins and Stewart are two of 16 players from the Cats' list of 45 who played junior football in Geelong and Atkins will be hoping for the immediate success of the 2018 All Australian.
"It (playing in round one) is definitely a goal, I would love to play round one, but I understand that there are a lot of good players in the squad and in the team that I have to get past," Atkins said.
"I will be driving to play but I am just keen to try to improve and if I can keep improving then the rest will take care of itself."
Geelong VFL success stories
Matthew Egan (Geel) – 59 games – 2007 All Australian
Scott Thompson* (NM) – 222 games – 2013 All Australian
Shane Mumford* (Geel/Syd/GWS) – 172 games – 2012 premiership
James Podsiadly (Geel/Adel) – 104 games – 2011 premiership
Jonathan Simpkin (Geel/Haw/Ess) – 41 games – 2013 premiership
Tom Stewart* (Geel) – 43 games – 2018 All Australian
*Still on an AFL list
Geelong's local products
Ryan Abbott – Geelong VFL/Grovedale FC
Gary Ablett – Gold Coast via Geelong Falcons/Modewarre FC
Tom Atkins – Geelong VFL/St Joseph's
Jed Bews – Geelong Falcons/Leopold
Oscar Brownless – Geelong Falcons/Geelong Amateurs
Luke Dahlhaus – Western Bulldogs via Geelong Falcons/Leopold
Patrick Dangerfield – Adelaide via Geelong Falcons/Anglesea
Darcy Fort – Central Districts via Werribee/Footscray/Geelong Falcons/South Barwon
Lachie Henderson – Brisbane/Carlton via Geelong Falcons/Birregurra
Jack Henry – Geelong Falcons/St Mary's
Jamaine Jones – Belmont Lions juniors before moving to GWV Rebels
Gryan Miers – Geelong Falcons/Grovedale
Gary Rohan – Sydney via Geelong Falcons/Cobden
Blake Schlensog – Geelong Falcons/Grovedale
Sam Simpson – Geelong Falcons/St Joseph's
Tom Stewart – Geelong VFL/South Barwon