GEELONG is set to pay a high price for its win over Port Adelaide with veteran James Kelly and ruckman Rhys Stanley likely to miss at least the next month, leading sports medico Dr Peter Larkins says.

Kelly was substituted out of Friday night's game in the first quarter after twisting his right ankle in an awkward collision with Port midfielder Ollie Wines.

Larkins told AFL.com.au Kelly had suffered a high ankle sprain that involved internal damage to his ankle membrane as well as the ligaments on the medial side of his ankle.

"It's known as a syndesmosis injury and is more complicated than a typical ankle sprain," he said.

"Geelong will monitor his progress and get an MRI scan but most of those syndesmosis injuries take a minimum of four weeks to recover and can take up to eight weeks.

"I think Kelly's injury is more likely to be at the higher end of that timeframe."

Stanley took no further part in the Port win after going off late in the third term with a foot injury.

"The concern is he's suffered a significant ligament sprain in the mid-foot, which is commonly known as a LisFranc sprain and is notorious for its very slow recovery time," Larkins said.

"Daniel Wells, Mitch Clark and Trent Croad are players who have had this injury in the past, so Geelong will be very cautious with Rhys.

"But I expect he may miss a minimum of a month and perhaps longer depending on the results of scans. In some cases these type of injuries linger for up to three months.

"Hopefully there will be no surgery required."
James Kelly has been subbed out of the game after suffering a leg injury in this incident #AFLPowerCats http://t.co/sglgxphs5V

— AFL (@AFL) June 12, 2015

The football future of Leigh Adams is again clouded after the North Melbourne forward suffered two head knocks while playing for the Roos' VFL affiliate Werribee on Sunday.

Adams took an extended break from football after experiencing prolonged side-effects from a concussion he suffered in a VFL practice match in March against Footscray.

Adams' injury came on the back of three concussions last year, in rounds 12, 18 and 23, with the forward playing his third game back in the VFL on Sunday.

Larkins said Adams copped a head knock early in the match and returned to the ground after being cleared by the club's medical staff. But after copping a more significant second knock Adams was a bit unsteady on his feet and was ruled out of the rest of the game.

"It was great to see Leigh return in the VFL, but I think this incident will really make him reconsider his football future," Larkins said.

Leigh Adams goes to ground with a head injury on Saturday.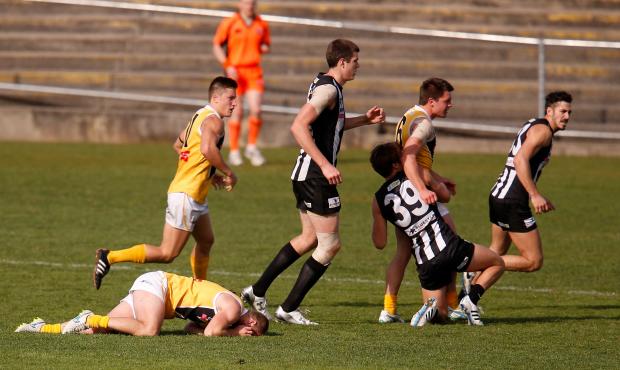 "He's getting into that unusual category of the 'head-injury prone' player now and the fact that he didn't get through a game again doesn't augur well for him.

"They need to see how he comes up this week but I fear for his future.

"We're very conscious of head injuries and concussions these days. In terms of his overall health, the club and family discussions he has will certainly be along the lines of 'do you really want to keep playing?'

"It wouldn't surprise me if he considers not progressing with football for the rest of the season."

Port Adelaide's Matt White was substituted out of the Geelong loss in the second quarter after suffering a high-grade right hamstring strain that Larkins expected would sideline him for at least four weeks.

"With his speed, it will be a real setback for Matty White. Even if it doesn't require surgery like some of the hamstrings we've had this year, I'm still expecting him to miss four weeks," Larkins said. "We'll have to wait and see whether it's any worse than that."

Greater Western Sydney announced on Monday that veteran defender Joel Patfull would miss at least a month of football after suffering two broken ribs and a punctured lung in Sunday's loss to Collingwood.
Ouch! Matt Buntine goes back courageously but cleans up teammate Joel Patfull in the process #AFLPiesGiants http://t.co/EaEf48l7AX

— AFL (@AFL) June 14, 2015

The Giants also said they suspected co-captain Phil Davis had suffered a syndesmosis ankle sprain against Collingwood, but were waiting on scans for confirmation.

Larkins said that injury would sideline Davis for a minimum four weeks, but also suspected the key defender had suffered a crack in his right fibula that, if confirmed, would sideline him for six to eight weeks.

The Giants will also be sweating on the availability of Shane Mumford and Stephen Coniglio for Saturday's clash against North Melbourne.

Larkins said Mumford had sprained his left ankle and Achilles tendon after landing awkwardly late in the Collingwood loss, and was in doubt for the Roos clash.

"Given GWS play on Saturday, I think there will be some doubt over Mumford unless he makes a quicker than expected recovery," he said.

"The Giants are not optimistic he'll be able to train this week. But if he doesn't play he should be fine to return after the Giants' round 13 bye."

Larkins said Coniglio had injured his right AC joint against Collingwood, having had problems with his left AC joint in the past.

"Potentially he'll be able to play with strapping and padding on the AC joint this week, so he's a 50-50 chance to play against North," Larkins said.

St Kilda captain Nick Riewoldt landed awkwardly on his chronic left knee after a marking contest early in the last quarter of the Saints' win over Melbourne on Sunday.

"He also got his knee caught up in a tangle with an opponent that caused a minor medial ligament stretch at the same time," Larkins said.

"Nick often suffers swelling and soreness as a result of knocks on the knee, so even though he was able to play out the game he'd be sorer today.

"It wasn't a high-grade medial strain and I suspect the Saints are pretty optimistic that with the bye this week he'll be right for their round 13 game against the Western Bulldogs."

Larkins also said that:

- West Coast defender Jeremy McGovern (severe corked thigh) is unlikely to train much this week and is in doubt for the Eagles' clash with Richmond on Friday night.

- Sydney Swans defender Heath Grundy hyperextended his knee in Saturday night's win over North Melbourne but his knee is stable and he appears to have suffered moderate bone bruising. Given the Swans have a bye this round, he should be able to resume training in the week leading up to their round 13 clash with Richmond, but will be monitored carefully this week.

- Melbourne's Cameron Pedersen had likely suffered a broken wrist in the loss to St Kilda, and was expected to need surgery that could sideline him for six to eight weeks.