GEELONG coach Chris Scott has hit back at Gillon McLachlan's "furphies" that the Cats should play home finals at the MCG because it's a venue where they host home and away matches.
FULL FIXTURE Every round, every game
Speaking ahead of Sunday's meeting with Hawthorn, for which Gary Ablett remains under an injury cloud, Scott took exception to the AFL CEO's comments on radio on Tuesday.
McLachlan hinted towards the Cats hosting a home final at the MCG – one they appear destined to earn given they sit two games and 24 per cent clear on top of the ladder.
The Cats won at GMHBA Stadium for the sixth time in seven 2019 games last weekend. Picture: AFL Photos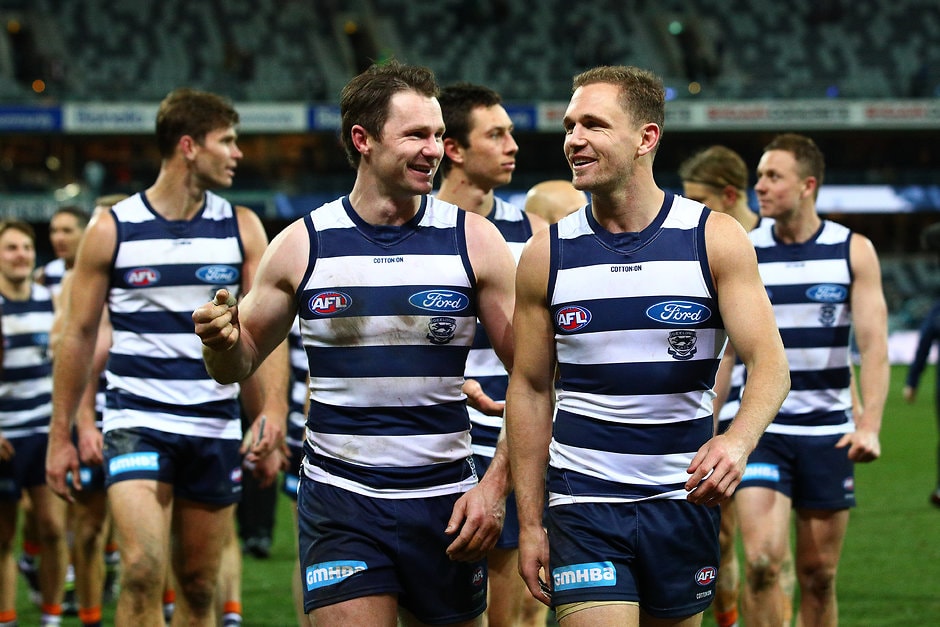 "I think that they play home games at the MCG and I don't think per se that's an integrity or fairness issue," McLachlan told SEN.
"It's what we've always had is a best-fit policy (to select finals venues) and we want to maximise ability for their members to get to the games."
The Hawks' clash is the second of two home matches for the Cats this season at the MCG, with nine home matches at GMHBA Stadium.
"It's the AFL's responsibility to decide what's right and what's not," Scott said.
"Sometimes what's right is really inconvenient, and sometimes it's almost impossible when you're layering all the other issues.
"Let's not try to soften what may well be the wrong thing by throwing in furphies like 'as long as the home final is in the same state then that's OK', or 'they play a couple of home games there because we force them there so that's OK'.
It's a little disingenuous to say we play home games at the MCG so therefore a home final at the MCG will be a home final for us - Chris Scott
"I don't think that's a fair fight when you bring those things into it.
"We're quite clear that our home venue is GMHBA Stadium. It's a little disingenuous to say we play home games at the MCG so therefore a home final at the MCG will be a home final for us.
"Our fixture request is crystal-clear, 11 home games at GHMBA, the same as every other club, they should have the right to play their 11 home games where they choose.
"We want them to be here. If the AFL fixture us at the MCG, then that's our next best.
"Because of Gil's comments a couple of days ago, which I thought weren't telling the whole story, I'm talking about it a little bit more today. But as of tomorrow and the rest of the year, we'll focus on what we can control."

Scott reiterated Geelong's members' desire to play as many home matches at Geelong as possible.
He also used Greater Western Sydney as a precedent, comparing their history where they've never played a home final at Sydney's home venue, the SCG.
Meantime, Ablett joined superstar Patrick Dangerfield and midfielder Brandan Parfitt in missing Thursday's main session.
Ablett limped from the ground in last week's win over St Kilda with a corked hip before playing out the match, and remains in some doubt to tackle the Hawks.
"I'm not super-confident because I don't know exactly what he's feeling, and I haven't really spent too much time trying to get across how he is day-to-day and hour-to-hour," Scott said.
"We don't play until Sunday and there's still plenty of time to make that decision, so I think it's an error to try to predict how things will pan out.
"He hasn't been ruled out, so in my mind the potential for him to play is still there. There are some hurdles, but every player has hurdles."
Jack Henry is expected to be managed, with Jake Kolodjashnij cleared to play after missing against the Saints with concussion.
Scott added that midfielder Scott Selwood was "very, very close" to his first game of 2019, while Sam Menegola will return from knee surgery on restricted minutes in the VFL on Saturday.
The Cats will celebrate their 160th birthday on Thursday by unveiling a plaque in the Geelong CBD to mark the first meeting that formed the club on the corner of Moorabool and Malop Streets.
Find AFL Exchange on Apple Podcasts, Google Podcasts and Spotify.