SAM REID is one of Greater Western Sydney's most important, yet severely underrated role players.
A former Western Bulldog and an original Giant, Reid retired due to persistent shoulder injuries at the end of 2013 to concentrate on a development role at GWS, while captaining the club's NEAFL side.
Reid in action against the Bombers in 2013. Picture: AFL Photos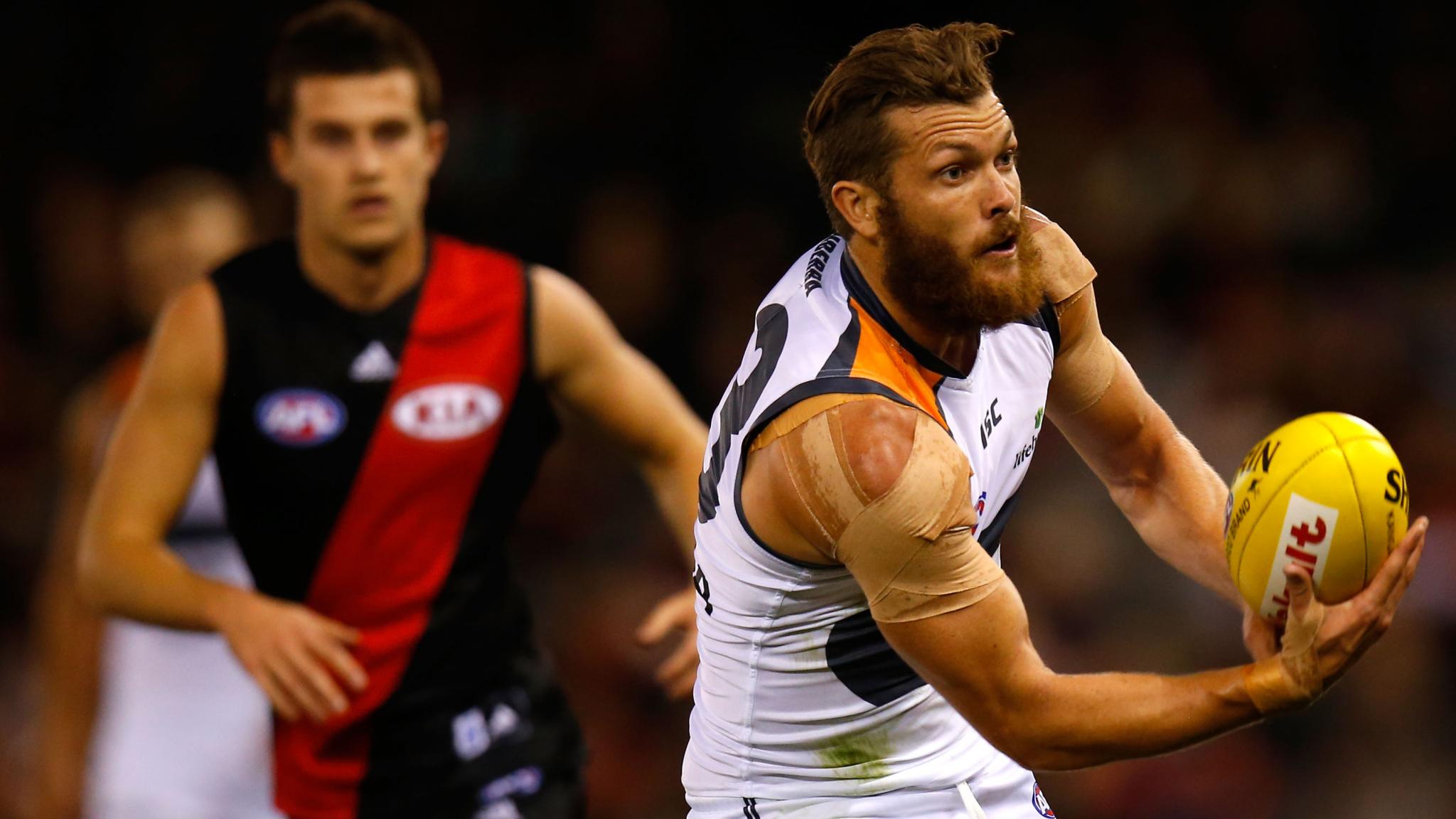 However, he regained fitness in the reserves and via two years of outstanding performances, Reid won his way back onto the Giants' list as a rookie ahead of the 2016 season.
He only managed six games in his first season back but has completed the resurrection of his career over the past three seasons, driven by sheer determination and a hunger to succeed.
Despite being delisted and redrafted as a rookie at the end of 2017 due to list management constraints, Reid has become a senior regular, playing 57 games over the past three years.
The 29-year-old has been used in plenty of positions by coach Leon Cameron and he's excelled in all of them.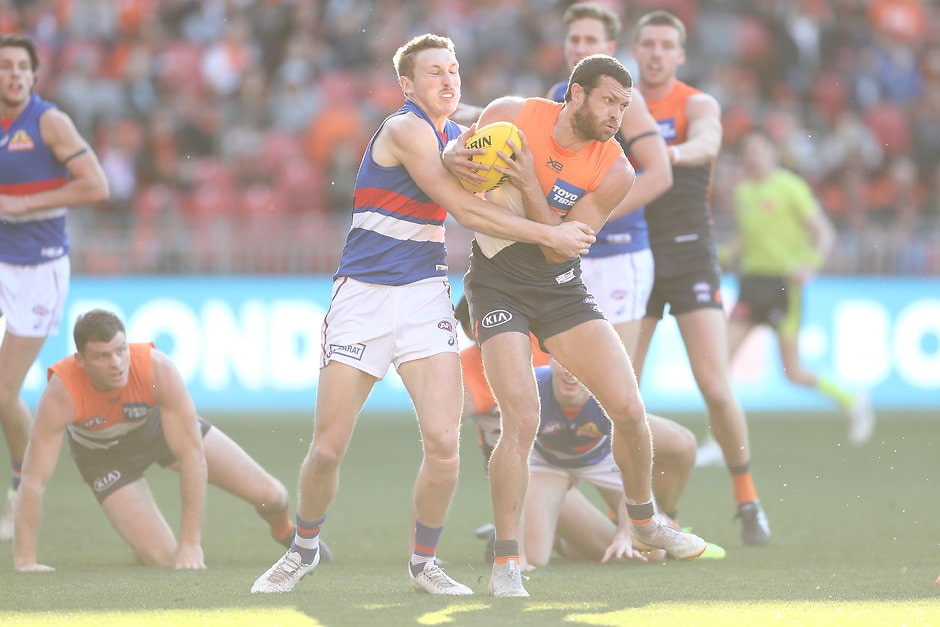 From locking onto an opposition star in the midfield, to closing down a dangerous small forward, or finding his own ball on a wing, Reid's role can change weekly, or even mid-game.
That isn't likely to change against Brisbane in Saturday night's semi-final at the Gabba.
FINALS FIXTURE Who plays who in weeks two and three
A look back at the round 16 clash between the two sides is a perfect example.
Reid started the match on star Lion Dayne Zorko and limited him to just two first-quarter possessions, but when Charlie Cameron kicked two goals on veteran Heath Shaw, the Giants switched Reid onto Cameron.
The dangerous Lions forward failed to kick another goal, but Zorko gathered 24 touches for the rest of the game as Brisbane won by 20 points.
Reid told AFL.com.au that he was mentally preparing himself for whatever his coach threw at him, and fresh off a job keeping star Dog Lachie Hunter to 24 possessions in last week's massive elimination final victory, he's ready for any challenge.
"We targeted [Hunter] because he gets their ball movement going and starts it a lot from the back half, so I tried to be pretty physical and go after him," he said.
"I was pretty disappointed with the amount of ball he got, but I think I reduced his normal influence on the game which was a bit of a win."
Find AFL Exchange on Apple Podcasts, Google Podcasts and Spotify.
Reid could find himself on the wing again when the Giants take on Brisbane, with Virgin Australia AFL All Australian squad member Hugh McCluggage potentially in his sights.
"The way I look at it, last week might have been a bit of a test looking ahead to this week," he said.
"I watched [McCluggage's] game against Richmond and he played a bit more onball, then he goes out to the wing, and he's obviously had a really good year."
Reid celebrates with teammates during a Giants training session. Picture: Getty Images/AFL Photos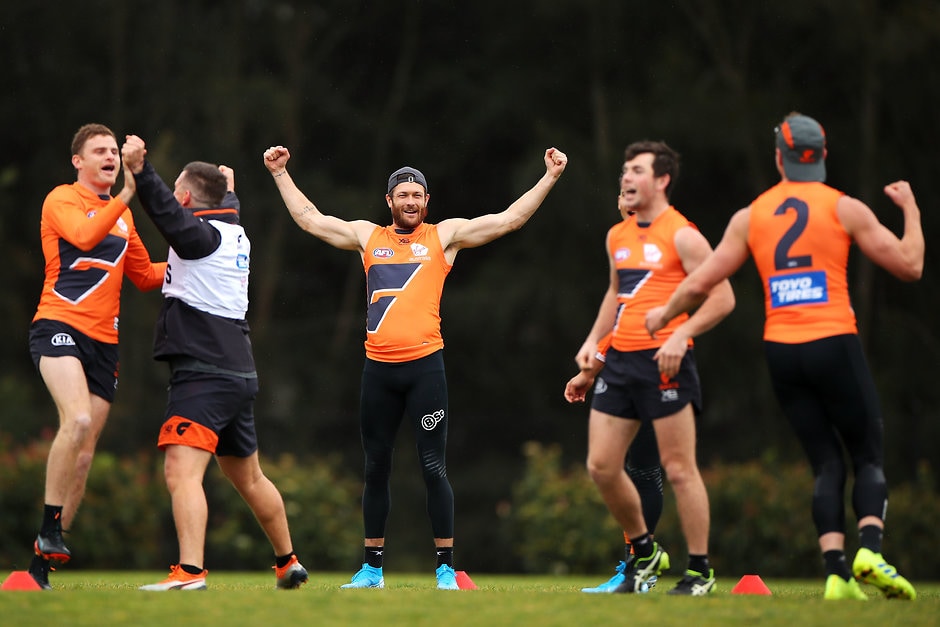 Reid is used to a hectic life, combining his training as an elite athlete with his life as a type one diabetic.
He's about to get a whole lot busier.
Reid's wife Elissa is expecting the couple's first child on Wednesday next week, so if the Giants beat the Lions on Saturday night, it could be a crazy few days preparing for a preliminary final showdown with Collingwood.
"I'm only a short flight away and she's got a close friend flying in to be with her, but she knows not to let it happen this weekend," he said with a laugh.
"Every now and then someone will mention that it could happen any minute and I get a bit of nerves in the guts, but when I'm at the club it's all football.
"Hopefully she can hold on as long as she can."