INJURED draft prospect Brodie Kemp says the reassurance of AFL recruiters helped quell the disappointment of requiring a knee reconstruction.
Kemp, whose form soared for Vic Country at the mid-year NAB AFL Under-18 Championships, went down with a knee injury in July playing for school side Geelong Grammar.
Almost immediately, he was told it was likely he would require surgery to repair his torn anterior cruciate ligament, which will see him miss most of next season as well.
Find Road to the Draft on Apple Podcasts, Google Podcasts and Spotify.
Kemp had firmed for a spot in the top 10 on draft night before the injury, and although the setback could see him fall a few spots, the 18-year-old is still likely to have his name called in the first round.
He said it was beneficial to speak to AFL scouts in the aftermath of the injury.
"There were a lot of recruiters at the game that I did it so when I came back out to watch the boys finish the rest of the game a few recruiters came up to me and said 'Look mate, you've done enough and had a good championships so don't stress too much'," he told the Road to the Draft podcast.
FINALS PREDICTOR Who will win the 2019 premiership?
"It was good to get that from the guys who are looking at you and get that reassurance going forward."
The injury came just as Kemp had hit his straps.
Brodie Kemp playing for the Bendigo Pioneers in the NAB League. Picture: AFL Photos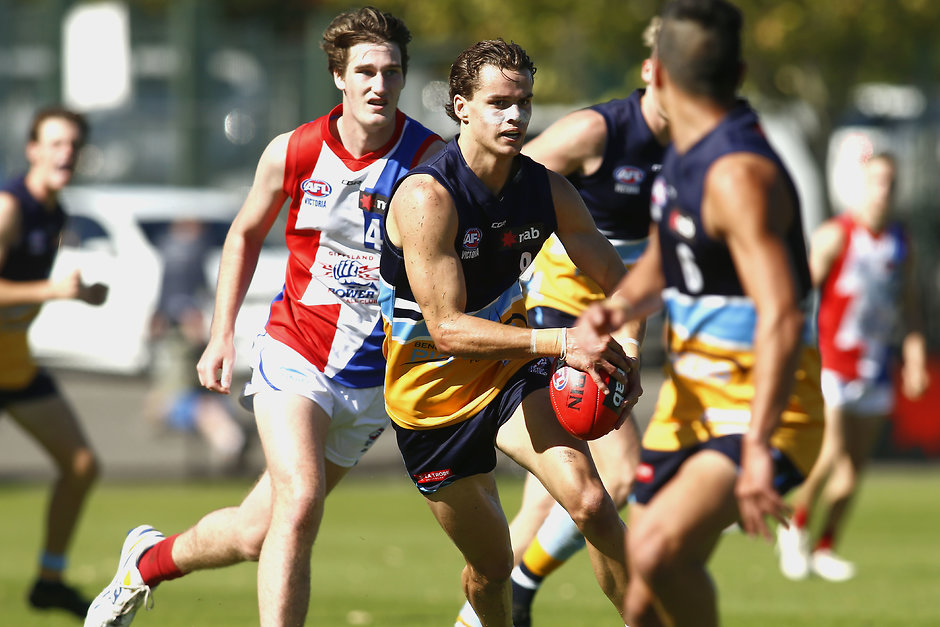 The Bendigo Pioneers hopeful had starred for Vic Country, including kicking the winning goal against South Australia after a dominant midfield performance and then playing a key role against Western Australia in the final round.
It was an innocuous incident that saw his season ended, but Kemp has had surgery and says the early stages of his recovery are "tracking well".
"It was just a quick turn. I was about to get tackled by someone so I went to dodge to the left and before getting impact I felt it in my leg," he said.
"When I went down you jump to the worst conclusion that this might affect my draft chances, and then lucky enough Marty Hogan, the Vic Country physio, was there and he brought me into a room and checked out my knee.
"About 10 minutes after he said 'Look, it's probably 99 per cent an ACL injury'. To get that information early was kind of good to move onto the path of accepting the injury."
ANALYSIS Will the 2020 draft be the most compromised in history?
Kemp's versatility makes him an appealing player. At 193cm he has played as a key defender and a marking forward, but it's in the midfield that he feels his future lies.
"I think where I can reach the best potential of my footy is probably through the midfield. At the start of this year it was a big focus to challenge myself in that area and mould myself into what the game's allowing those bigger-bodied midfielders [to do]," he said.
"The midfield position will probably be the position where I can achieve the best footy I can play."