SOME of his teammates are barely at the legal drinking age, but Greater Western Sydney's Josh Hunt is hoping to celebrate his 200th game with a victory and a quiet beer on Saturday.
Following 198 games and two premierships at Geelong, Hunt was given the chance to continue his career at GWS and will bring up the milestone against St Kilda at Etihad Stadium.
Hunt has already helped his young side to a season-opening triumph over the Sydney Swans and the understated 32-year-old is more interested in another victory against the Saints than he is in personal achievements.
"It's something I can look back on and say I've played 200 games," Hunt said.
"But I'm just excited to get out there. It's a milestone for me, but we want to get up and get four points, which is more important at the moment.
"At the end of the game, hopefully after we have a good win, I can sit back with family and friends and maybe have a couple of quiet beers to celebrate.
"But at the moment, it's mind on the job, four-point stuff, and we'll worry about the rest later."
The oldest player on the GWS list and the only father, Hunt had a funny response when asked if his teammates look to him for fatherly advice.
"It'd be nice to be able discipline them like a father does sometimes," he said.
"They give me a good ribbing some times.
"But they're great young men, they're just willing to learn and work hard.
"Some people say they make you feel young, I'm not too sure about that, but I'm just really excited to be here and it's great to celebrate with Josh as well."
The other Josh he was referring to is Josh Kelly, the highly rated young midfielder who will make his AFL debut alongside Hunt on Saturday.
The No.2 pick in last year's NAB AFL Draft, Kelly is the son of two-time Sandover medallist Phil Kelly and has been earmarked for stardom from a young age.
His efforts in the pre-season have done nothing to dispel those thoughts and the skilful 19-year-old will get a chance to strut his stuff for the first time on Saturday.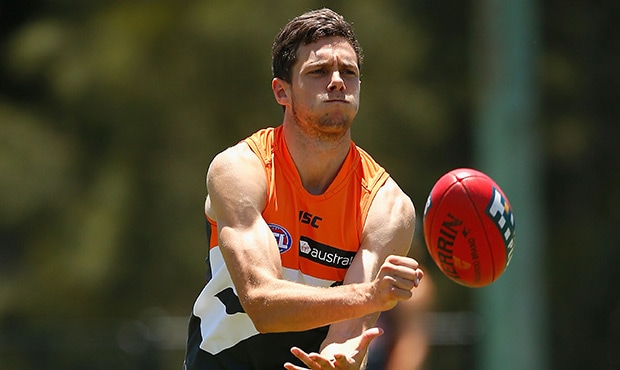 Josh Kelly will make his AFL debut for the Giants on Saturday. Picture: AFL Media

"It's going to be unreal. I've waited a long time for this day," Kelly said.
"But once we get out there, it's not about me or anything, we're going out there to win the four points against a good side.
"St Kilda were impressive in the first round."
Kelly will replace the injured Rhys Palmer (hamstring) and coach Leon Cameron is pleased with the level of depth at his disposal.
"(Kelly showed) terrific form down in Wagga and then when we played Adelaide down in Blacktown he played really well," Cameron said.
"And it was the same in his first game against the Sydney reserves, so three weeks in a row his form's been terrific.
"Spots are really tight and it's a fantastic position to be in as a club to have five or six guys banging down the door and it puts pressure on the guys in the AFL side to perform each week."