AFTER shedding 6kg in a month and reviving his career, Sam Day has pledged his loyalty to Gold Coast by signing a two-year contract extension.
It's a big win for the Suns.
Just two months ago Day was floundering in the NEAFL, out of contract, and looking unlikely to extend his stay after coming in the club's initial 2010 draft crop.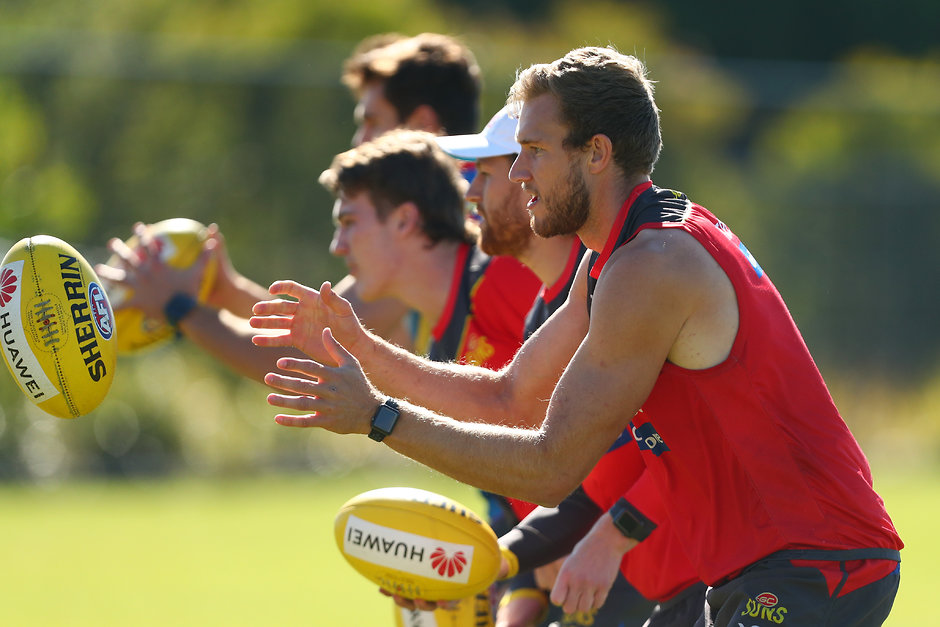 But speaking to AFL.com.au, the 26-year-old South Australian said he was always confident of his standing at the Suns, praising "open dialogue" with coach Stuart Dew.
"I feel like the club have put a lot of time into me," Day said.
"We've got a good young group who's willing to learn.
"I'm huge on family and that's one of the big things around the club.
"That's what I feel up here."

Day lost his entire 2017 season after suffering a horrific dislocated hip and then required shoulder surgery last year, which reduced him to 12 matches.
His career looked at the crossroads before a month of radical dieting leading into the bye worked wonders.
FULL FIXTURE Every round, every game
"We just wanted to really shock the body," Day said.
"It was pretty aggressive, minimal food type stuff.
"The club was really good knowing that I'd be cranky at times and pretty lethargic at times and that came out in a few NEAFL performances, but I stuck my head down and did the work and feel I'm reaping the benefits now.
"I lost six kilos in four weeks." - Sam Day
Day switched to black coffee, controlled his eating portions and most significantly skipped out on team meals and outings to cafes.
He played at 105kg last year, and even after putting 2kg back on since the intensive dieting finished, Day still sees double figures on the scales.
Dew recalled him to the seniors in round 13, and Day hasn't looked back.
The attributes that led to him being taken with the No.3 pick in the 2010 NAB AFL Draft are back on display – most notably his speed and his explosive leap.

"I definitely feel really good out on the ground – losing the weight makes a massive difference," he said.
"If you lumped a five-kilo backpack on anyone and they had to walk around for days on end, it's going to take its toll.
"Imagine running around with that? That weight's been lifted, which has been really good.
"I feel more explosive, quicker off the mark and jumping better at the ball."
FULL INJURY LIST Who's ruled out and who's a test?
He said it took closer to two years to both physically and mentally overcome the hip injury and that he was now bursting with excitement about the future.
"It's a cliche, but when you miss a lot of footy, you get that hunger back for it," he said.
"Not being out there with your teammates … it definitely fuels that fire inside of you."
Find In the Game on Apple Podcasts, Google Podcasts or Spotify