WITH the
NAB AFL Under-18 Championships complete
, we are better placed to judge the best players of this year's draft pool and where they sit in comparison to each other.

AFL.com.au's
draft reporter Callum Twomey has ranked his best 20 players in line for this year's NAB AFL Draft, in the first installment of the Phantom Form Guide.
This is not taking into account which clubs will hold which picks in November's draft, and where players might end up. It's a list of the best 20 prospects as they currently stand.
Click here for Callum Twomey's draft analysis
Each month in the lead-up to November's draft the Phantom Form Guide will be revised to mirror the performance and standing of the top-tiered draft hopefuls.

The standout player of this year's draft by some way. A big, strong and skillful key forward who takes pack marks, runs hard at the ball and has a terrific kicking action. His standing won't be affected by the ankle injury he suffered in the third round of the championships having booted three goals in the opening 10 minutes against Western Australia.

We are yet to see the best of Aish this year as he continues to build up his match conditioning after a long layoff from a shoulder reconstruction but expect some strong form at the back end of the year. He played every game of the championships and had some classy moments. An old-style wingman who delivers the ball beautifully.
Is Scharenberg a defender? A forward? Or will he end up a midfielder? For most it doesn't matter – he's just a really good player and one who is set to deliver immediately at AFL level. The South Australian played mainly in defence through the carnival but racked up big numbers, averaging 21 disposals. It wouldn't surprise if he's No.1 pick if the Giants, Demons or Bulldogs think he fits their needs.

McDonald is a fierce competitior and, as a prospect, that's evident in everything he does. The half-back flanker captained Vic Metro and did a good job of it, having clearly learned a few things from his time at North Melbourne and implemented them into his game. McDonald will spend the rest of the season at Werribee in the VFL. The Roos will likely be forced to use an early pick on the father-son McDonald but he's worth it.

Injury limited Billings' output early this year but there's no doubt on his talent. Hurt his knee minutes into Vic Metro's round two game but returned in rounds four and five and showed his class. A brilliant user of the ball, he kicks goals and is very strong overhead, all things recruiters saw in
Billings' games against South Australia and Vic Country
.
Jack Billings led Vic Metro to an impressive win over Vic Country in the final game. Picture: AFL Media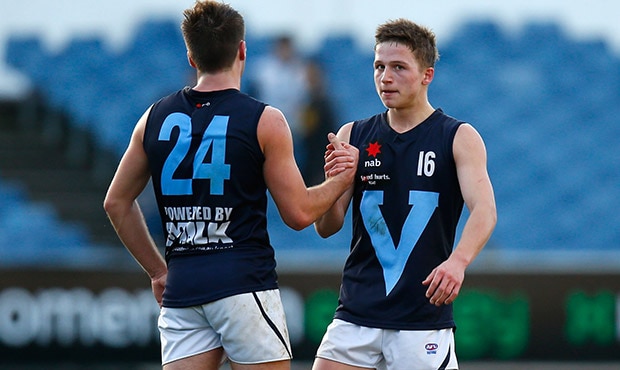 Kelly found his feet in the Championships having had a quieter start to the season at TAC Cup level. At the moment he is most comfortable as an outside midfielder, and that's where he racked up an average of 27 possessions for Vic Metro in four games. One of the players of the carnival. It wouldn't surprise if Kelly is a top three pick come November.

A bit of a wildcard because he could sneak up a couple of spots with a strong end to the year. Lennon's not tall enough to play key position but he marks like a big forward and might be the best kick in the draft. Tries things with the ball and most of them come off. Kicked four goals in the second half to lead Metro to victory over Western Australia.

Taylor lives the maxim that if you're good enough, you're tall enough. He plays with undeniable energy and enthusiasm. The midfielder gets the ball and runs with it, chips it to set up others, and kicks goals. He was suspended for striking and missed Vic Country's loss to South Australia, but came back in the last two games and dominated.

The Tasmanian has risen up the ranks this season. Was a late call-up to the AIS-AFL Academy and impressed recruiters on the Academy's tour of Europe. He brought back that form for his state and gathered huge numbers. The left-footer loves a baulk or two but is a nice size and shape. Think of fellow Tasmanian Grant Birchall as a point of comparison.
Kade Kolodjashnij looms as an impressive rebound defender in this year's draft. Picture: AFL Media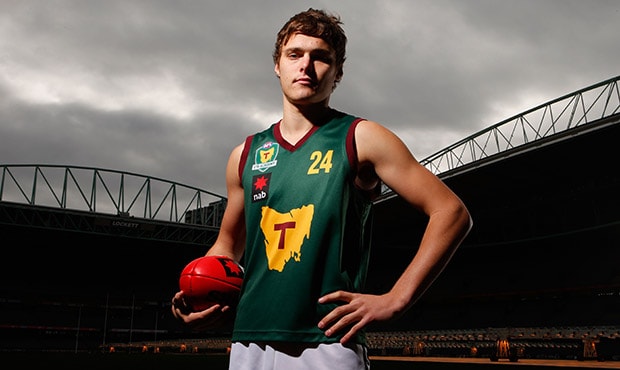 Perhaps the most effective inside midfielder in the pool. Unfortunately missed the first three rounds of the championships after breaking his hand in April but picked up 27 disposals in game five. Crouch has worked on his running and is getting to more and more contests, where he's always a good chance to come out with the ball.

Salem probably didn't have the brilliant national championships he would have liked, but that says more about his high standards than anything else. The left-footer still worked his way into games and showed his natural class in setting up play through the wing, midfield and occasionally half-forward. We'll hear more about his precision kicking as the year goes on.
Hartung possesses serious pace, a rare commodity in this year's draft. Most importantly, he isn't afraid to use it. He had a very good championships, particularly against South Australia and Western Australia. Hartung complements his run and endurance with precise foot skills on both sides of his body.

In a draft lacking top-end talls, Darcy Gardiner is probably the best of his kind. Although an inch or so shorter than some recruiters might like, he is competitive, tough and angry on the field. He beat South Australian key forward Darcy Hourigan in round three before rolling his ankle. Can be shifted into attack, too.

An ankle injury and then illness threatened to interrupt Dumont's carnival but he carried on and performed well under a fair bit of duress. Dumont does all the basics well, is hard at it, and has pretty good disposal on his right side. Played at senior level for Norwood in the SANFL across half-back and thrived in that role too, looking at home in experienced company.

Freeman is another midfielder who has breakaway speed. He can hustle and bustle around stoppages but then burst away from them, with the ball tucked under his arm. Also likes to sneak forward and is useful closer to goal. Had 21 touches against Vic Country in round five.

Acres adds something different to the draft pool. He's a mobile, agile, rangey type who pushes through the midfield but can also be used across half-back or half-forward. Has had shoulder issues this year and played through them in the final two games of the Championships.



Enjoyed an excellent championships for Western Australia, which was
capped by being named the Larke medallist
(best player in division one). Sheed's standout performance came in round four, when he gathered 29 disposals and four goals before breaking his collarbone. A solidly-built midfielder who hunts the ball.

Will now have some recruiters worried after
a suspected broken leg on Wednesday
, but before that many viewed McCarthy as the second best tall forward available. He's raw, but flies for marks, has a leap on him, and kicks goals. He's a player to work with. A shame his carnival ended in agony with a serious injury.
Cameron McCarthy flies for his game-winning mark against Vic Country. Picture: AFL Media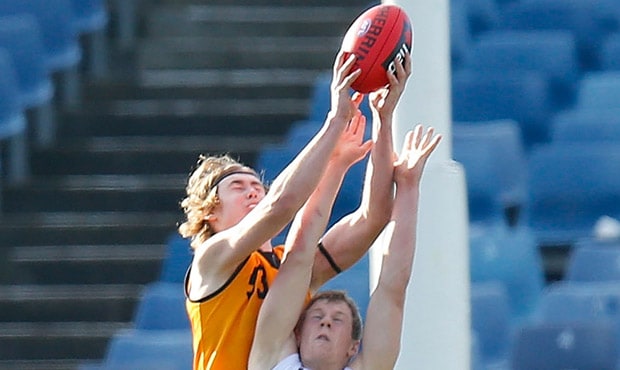 His size might put some clubs off at this range but
Kennedy-Harris hasn't done much wrong
. He's super quick but is just as comfortable through the midfield as close to goal. Taps, flicks and pushes the ball forward and reads it as a crumber better than most in the draft.

South Australia's captain Dunstan knows how to win the ball. He averaged 22 disposals through the championships and was best for his state on a couple of occasions. Does his best work in close, but sometimes doesn't hurt the opposition with his kicking. Is physically well built and he doesn't get pushed off the ball at the contest.

Callum Twomey is a reporter for the AFL website. Follow him on Twitter: @AFL_CalTwomey.