PUTTING names on the backs of players' jumpers is closer to becoming reality with the AFL admitting there is a push within the competition for it to happen.
The idea, common in professional sport, was raised seriously for the first time for a number of years in recent meetings involving AFL officials and there was significant support for the idea.
Many believe the recent introduction of two new teams into the competition has made the change necessary.
Do you support names on jumpers? Have your say in our Facebook poll
Deputy CEO Gillon McLachlan told
AFL.com.au
there was growing momentum for names to appear on jumpers.
"There are a number of people that think, especially in the context of a couple of new teams, that now is the time," McLachlan said.
He said although there were still varying views on the issue and there was no discussion around when such a change, if it were to be introduced, would happen, the possibility was certainly being discussed.
"It is getting a bit of momentum," McLachlan said.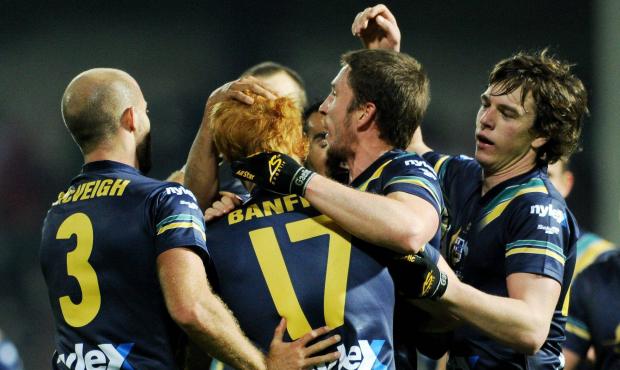 Australia's International Rules team has had jumpers with names for several years. Picture: AFL Media

Greater Western Sydney coach Kevin Sheedy is believed to have pushed for it to be introduced last season as the new team entered the competition.

However the traditionalists prevailed.

Sheedy managed to have Greater Western Sydney players' names on the back of their jumpers during their first NAB Cup game in 2011.

He told AFL.com.au that a change would help their efforts to have people in Sydney recognise and identify with the Giants' emerging superstars.

"I'm in the marketplace of explaining who we are so if people want to get to know Jeremy Cameron, people want to know [Stephen] Coniglio…we've got to try to make superstars in Sydney," Sheedy said.

"Don't run around with blank sheets of paper on their back. Don't run around with a whiteboard with nothing on it."

Gold Coast CEO Travis Auld admitted it was less of a priority for the Suns now than it may have been in its first year as its fans recognised its players now, but he still thought it was a good idea.

"We certainly wouldn't oppose it," Auld said.

Names have been displayed on the back of guernseys worn in the international rules series against Ireland.

Numbers were introduced into the game for the first time during the 1911 finals series, with the second semi-final between Carlton and Essendon being the first game played where players from both teams wore numbers.

Before 1911 only touring teams had worn numbers to help spectators to identify players and promoters spruik the game.

Initially the numbers worn were considered too small but they changed in the off-season and became standard in 1912 with their introduction central to the beginning of the Footy Record.

With the longest surname in the competition veteran (Lewis) Roberts-Thomson may become the test case for what is practical when it comes to putting names on jumpers, or maybe the league will just settle for LRT.