THE NAB AFL Under-18 Championships are over after a six-match home-and-away series in division one, and three rounds in division two.
This year's draft class is widely viewed as one of the most even in years.
There are up to six or seven players who could be the No.1 pick, and after that there's a big batch vying for first-round selection.
AFL.com.au's
draft reporter Callum Twomey has ranked his top 20 players in this year's first Phantom Form Guide. This is not a mock draft and does not take into consideration where the players will get picked – it is purely a list of the best prospects in Callum's eyes.
It will be updated every month in the lead up to the NAB AFL Draft.

McCartin is the most natural forward of this year's group. He has someold-fashioned traits: he runs straight out of the goalsquare, crashesinto packs, takes marks and kicks goals. Right in the frame to be theNo.1 pick, McCartin has a burly streak where he throws himself at theball and anyone in the way. Big, strong and physical, McCartin is aterrific overhead mark and judge of the ball in the air.

Everything Petracca does is at high intensity. Around the ball he pushes opponents out of the way until it's in his hands, and then takes a few big steps to create separation. After making his name last year as a powerful medium forward, Petracca took another step in the championships by playing through the midfield and winning the Larke Medal as the best player of division one. In five games he averaged 24 disposals and showed there's nobody quite as explosive as him.

Wright hit his straps against South Australia in round four of the championships
, dominating in the ruck and around the ground. Recruiters wonder whether he is a ruckman or a forward, but he looks more settled in the centre and roaming around the ground. Wright is an excellent, straight, long kick and is a contender for the No.1 position.
Peter Wright could be a permanent forward but looks well suited to the ruck. Picture: AFL Media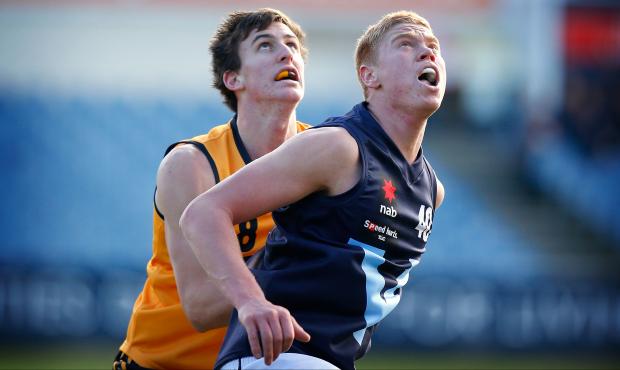 Explosive, hard, skilled. Heeney can do it all through the midfield and does it consistently. The Swans will have to pay top price for the academy player given his credentials. He averaged 24 disposals over three games through the carnival for NSW/ACT and
won the Harrison Medal for the best player in division two
. To go with his ferocity at the contests, Heeney offers some spark: he's quick, can jump, and takes the ball at top speed.

When Moore is up and going it is hard to find a key position player who moves like he can. Agile, quick and athletic,
Moore shifted around through the carnival, switching from defence to attack and back again
. His best game came against Western Australia in round five with four goals, but he looks just as comfortable in defence. Some think the Collingwood father-son recruit would be in the first three or four picks if not already tied to the Pies.

A strong and hard-working midfielder who wins his own ball and just keeps on doing it. Brayshaw collects plenty of possessions around contests but has developed some breakaway speed, giving himself enough space and time to deliver on both feet. Brayshaw started his championships with 32 disposals against Vic Country and is right up there with the best midfielders available.
Angus Brayshaw in the thick of it during the U18 champs. Picture: AFL Media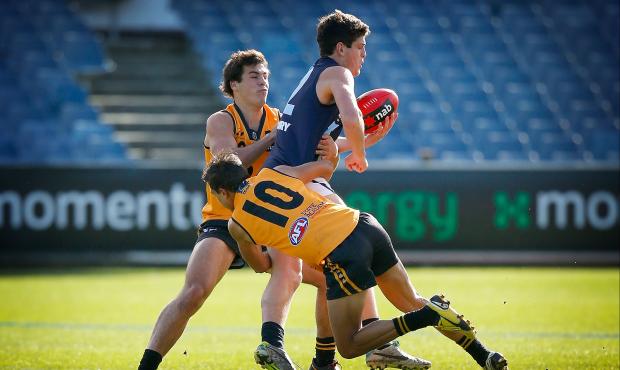 Durdin was used in the ruck at times for South Australia, but looked most at home at centre-half back, where his running and contested marking came to the fore on occasions. He missed three months of the year with a broken thumb and hasn't really hit his straps yet, as seen in his quiet game to close the carnival.

An intriguing player given he can do so much that others can't, but doesn't do it consistently. Was playing his best footy earlier in the year as a tall midfielder and wingman, but was used mainly in attack for Vic Country through the championships and didn't hit top form. When up and going, Lamb can turn a game his side's way in a flash and is among the most exciting prospects.

Right up there as the most thrilling player when he's firing. Takes the game on, has brilliant speed and loves to run with the ball tucked under his arm. Pickett has his quiet games but also produces ones that amaze, like his three-goal performance against South Australia. Can leap, take a big mark, land on his feet and then scoot off. When he goes, you just sit back and enjoy.
He's not always dominant but when he is on Jarrod Pickett is exciting to watch. Picture: AFL Media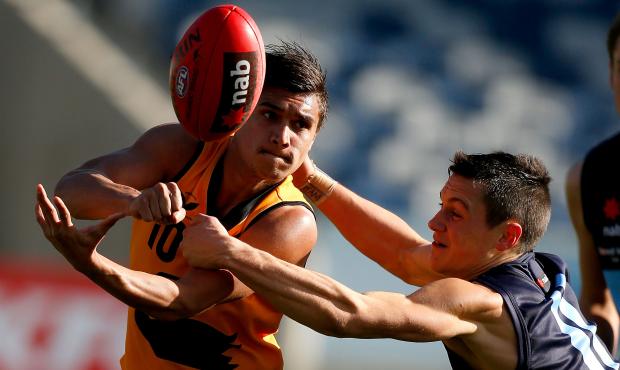 De Goey creates plenty of play through the midfield and across half-back with his vision and sure skills. He's competitive and hard but matches that with some class. Tall enough to play a range of positions and talented enough to impact games,
there's substance and style to De Goey,
and he has some big fans among recruiters.

Ellis might not always stand out, but he does everything well. He doesn't waste touches, he can play anywhere from the midfield to half-back, he wins his own ball and is just as handy on the outside with his left-foot disposal. E
llis thinks quick, reads the play, and can see what's going to happen
before it unfolds.

In an even draft Lever's position is perhaps most interesting. Out all of this year with a knee reconstruction, he's this high because of his deeds last season and his approach to his rehabilitation. Seven months since the operation, his recovery is going well, stepping up his running in recent weeks.
Lever is an aggressive, tough and commanding key defender
.

Smith didn't have a standout carnival like last year, when he won All Australian honours as a bottom-aged player, but by now most know how he plays. A crash and bash small, rebounding defender, Smith revels in the physical parts of the game. That was on show against Vic Country in the final game, when he moved forward to kick the winning goal for Western Australia. Smith gave away 19 free kicks during the carnival, but plays on the edge.
Clem Smith doesn't leave anyone wondering about his intent. Picture: AFL Media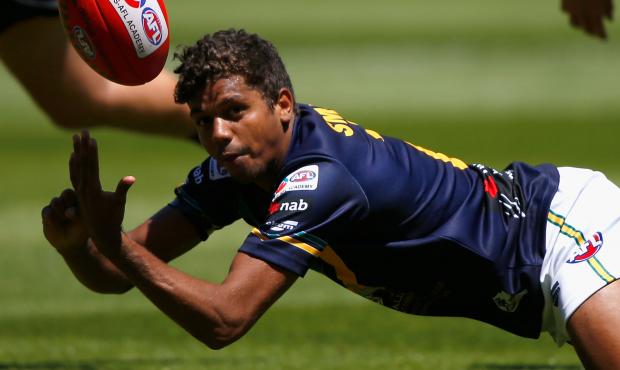 Has the skills and temperament to play well through the midfield, and also push forward to hit the scoreboard. Weller can cut through traffic with deceptive speed, and deliver the ball lace-out to teammates.
A standout for Queensland during its three-game championships
, Weller has the step to get out of trouble and into space, and the smarts to help others do the same.

A versatile tall, Goddard struggled to reach his best for Vic Country through the championships. He couldn't find space on the lead as a forward at first, and didn't fit right in when moved to defence. But he finished on a better note, playing well as a backman against WA. When on song, Goddard is comfortable flying for marks, competing hard and fighting for possession.

Ahern lit up a couple of games for Vic Metro against Western Australia with his pace and skills. In two encounters against WA he gathered a combined 45 disposals and kicked five goals. Ahern, of Indigenous background, has the pace to cut through congestion, the touch to deftly set up others and the composure to take it on himself.
Paul Ahern has the wheels to spin through congestion. Picture: AFL Media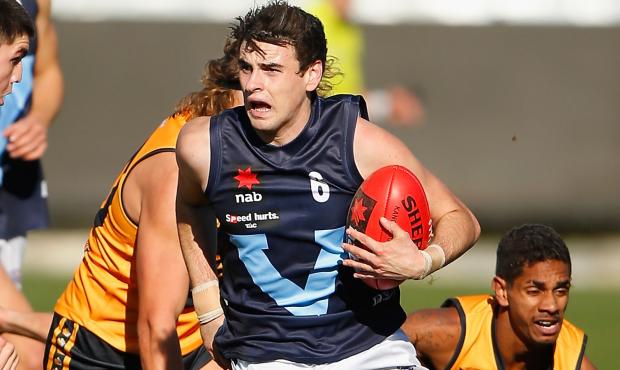 Has had injuries in the past but can run at the ball, lead and mark and do it at both ends of the ground. Looked more natural early in the championships as a versatile defender, but showed he was comfortable enough with a move forward later on. Is competitive, mobile and reads the ball well in the air.
Creative and classy, Laverde has the size and skills to play almost any position. Mainly used across half-back and through the midfield, Laverde tries things with the ball. It usually pays off. The 18-year-old likes to make the play and finished his carnival with an impressive three-goal outing.

Blakely is a tall midfielder who barges through whatever's in front of him to gather possessions. Well-built and able to push others aside, Blakely averaged 21 disposals and seven clearances a game for WA. Has played senior level WAFL and performed well, and finds the ball with a minimum of fuss.

Quietly goes about his business as a medium/tall backman. Vickers-Willis doesn't possess heaps of flair but gets the job done in defence and worries about that first. Opponents can find it hard to break away from him and he sticks to his task.