ANTHONY McDonald-Tipungwuti can't wait to run out alongside his former Gippsland Power teammate Dyson Heppell in the Bombers' season opener next year.
After playing together with Gippsland in 2010, the football trajectories of the duo diverged.
Heppell headed to stardom after being Essendon's first pick in the 2010 NAB AFL Draft.
McDonald-Tipungwuti had two more seasons with Gippsland Power and three with Essendon's VFL team before finally earning a spot on the Bombers' rookie list in 2016.
Then the Court of Arbitration for Sport ban hit in January, ruining Heppell's year and giving McDonald-Tipungwuti the chance he craved.
By the end of the season, McDonald-Tipungwuti had played 21 AFL games and earned a contract until the end of 2019, admitting with a grin he exceeded his own expectations when he put pen to paper.
"I was hoping for two years but three years is good," McDonald-Tipungwuti told AFL.com.au.
Just weeks ago, the Gippsland Power pair reunited inside the locker room, each with significant roles to play in the Bombers' future.
"I talked to him (Heppell) when he came back and said, 'Imagine what it will be like,'" McDonald-Tipungwuti said.
"It will be like back in the old days."
McDonald-Tipungwuti's 'old days' are more interesting than most.
After meeting Gippsland woman Jane McDonald on the Tiwi Islands, he received permission from his community to live with her and her family in Longwarry, Victoria, playing for Gippsland Power, and attending Chairo Christian School in Pakenham.
Returning to speak in his Bombers gear at that school in May this year, he detailed his progress from a 14-year-old footballer good enough to play in Darwin for the Tiwi Bombers to his AFL debut.
It was a story of hope, belief, some sadness and ultimately personal joy as he outlined his childhood battles with learning, the time he scared himself when he hit his cousin with a metal bucket and his perseverance to stick at the life he had chosen in Victoria, a long way from his community on the Tiwi Islands.
Nicknamed 'Walla' after being called 'Wallaby' when he was an infant, he decided aged 16 his best chance at making what he still calls the big league was to live in Victoria.
He overcame doubts and doubters to take every opportunity that presented itself, realising at every step the benefits of his hard work.
Wearing the No.43 Dean Rioli wore at Essendon, he soon became a fan favourite among shattered supporters after showing his explosive pace, agility and strength early in the season for the Bombers.
He laughs when reminded that he could have killed the eventual Brownlow medallist Patrick Dangerfield when he nearly bumped the new Cat into Mooroopna from Shepparton during the pre-season series.
The Geelong champion described the hit as one of the biggest he'd ever felt.
"I haven't spoken to him (Dangerfield) yet," McDonald-Tipungwuti said.
"I grew up watching him play and [admired] his speed and the way he grabs the ball, but it was an opportunity to stop somebody."
He was rapt when he heard Dangerfield tell his teammate Zaharakis on Channel Nine that he hits hard.
"I thought, 'Wow'. That's the way I look at my footy: just crack in and play hard," McDonald-Tipungwuti said.
Essendon fans can't wait to see Dyson Heppell and the other banned Bombers return. Picture: AFL Photos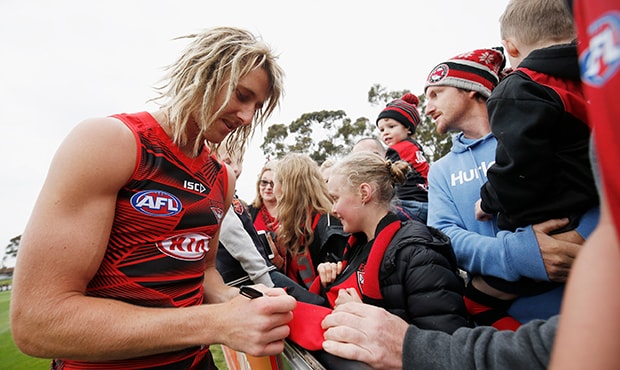 As his form held up he allowed himself the luxury of reflecting on his path when he lined up for Essendon against Collingwood at the MCG on Anzac Day in round five, three days after his 23rd birthday.
"It was a massive crowd and I was like, 'What is happening here, is it real?'" McDonald-Tipungwuti said.
"That was a moment where I could reflect on how I had come so far."
But a hardness lies underneath such moments of wonder, which is why he is well equipped to face his next challenge: retaining the spot he cemented in 2016.
Although McDonald-Tipungwuti is confident he will be part of the Bombers' best 22, he's aware nothing is guaranteed.
"I need to build my strength and fitness. That is my big goal, training as hard as I can and just getting fitter and fitter and stronger," McDonald-Tipungwuti said.
The performance of Western Bulldogs defender Jason Johannisen in the Grand Final – a game he attended for the first time - buoyed his confidence too.
"Half-backs are coming into the game now," McDonald-Tipungwuti said.
As are a bunch of new teammates, some old mates like Heppell, others former heroes of his like Jobe Watson.
McDonald-Tipungwuti is used to change so he is embracing their presence around him in the change room that he now feels more part of than ever.
"This year is something different," McDonald-Tipungwuti said.
"As a group we want them to come back in and enjoy footy again. That is our big goal."