OUT KELLY, in Coniglio?
Geelong, two games clear atop the ladder after another dominant and do-as-required effort against Sydney at GMHBA Stadium, is beautifully positioned for another premiership this year, eight seasons after its last.
It is also preparing for a future with its elite midfielder Tim Kelly a key part of the plan.
WATCH Danger and TK put on a show
But the Cats have several contingency plays, one of which includes Giants free agent Stephen Coniglio.
While Coniglio's close friendship with Hawthorn's Jaeger O'Meara has many convinced that if he is to leave GWS and reject the lure of home state Western Australia that it will be for the Hawks, do not rule out the lure of Geelong.
Coniglio is well aware of the Cats' serious interest.
Kelly was again among the best afield for Geelong; Coniglio delivered arguably the most complete performance of his stunning 128-match career against Gold Coast on Saturday night.
FANTASY FORM WATCH Giants feast on insipid Suns
The two could fight out the 2019 Brownlow Medal.
Bolton, Blues hit a new low
Carlton now doesn't have to make a decision.
The decision is being made for it.
Each loss, and after Sunday's embarrassing showing against Essendon at the MCG there have been 39 of them in Brendon Bolton's past 43 matches, moves the club closer to the point where it officially sets out to find a new coach.
NINE THINGS WE LEARNED Tipping point looms for Blues
No goals in either the second and fourth quarters, and only four in total against the similarly under-pressure John Worsfold and his Bombers was actually a new four-year low for Carlton under Bolton.
The toil, the toll, the futility of this season may have just about broken, temporarily, the Blues' greatest asset Patrick Cripps.
He had two kicks against Essendon.
Find In the Game on Apple Podcasts, Google Podcasts or Spotify
Time to review the score review
TECHNICAL reasons. Please.
For the AFL to trot out this excuse for its latest score review system failure, when it "passed" a goal which was actually a touched-behind by Fremantle's Michael Walters on Saturday against Collingwood, is simply not good enough.
A goal in the AFL competition is worth six points, a behind worth one. Fremantle won by four points.
This Michael Walters kick was paid as a goal, despite Chris Mayne's pleas for a touch.#AFLPiesFreo pic.twitter.com/7pFAs2wW2x

— AFL.com.au (@AFLcomau) June 1, 2019
How such incompetence can be tolerated in 2019, 10 seasons after the AFL committed to attempting to remove the "howler" after Geelong's Tom Hawkins was awarded a non-goal in the 2009 Grand Final, is mind blowing.
The venue for the latest mistake was the MCG. Camera positions have been long established. "Technical reasons" probably means "lack of communication".
How the "review" of the Walters goal only focused on the goal-line aspect of the kick, and not the obvious, off-the-boot touching of the ball by Pie Chris Mayne, is embarrassing.
Chris Mayne clearly got a hand to Michael Walters' shot at goal.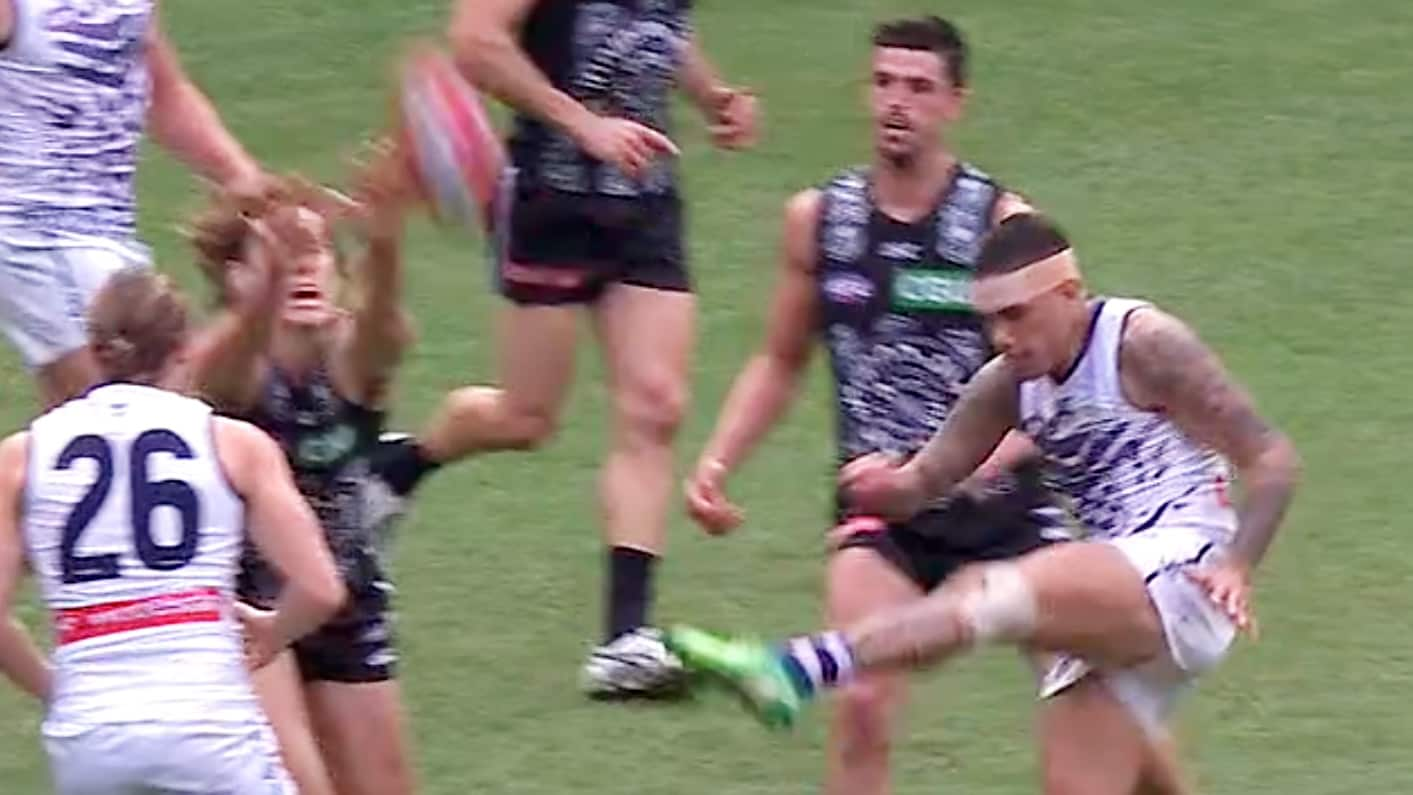 No, it doesn't mean it actually cost Collingwood the win. But it probably did, given the Dockers required Walters to guide through a set shot with just 30 seconds remaining in the match in order for the Dockers to secure their sixth, and clearly most impressive, win of 2019.
Walters is the most compelling player to watch in the competition. He oozes energy, wants the ball when the game is to be won – remember, he won the game after the siren in round 10 – and is so clean with his skills that he makes a majority of others look sloppy.
Really hope he is rewarded with All Australian and a best and fairest this year. He deserves it.
Michael Walters has done it again! He kicks a set shot goal at the death to give the Dockers the win! pic.twitter.com/mp08BjkMrO

— AFL.com.au (@AFLcomau) June 1, 2019
Save your star for September, Pies
JORDAN De Goey's questionable down-line kick late in his Magpies' loss to Fremantle at the MCG ultimately led to the ball ending up back in the hands of Walters, for his match-winning goal.
De Goey was among the Pies' best, again, but something is not right with his body.
Jordan De Goey kicks an incredible goal from the pocket!#AFLPiesFreo pic.twitter.com/VNNDI0psAP

— AFL.com.au (@AFLcomau) June 1, 2019
He spent half of the final quarter off the field, receiving intense medical treatment to his lower legs.
The Pies should rest him for the Queen's Birthday game against Melbourne next Monday. They have the bye the following weekend.
Maybe even rest him for round 14, against Western Bulldogs. And if the problem is really bad, leave him out again in round 15, against North Melbourne.
FROM THE TWOS Dumped Blue stars, Don's stunning grab
There will be no Collingwood premiership if De Goey is not fully fit. This sequence of matches against teams which are not finals contenders, with the bye amidst it, presents as the perfect opportunity to get this situation right.
No reason Rhyce can't keep that winning feeling
Love everything about how Rhyce Shaw is going about his 12-match caretaker status as coach of North Melbourne.
He's confidently talking himself up. He has only praised the man he has replaced, Brad Scott. He has reignited a fire in the bellies of some mentally and physically burdened older players.
SHAW-FIRE START Rhyce off to a flyer as Kanga caretaker
He's being real, and true to himself, even admitting he couldn't wait to get home and have a beer after his coach-debut win against Richmond.
— Heath Shaw (@LordHeathShaw23) May 31, 2019
One Shaw-led win, a 37-point demolition of the 2017 premiers, doesn't mean a thing in the context of the decision the Roos need to make about their next coach.
But it can't have hurt the 37-year-old.
He should go 2-0 after a match against Gold Coast next weekend.
Rhyce Shaw with the North players after his first game at the helm. Picture: AFL Photos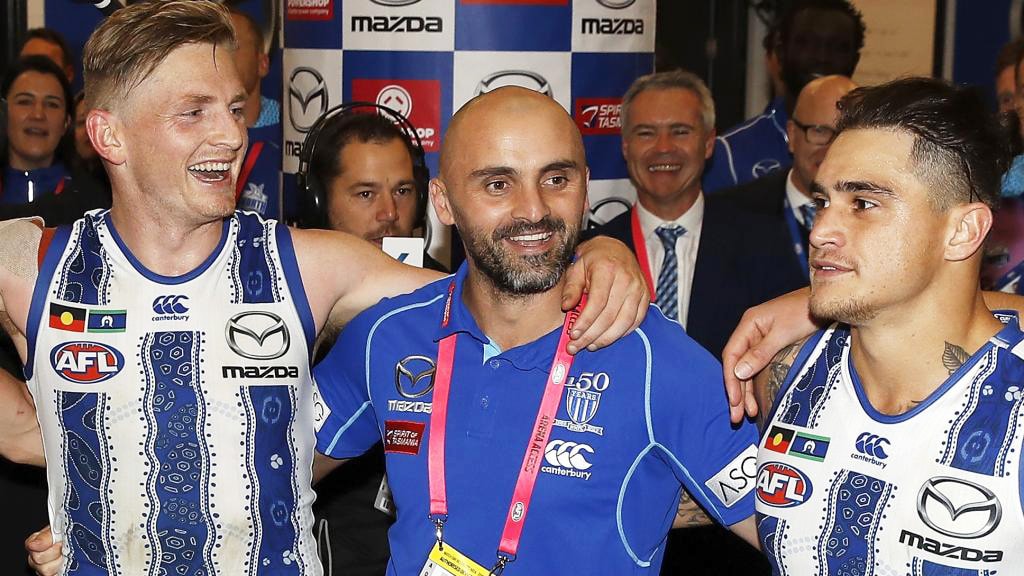 Too brave for his own good?
Sometimes, clubs need to protect players from their own courage.

In St Kilda's case, that means it shouldn't have selected captain Jarryn Geary for Sunday's game against Port Adelaide ... in China.

Obviously, the broken fibula Geary sustained in the match was not directly connected to the dramatic compartment syndrome-induced surgery which saw him miss the previous five matches.
BATTLE SCARS Geary reveals lasting marks from emergency surgery

But asking that he fly to China for his return match was already a massive ask. And then to have him fly back with teammates while nursing that fractured leg can't be a comfortable experience.
St Kilda captain Jarryn Geary was carried off by trainers after this tackle.#AFLSaintsPower pic.twitter.com/tzPMoZn17c

— AFL.com.au (@AFLcomau) June 2, 2019
The Saints have the bye next weekend. They should've thought big picture on their too-brave captain.
And before you scoff at that, remember that Geary had his leg opened right up by surgeons, before 30 staples and 19 stitches were required to medically seal it. Six weeks ago.

Really hope that the lack of power in his leg wasn't the reason that he has broken the fibula. In China.
Saints skipper Geary displays his scar in Shanghai ahead of the Port Adelaide clash. Picture: Michael Willson, AFL Photos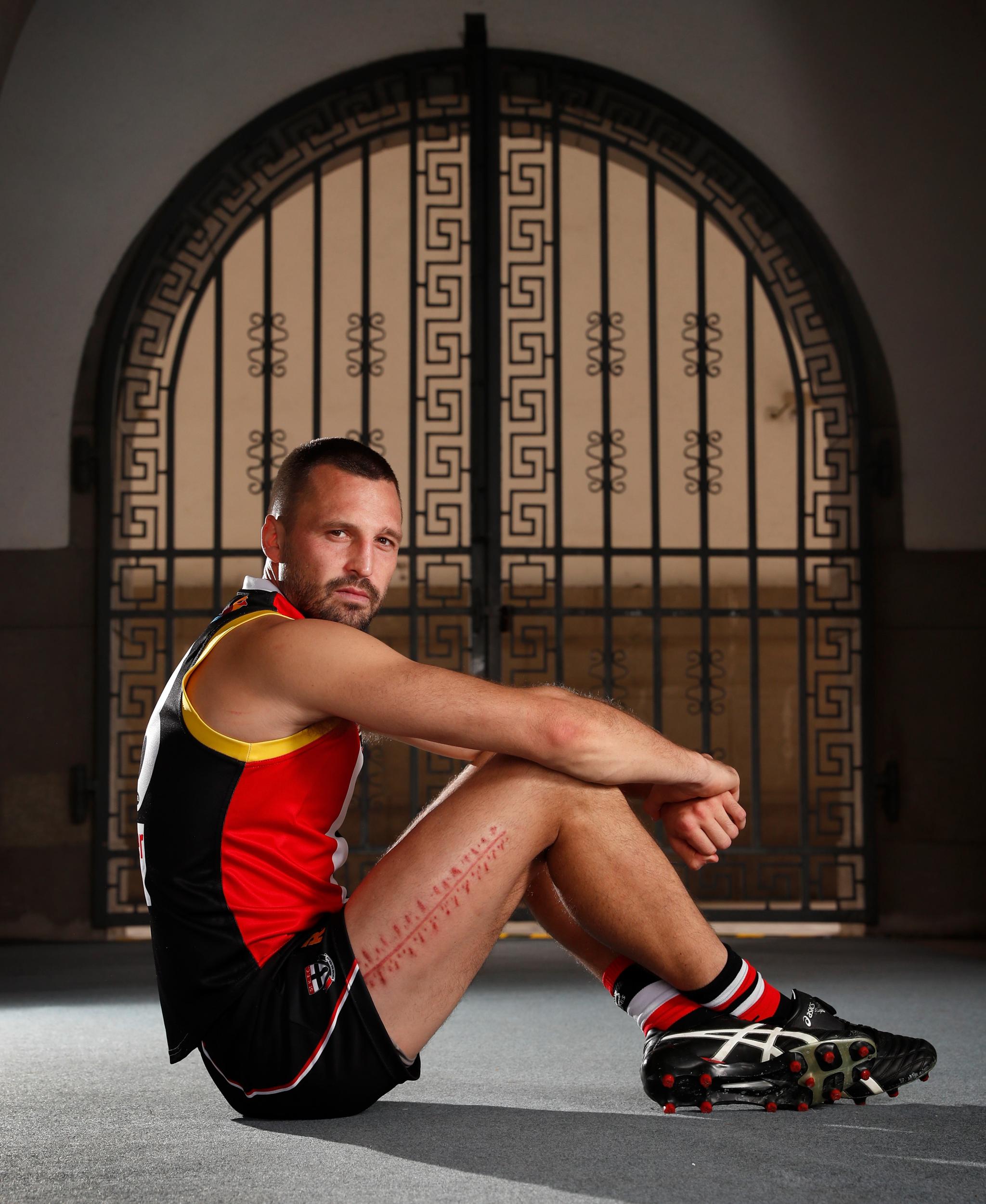 Dogs in disarray
THE Bulldogs need the bye they'll get more than every club, except Carlton.
They are a mess.
Lost dismally to West Coast on Sunday in Perth, which does happen to a lot of clubs, but they are the only team to have lost to the woeful Carlton in 2019. Also beaten by the 17th-placed Suns, and North Melbourne, which sacked its coach the day before.
Not since Hawthorn of 1978 has a team failed to make finals in the three seasons after winning a Grand Final.
No one asks hard questions at this club. It is time that happens.
Aaron Naughton was reported for striking Will Schofield. #AFLEaglesDogs pic.twitter.com/ZXE6tbwE8I

— AFL (@AFL) June 2, 2019
September's not the limit for red-hot Lions
Brisbane is certainly playing finals.
And the next three matches should set it up for a massive tilt at the finals double chance.
WHO MAKES FINALS? Do the 2019 Ladder Predictor
Carlton next week, bye, St Kilda and Melbourne is the next four weeks for the Lions.
Have become enraptured with what this club is doing in 2019. After the weekend's win against Hawthorn, there's no reason it can't aim preliminary final-high.
A little 'Jackie Chan' from Cam Rayner!

This might end up being one of the most entertaining plays of the year!#AFLLionsHawks pic.twitter.com/gbw4UeZY2L

— AFL (@AFL) June 1, 2019
Twitter: @barrettdamian