ALASTAIR Clarkson sowed the seeds for a golden era when he led Hawthorn's first expedition to Kokoda in 2004.
Among that inaugural group were fresh-faced draftees Lance Franklin, Jarryd Roughead and Jordan Lewis, future stars who helped rebuild the Hawks into a powerhouse.
Fast forward to 2017 and there's another changing of the guard taking place – albeit with the club in a far stronger position - under Clarkson's watch.
Bombshell trades have seen Lewis, the vice-captain and heir apparent to skipper Luke Hodge, depart the club alongside fellow Hawks great Sam Mitchell, leaving a sizeable gap in leadership and experience.
Suddenly, Hawthorn's new era is coming with a rush, as Clarkson impressed on the 12 young players who tackled the Kokoda Track in November.
"In Kokoda we were always talking about us being the next wave of players for the club," second-year midfielder Kieran Lovell told AFL.com.au.
"It was a pretty challenging trip, but all us young boys got together, encouraged one another and got the job done.
"It was a very good bonding experience and very good (lesson about) mental toughness and resilience for all of us."
Not since 2011 had a group of Hawks trekked through the site of the Anzac's pivotal WWII military campaign.
Despite preparing as best he could for the gruelling eight-day walk, Lovell wasn't ready for the sheer difficulty of climbing muddy hills carrying a 15kg backpack.
"It was definitely a shock. We did a lot of walking and a lot of training leading up to it but it was absolutely nothing compared to what it was actually like," he said.
"The first couple of hours of the walk was pretty flat and steady ground, so we were all pretty relaxed and thought 'this will be a breeze'. Then it hit us with the hills and they just seemed to never end.
"It was very hard walking for about 10 hours a day at times and Clarko had us doing some crazy stuff."
Will the next generation keep the Hawks at the top? Picture: Hawthornfc.com.au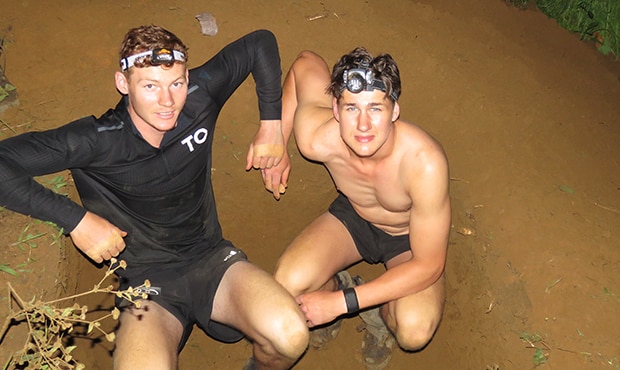 Clarkson's curveballs – which included carrying stretchers and logs, plus climbing a steep hill before going back to the bottom to do it all over again – were designed to push the players out of their comfort zones.
But despite their tired minds and sore bodies, it wasn't all work and no fun – and not even the four-time premiership coach was safe from the odd practical joke.
"One of the boys kept chucking big rocks on top of his bag on the first day, and any extra weight will cost you severely," Lovell said with a laugh.
"There was a massive hill and he gradually deteriorated and couldn't do it anymore, and realised after that he had about 6kg of rocks on his bag, which didn't help him.
"We all knew who was doing it the whole time: Kade Stewart. He (Clarkson) got him back.
"We had to throw this log down the bush and we didn't throw it far enough. Kade was the one who had to get it, and he come a massive 'gutsa' (tumble) down the hill face first about 10m down.
"So Clarko got his little laugh at the end."
Since returning from Papua New Guinea, Lovell has already noticed the young Hawks taking more ownership at training, while he also feels more connected to his teammates.
"I had a couple of close mates, but by the end of Kokoda I was pretty much close with every single one of the blokes that I went with," he said.
Having completed the trek and 100 per cent of pre-season training before Christmas, the 19-year-old Tasmanian is also feeling in the shape of his life.
And after getting a taste of senior football "out of the blue" in two games early last season, Lovell is eyeing a strong JLT Community Series to push his claims for round one.
"It definitely drives me to play more games, because it's a pretty unreal feeling running out with the boys," he said.
"There's obviously spots there for us midfielders, and across the whole team we don't know how we're going to line up.
"There's a bit of motivation for all of us just having a fresh new look (at the club)."
The players that went to Kokoda:
Dallas Willsmore, Kade Stewart, Kaiden Brand, Teia Miles, Kurt Heatherley, Tim O'Brien, Jono O'Rourke, Kieran Lovell, Billy Hartung, Luke Surman, James Sicily, Daniel Howe