THERE is quite simply no slowing Shaun Burgoyne down.
FULL FIXTURE Every round, every game
Burgoyne will equal Adam Goodes' record for the most AFL/VFL games played by an Indigenous footballer when he takes to the field for the 372nd time this weekend.
But for Hawthorn, the club is hopeful there are many more to come.
The Hawks are hopeful Shaun Burgoyne can continue his long career next season. Picture: AFL Photos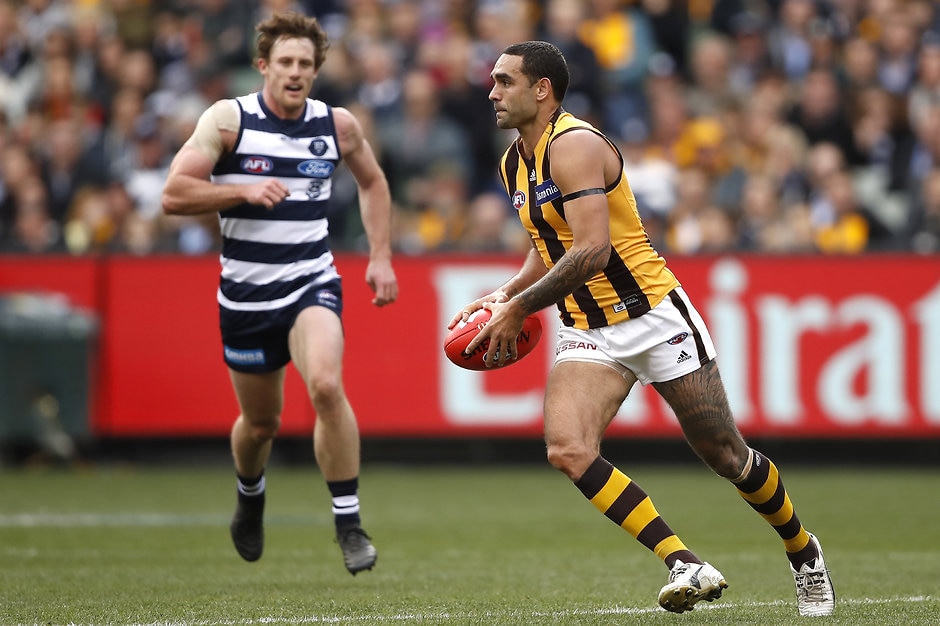 Set to turn 37 later this year, Burgoyne is into his 19th season of senior footy. However, he remains as consistent and durable as ever – playing 13 of 17 games so far this year and still managing to influence games in a range of different positions across the field.
Alastair Clarkson is hopeful Burgoyne will opt to go into campaign number 20 next season.
"He's doing everything right," the Hawthorn coach said on Friday.
"There's nothing, as I'm observing at the present time, that would suggest he shouldn't go on next year.
"(Hawthorn football boss) Graham Wright, our club and our board need to be involved in all of those decisions.
"It's not just about Shaun, we've got a number of players out of contract and a number of veterans out of contract. It's not just about one player, it's a whole group of them.
"We'll make those judgements over the next few weeks, but right as it sits now we'd be hopeful he'll go on."

Hawthorn has recalled Grant Birchall for Saturday's clash with Brisbane in Launceston, making it just the second time the defender has played senior footy this year.
Birchall returned from 740 days on the sidelines a fortnight ago – having dealt with a wretched two years that featured a fractured jaw, a PCL injury and a range of calf issues – but pulled up sore from the clash and was managed for last week's win over Geelong.
However, having initially made his return through the VFL, Clarkson is confident Birchall will begin to get some consistent senior footy under his belt to finish the year.
There's nothing, as I'm observing at the present time, that would suggest he shouldn't go on next year - Alastair Clarkson on Shaun Burgoyne
"He's played four of the last five games," Clarkson said.
"He didn't quite recover as well as we'd like from the game against Fremantle two weeks ago, so we just didn't want to take a risk with him.
"There are some players who will play a little bit sore from week to week. 'Birch' has been one of those for 12 or 13 years of his career, but he's not one of those right now.
"When he didn't recover properly from the Fremantle game, it was an easy decision for us to not take the risk.
"He's back in and we'd be hopeful that he'll pull up well from this game. But we've got a six-day break after this game too, so depending on how he recovers it will determine whether he plays the Kangaroos game the following week.
"We're just looking to build up his game time and his match play. Hopefully, he'll get some continuity that way, and by the end of the season he'll be much more confident that he can play week to week than what he was six or eight weeks ago."
Find In the Game on Apple Podcasts, Google Podcasts or Spotify