IN A WAY few his size can, Clem Smith busts through packs, into players, and enjoys doing it again and again.
The Perth 18-year-old, who played for his state last year in defence, packs much into his 178cm frame. He's tough and aggressive and thrives on the physical elements of the game.
But Smith is able to complement the crash with the class, with both on show on Wednesday during the AIS-AFL Academy's trial match with the European Legion in London.
In the lead-up to Saturday's meeting between the teams, squads were put together and split into two sides, with Australia's most talented group of 31 draft prospects joining players from around Europe, some of who were playing their first ever game of Australian football.
Art for art's sake
With AIS-AFL Academy assistant coaches Tadhg Kennelly and Glen Jakovich leading the mixed teams at the prestigious Harrow School, it gave club recruiters a chance to see the Academy's players line-up on each other, as well as some encouraging performances from the European crop.
Smith was one of the better players on the ground, running with the ball, drawing teammates forward with his kicking, and flying for marks. He also laid a heavy bump on tall forward Tom Lamb, an impressive player for the opposition and a highly touted draft hopeful.
Isaac Heeney gave some drive out of the midfield, as did Bradley Walsh, while Hugh Goddard marked well in attack and found space easily in his forward half.
West Australian tall Sam Bevan showed his solid goalkicking with two skillful kicks, and Matt Hammelmann, a Brisbane Lions academy player, chipped in with two goals.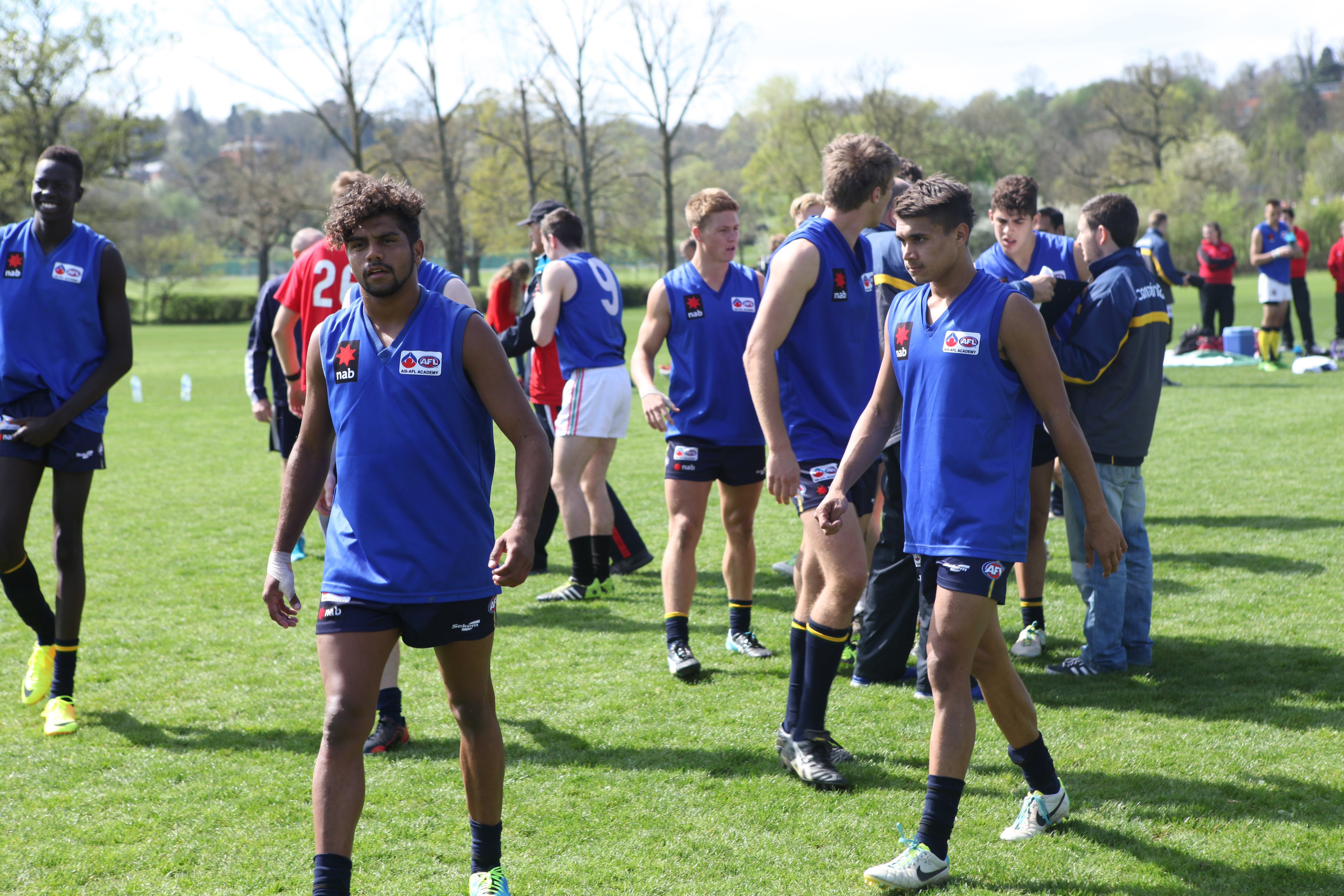 Clem Smith (left) and Jarrod Pickett were among the stars at Harrow. Picture: Callum Twomey
A talking point after the game was the starring efforts of Irishman Conor McKenna.

It's understood McKenna had already been on the radar of AFL clubs, with up to six already believed to have spoken with him about an AFL career, but he can expect more attention after four goals and close to a best-afield showing.

McKenna isn't tall but used the foreign AFL ball naturally, with a touch of speed and composure. Paddy Brophy, who has attended the Irish talent combine in recent years, was another to show some skills and athleticism.

On Saturday the Academy and European Legion will play off at the Harrow School in London in the Easter series.

Twenty-six players from Denmark, England, Germany, Ireland and Sweden have come together under Kennelly for the training camp and match.
Tadhg Kennelly's team:   11.13  (79)
Glen Jakovich's team:       7.2    (44)
Tadhg Kennelly's team
GOALS:
McKenna 4, Goddard 2, Bevan 2, Brayshaw, Coughlan, O'Hanlon
BEST:
Smith, McKenna, Capiron, Goddard, Lim, Brophy, Petracca
Glen Jakovich's team
GOALS:
Watchman 2, Hammelmann 2, Lamb, Flynn, Campion
BEST:
Heeney, Walsh, Lamb, Weller, Hammelmann, Habljak
Twitter: @AFL_CalTwomey