ST KILDA could return to its original home at the Junction Oval, with the AFL having begun talks with the Victorian Government to broker a joint tenancy between the Saints and Cricket Victoria.
Fairfax Media reported on Wednesday night that Premier Denis Napthine and Sports Minister Damian Drum gave the AFL approval last week to explore the proposed partnership that would give rise to a multi-million redevelopment of the historic St Kilda ground.
If the redevelopment goes ahead, the Saints would relocate their administrative and training base from the Seaford headquarters they have called home since 2010.
It would also make the MCG available for AFL games from March each year, with the AFL having been unable to use its showcase ground due to a MCC-Cricket Victoria agreement that dictates it must remain available for the Sheffield Shield final in late March. That agreement expires in 2018.
Under the redevelopment, the Junction Oval would be transformed into two separate ovals, with Cricket Victoria holding the rights to the existing ground and the Saints the new one.
Cricket Victoria's oval would host first-class cricket and, if Victoria qualified, the Sheffield Shield final.
Both St Kilda's and Cricket Victoria's administrative offices would be housed in the complex, which would also include a cricket academy and training facilities including a swimming pool and gymnasium.
It is envisaged the redevelopment could be completed within two years, but possible sticking points include size constraints and the Junction Oval's two heritage-listed grandstands.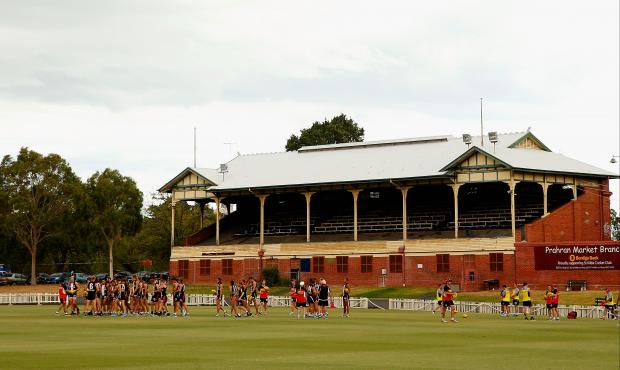 Junction Oval's heritage-listed grandstands may prove a sticking point. Picture: AFL Media
An AFL spokesman told AFL.com.au on Thursday: "The AFL will continue to work with government and other sports to explore options to enhance facilities at the Junction Oval with a view to making the MCG available for the AFL's opening round in years to come."
Drum told Fairfax Media it was logical for Cricket Victoria to explore a shared facility with another sporting organisation.
"Multi-purpose facilities are what we encourage at all levels of sport to facilitate greater usage and the best outcomes for the public," Drum said.
"If cricket and another sport want to present a joint proposal that pools resources for Junction Oval facilities, we'd welcome it.
"We'd encourage cricket and AFL to work together, just like we encourage all sports to work cooperatively on facilities planning."
AFL CEO Andrew Demetriou and his deputy Gillon McLachlan reportedly met the Premier and Drum last week to discuss the proposed redevelopment, while McLachlan has held separate meetings with Cricket Victoria and St Kilda president Peter Summers and incoming chief executive Matt Finnis.
St Kilda released a statement on Thursday afternoon saying the club had recently been consulted by the AFL about the proposed Junction Oval redevelopment, but its involvement in the venture remained "highly speculative".
"We have a professional training and administration base at Linen House Centre in Seaford, an ongoing presence at Moorabbin and would consider any new opportunities to further combine our rich bayside heritage with future community engagement," the club statement said.
"When you consider our whole of bayside strategy, existing quality facilities at Linen House Centre, strong relationships with Frankston and Kingston City Councils and commitments that are in place, it is highly speculative to imply any situation beyond that which has been articulated above."
The Junction Oval was the Saints' home ground from the first season of the VFL in 1897 until their move to Moorabbin in 1965.