LUKE Hodge's first season with Brisbane was a raging success, but it took some criticism from one of his young teammates to spur the four-time premiership star to his best form of the year.
Coming out of a brief retirement to join the Lions, Hodge played 19 games, averaged 19 disposals and finished eighth in the club's best and fairest.
Beyond that, his on-field education of a young backline and assistance in leadership meetings helped the club more than outsiders would realise, coach Chris Fagan told AFL.com.au.
SEASON REVIEW What worked, what failed, overall rating, more
"My expectations of what he'd bring to the team, he delivered in spades," Fagan said.
"He's the best on-field leader I've ever seen, so I knew what we'd get in that regard.
"Sometimes his own game suffers a little because he's so busy coaching everyone else out there.
"If you talk to our players or listen to them talk about him, they hold him in such high regard and they've learnt so much.
"He's as hard on himself as anyone is in terms of his own performance, calls himself out when he's done something wrong.
"The young blokes look at him and think 'if it's good enough for one of the best in the game to do that, it's good enough for me'."
When Hodge took part in training early in the pre-season it was clear he carried an aura with him.
The 21-and-unders looked up to the man that led Hawthorn to three of its four premierships in the past decade with awe.
They quickly started making fun of his age though and saw him as just another teammate.
Mid-season, and with Hodge's form under the microscope, it was a teenager that got the best out of the 34-year-old, Fagan said.
"The young guys called him out a few times," the Lions coach explained.
"At one stage there during the year, Alex Witherden … pointed something out in a team meeting and Hodgey went on his best burst of three weeks after that because it fired him up.
"He (Witherden) shared a couple of (negative) things about his performance.
"Hodgey encourages that because he's so honest himself and he expects it to come back the other way, it's not a one-way street for him."
Alex Witherden and Luke Hodge celebrate their win over the Hawks in Tasmania. Picture: AFL Photos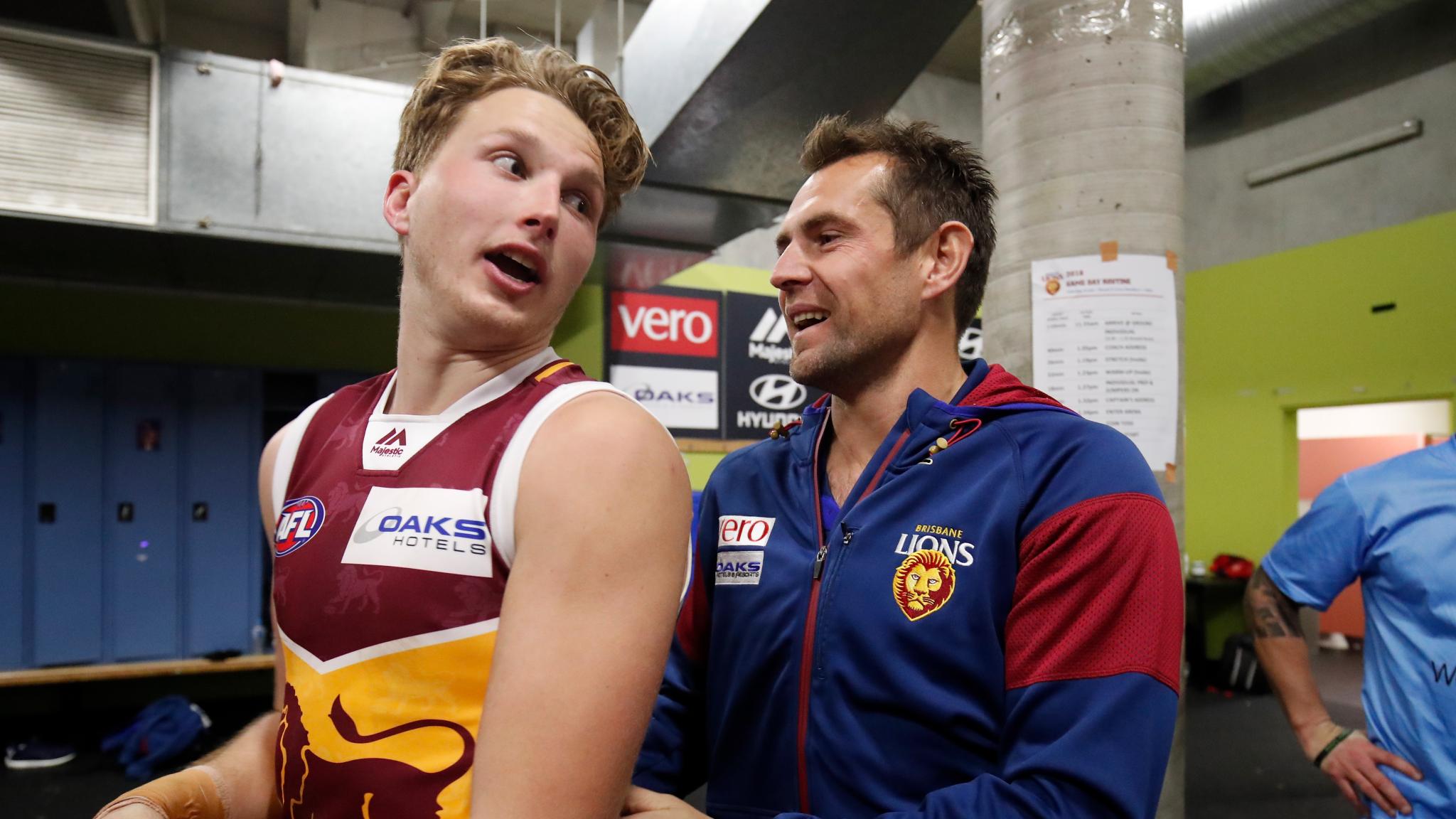 Hodge has confirmed he will play on in 2019 in the second season of his two-year deal.
Speaking to the club's live stream at its best and fairest on Saturday night, the veteran said he was also considering staying in Brisbane in a possible coaching capacity beyond next year.
"Forever during the week I saw him sitting down with guys watching tapes," Fagan said.
"He exceeded expectations in that regard.
"I never put it on him to do that.
"I just wanted him to enjoy his football and be that on-field leader. But he transferred that off-field."