WHO RACKS up the most kilometres in a game at your club? Who's hit the highest speed in a sprint? It's not always who you might think.
Data from the Telstra Tracker in the AFL Live app reveals some familiar faces at the top of club lists, and plenty of surprise leaders in both the distance and speed categories.
The 'team distance' category is the total distance covered by all players from a team during the nine games played so far (or eight, in the case of Port Adelaide and Gold Coast).
The 'distance kings' category below measures the total kilometres covered by a player during a match, while the 'speedsters' category measures a player's top speed.

Team distance: 2533.8km
Distance kings
1. Riley Knight 14.7km
2. Rory Atkins 14.7
3. Rory Laird 14.4
Knight is at the front of the pack in the Crows' 2km time trials. Atkins covers plenty of territory up and down the wing, while All Australian defender Laird is third in the League for disposals.
Speedsters
1. Lachlan Murphy 34.1km/h
2. Wayne Milera 33.0
3. Tom Doedee 32.8
Murphy's extreme pace has earnt him a spot in the Crows' side as a pressure forward. Milera's ability to break the lines has been handy in his new role across half-back. - Lee Gaskin

Team distance: 2524km
Distance kings
1. Hugh McCluggage 14.5km
2. Harris Andrews 14.4
3. Sam Mayes 13.9
McCluggage has spent plenty of time on the wing, and despite being in just his second season, is one of the club's fittest. Andrews pushes up with the zone and all the way back to the last line of defence, covering a heap of territory.
Speedsters
1. Charlie Cameron 34.6km/h
2. Harris Andrews 34.6
3. Dan McStay 33.8
No surprise Cameron tops this list, although perhaps the man alongside him might raise some eyebrows. Not only does Andrews cover more kilometres than most, but his closing speed on opposing forwards is among the best in the league. - Michael Whiting


Team distance: 2573.5km
Distance kings
1. Ed Curnow 14.9km
2. Marc Murphy 14.8
3. Sam Kerridge 14.7
Curnow is one of the best gut runners in the competition. He is often assigned the opposition's best midfielders and generally out-runs them. Murphy and Kerridge also cover plenty of territory.
Speedsters
1. David Cuningham 34.2km/h
2. Liam Jones 33.1
3. Ciaran Byrne 32.6
No wonder the Blues are lacking for speed – Cuningham played in the VFL last Saturday and Byrne is out with a quad injury. Jones has explosive speed for a big guy. - Howard Kotton
Ed Curnow's running power has made him a valuable part of Carlton's midfield. Picture: AFL Photos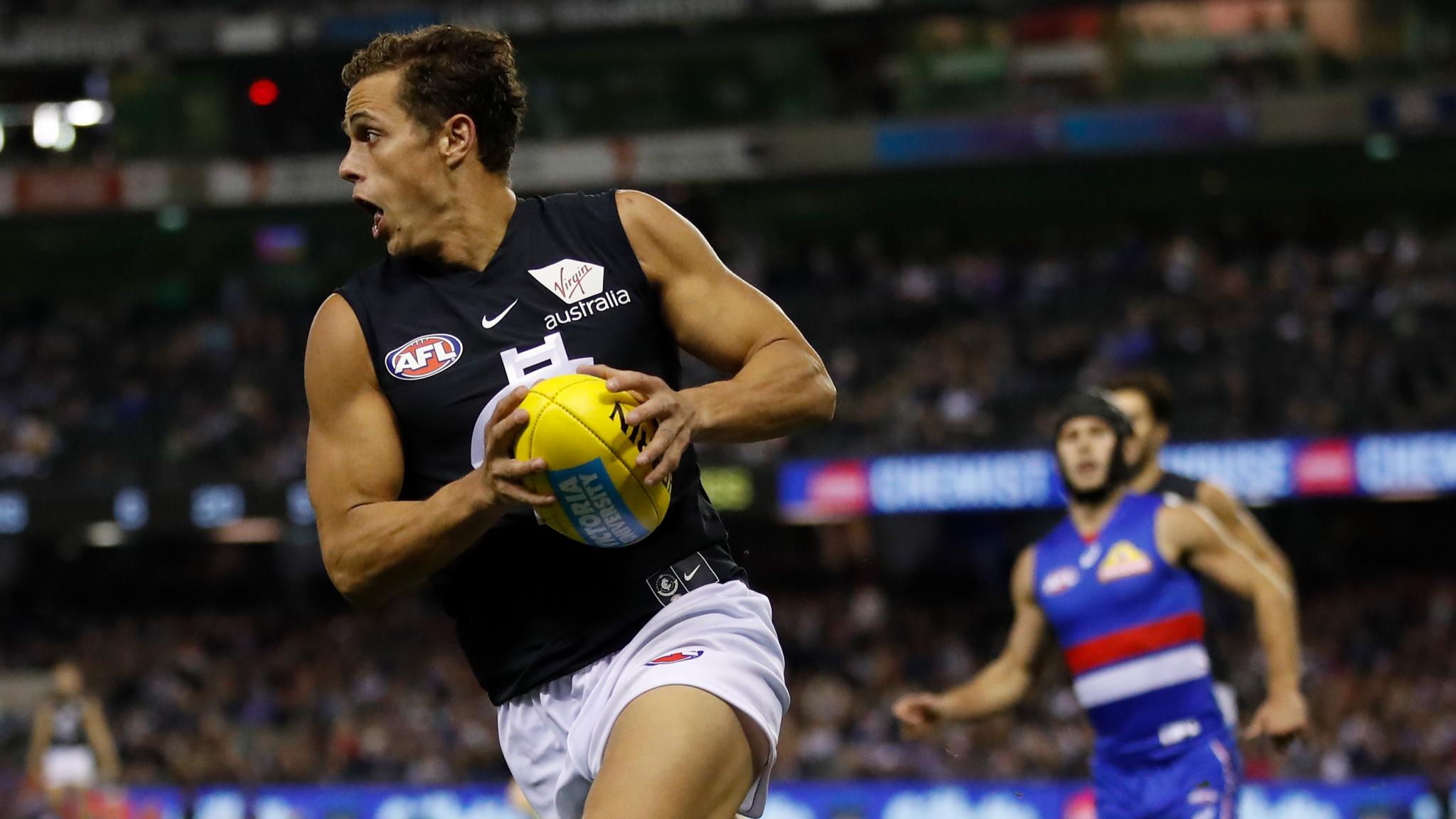 Team distance: 2635.4km
Distance kings
1. Jack Crisp 14.9km
2. Steele Sidebottom 14.9
3. Flynn Appleby 14.6
The perpetually-in-motion Sidebottom was always going to figure prominently, and Crisp trumped him despite a fulltime move to half-back. Four-game rookie defender Appleby has coped well with the physical demands.
Speedsters
1. Will Hoskin-Elliott 34.2km/h
2. Jeremy Howe 34.2
33.83. Jaidyn Stephenson
Hoskin-Elliott and prized draftee Stephenson are renowned whippets but the surprise here is Howe, who was a smidgen off claiming the Pies' fastest speed. Those heels certainly have springs in them. - Ben Collins

Team distance: 2513.6 km
Distance kings
1. Dyson Heppell 15.2km
2. Patrick Ambrose 14.5
3. Devon Smith 14.4
Heppell put in an excellent performance last week in the Bombers' win over Geelong, and he continues to be one of the most hard-working Essendon midfielders. Ambrose's athleticism is a key attribute in the defender's game.
Speedsters
1. Adam Saad 34.2km/h
2. Conor McKenna 33.8
3. Devon Smith 33.7
The Bombers secured Saad to bring some pace to their backline and it was on show against the Cats as the former Gold Coast defender. McKenna has also added plenty of pace to the club in the past two seasons in particular. - Callum Twomey

Team distance: 2531.8km
Distance kings
1. Mitchell Crowden 14.6km
2. Ed Langdon 14.4
3. Alex Pearce 14.2
You wouldn't expect Crowden to be an elite runner but he can get from contest to contest with the best of them. Ed Langdon is a perennial 2km time trial challenger and is getting the most from running power this season, averaging 24 touches.
Speedsters
1. Alex Pearce 34.2km/h
2. Luke Ryan 33.5
3. Ed Langdon 33.3
Alex Pearce's size is an asset against the competition's best tall forwards but so is his sheer pace, which is outstanding for a big man and helps him close down space, while Ryan's bounce from half-back has made him a weapon. - Travis King
Big defender Alex Pearce combines size and speed in a hard-to-beat package. Picture: AFL Photos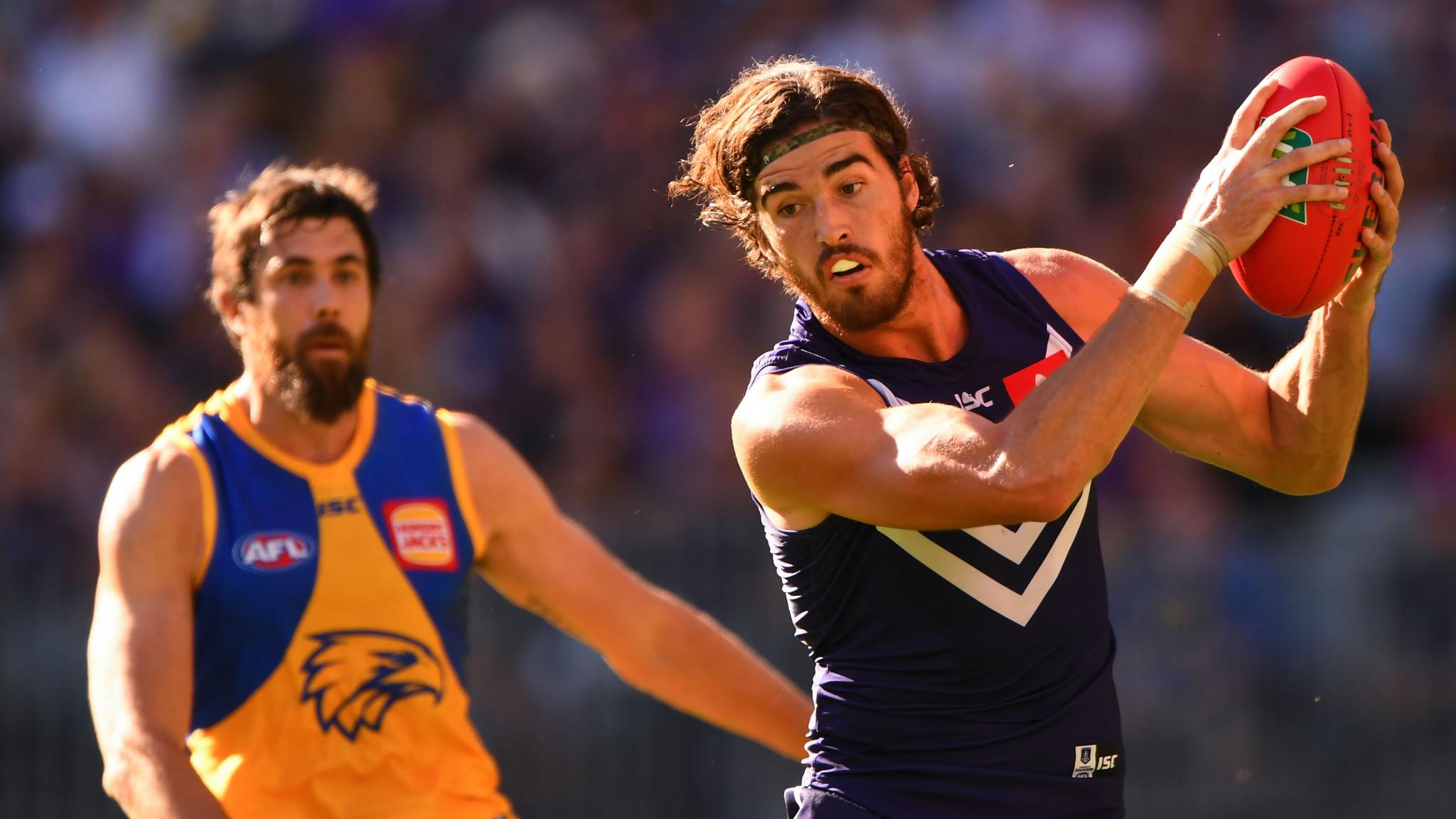 Team distance: 2581km
Distance kings
1. Mark Blicavs 15.5km
2. Tim Kelly 14.5
3. Jordan Cunico 14.4
It should come as no surprise that the man who dominates pre-season running at the Cats tops the distance list and sits second in the competition behind Eagle Andrew Gaff. First-year midfielder Tim Kelly is showing up a number of more experienced teammates with his endurance.
Speedsters
1. Nakia Cockatoo 34.6km/h
2. Jack Henry 33.8
3. Tom Stewart 33.8
Cockatoo topping the speed list at the Cats highlights what they're missing through injury. Henry's athletics background assists with his closing speed as a defender. - Mitch Cleary

Team distance: 2244km *
* Round nine against Port Adelaide is not included in this figure
Distance kings
1. Lachie Weller 13.9km
2. Kade Kolodjashnij 13.8
3. Matt Rosa 13.8
Interesting to note that all of the top three here play in defence. Weller and Kolodjashnij play at half-back, while Rosa also mixes in time on the wing.
Speedsters
1. Lachie Weller 34.2km/h
2. Touk Miller 33.6
3. Steven May 33.5
Weller is still finding his feet with the Suns, but this shows he is a fantastic athlete. No surprise to see co-captain May in the top-three with his fantastic closing speed. - Michael Whiting

Team distance: 2607.0km
Distance kings
1. Lachie Whitfield 15.5km
2. Josh Kelly 15.3
3. Tim Taranto 14.8
There's no real surprises here with Whitfield and Kelly two of the Giants' best runners, while Taranto's tank played a huge role in his selection at pick No.2 in the 2016 NAB AFL Draft.
Speedsters
1. Jeremy Finlayson 34.8km/h
2. Aidan Corr 34.2
3. Dylan Shiel 33.8
Finlayson and Corr are two of the Giants' best athletes for their size and have amazing closing speed playing in defence. Shiel is the club's most explosive star, especially around stoppages. - Adam Curley
Lachie Whitfield has long been one of the League's best runners. Picture: AFL Photos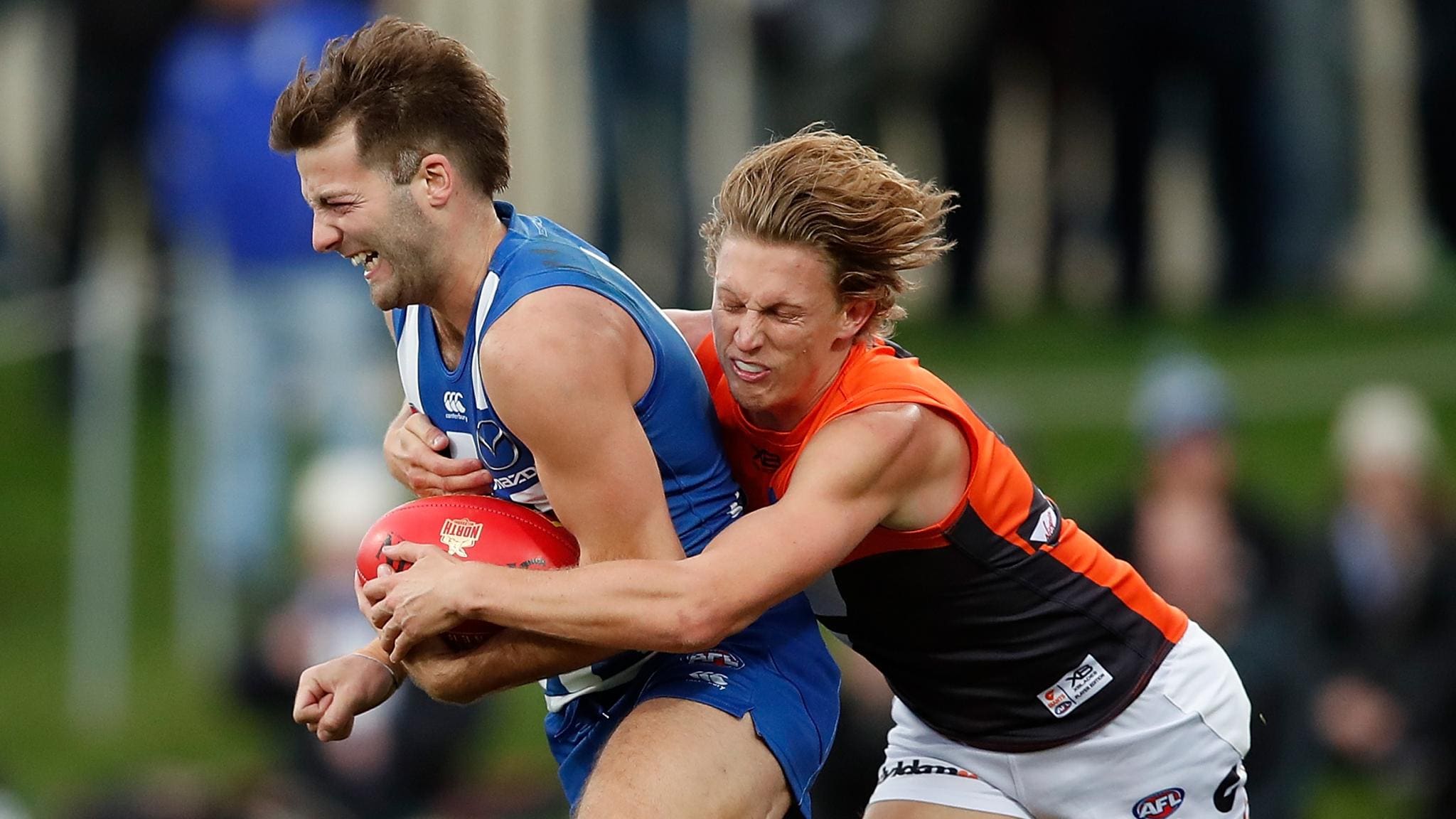 Team distance: 2547.7km
Distance kings
1. Isaac Smith 15.3km
2. Tom Mitchell 14.9
3. Ryan Schoenmakers 14.1
Waverley Park's resident time-trial king has racked up more kilometres than any teammate in a game this year and his effort stacks up well League-wide. Mitchell's work ethic was never in question, while swingman Schoenmakers is noted for his athletic ability, particularly for his size.
Speedsters
1. Paul Puopolo 34.6km/h
2. Jarman Impey 34.5
3. James Sicily 34.3
The Hawks aren't lacking for fleet-of-foot soldiers, with Sicily's top-three ranking perhaps the only slight surprise. Puopolo and Impey are long-known speed demons and provide genuine attacking flair with ball in hand. - Marc McGowan

Team distance: 2613.1 km
Distance kings
1. Alex Neal-Bullen 15.3km
2. Oscar McDonald 13.9
3. Josh Wagner 13.9
No surprises that Alex Neal-Bullen is ranked so highly in this area, with the hard-working half-forward one of the best endurance athletes at the club. In round four against Hawthorn, Neal-Bullen clocked 17.2km – the 11th-highest recorded distance ever.
Speedsters
1. Jayden Hunt 34.2km/h
2. Jeff Garlett 34.2
3. Jesse Hogan 34.1
Hunt is one of the fastest players on Melbourne's list and in the entire AFL. It's impressive to see Hogan in third place and perhaps gives a pointer to his athleticism and why the Demons have been so keen to play him further up the ground this season. - Ben Guthrie

Team distance: 2546.9km
Distance kings
1. Ben Brown 14.5km
2. Ryan Clarke 14.0
3. Kayne Turner 13.8
Coleman Medal leader Brown, like Jesse Hogan at Melbourne, represents the archetypal modern key forward as far as the work rate required to succeed. Clarke's found his niche since switching to half-back, while Turner is regarded highly internally for how hard he works.
Speedsters
1. Majak Daw 35.6km/h
2. Billy Hartung 34.9
3. Jarrad Waite 33.8
Herein lies part of the Majak appeal. No player has reached a higher speed than North's 195cm ruckman-cum-forward-cum-defender. It's no surprise to see running machine Hartung on the list, and this is further evidence that super-veteran Waite hasn't lost his edge. - Marc McGowan
Majak Daw boasts awesome athletic ability to go with his size. Picture: AFL Photos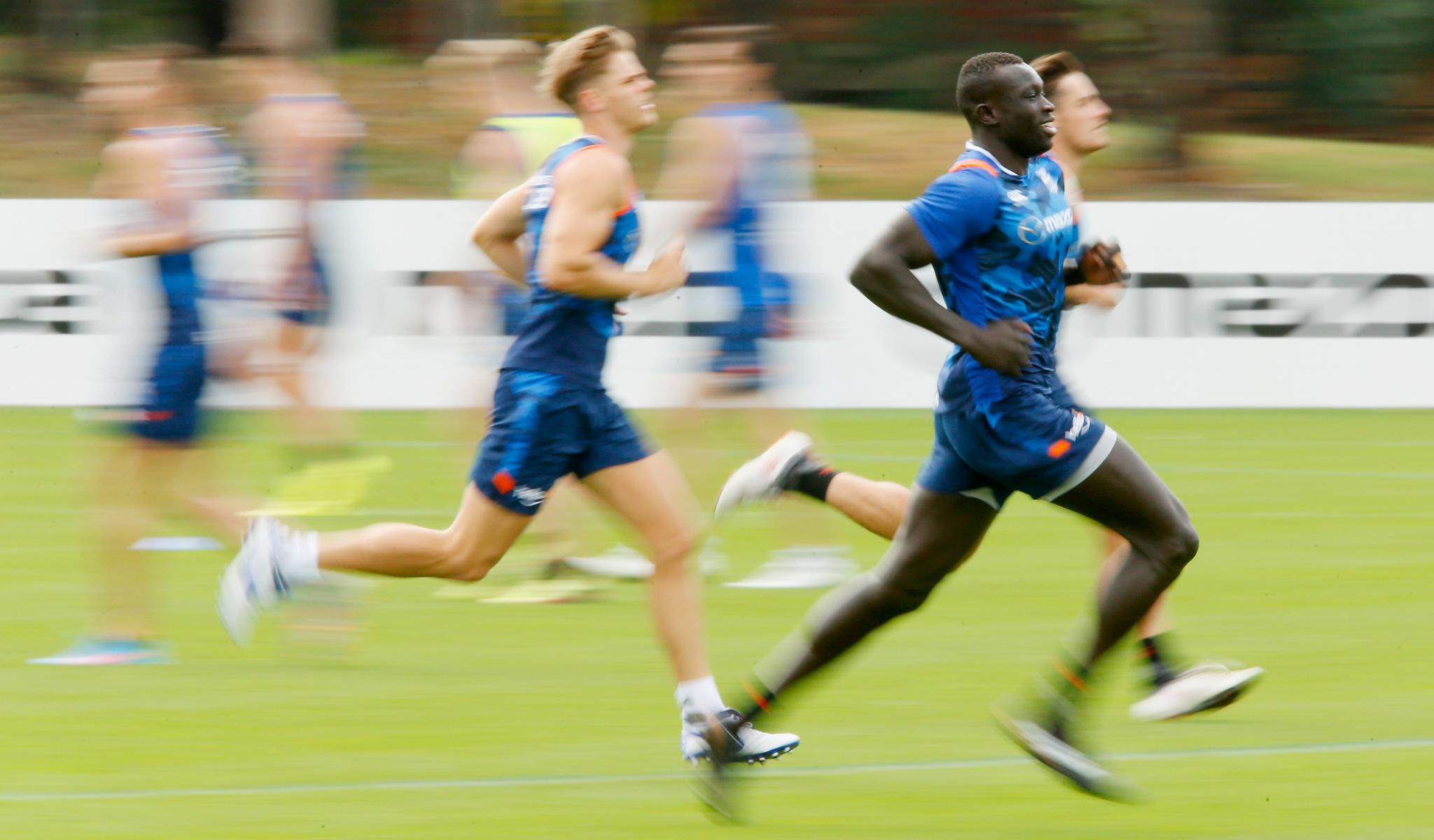 Team distance: 2215.5km
* Round nine against Gold Coast is not included in this figure
Distance kings
1. Justin Westhoff 14.2km
2. Travis Boak 13.8
3. Jared Polec 13.8
The evergreen Westhoff gets better with age. The 31-year-old has been a workhorse for the Power this season through the midfield, on the wing, up forward and in the ruck.
Speedsters:
1. Dougal Howard 33.5km/h
2. Darcy Byrne-Jones 33.1
3. Steven Motlop 33.0
Howard's closing speed is a key reason why he's able to spoil a lot of marking contests and cover a lot of ground in the back half of the ground. - Lee Gaskin

Team distance: 2536.9kms

Distance kings
1. Kane Lambert 15.1km
2. Brandon Ellis 14.7km
3. Alex Rance 13.7km
Lambert is known as the fittest Tiger so it's no surprise he's top while Ellis won their 3km time trial earlier this year. Rance coming third is a testament to the key defender's enormous work rate.

Speedsters
1. Dan Butler 34.2km/h
2. Shane Edwards 34.0km/h
3. Jason Castagna 33.5km/h
Two mosquito fleet members feature here with Butler and Castagna renowned for their ability to chase down opponents and apply forward-half pressure while Edwards has long been described as having "electric" pace. - Jennifer Phelan

Team distance: 2540.3km
Distance kings
1. Jarryn Geary 14.9km
2. Jack Lonie 14.7
3. Ed Phillips 14.5
Geary and Phillips are always top-two in the club's pre-season time trials, although the captain still holds the edge over the second-year wingman in those races.
Speedsters
1. Jimmy Webster 33.7km/h
2. Tim Membrey 33.1
3. Jack Steele 33.1
Webster has been excellent and shows his pace coming out of defence. At the other end of the ground, Membrey has struggled with goalkicking but is otherwise playing well. His speed helps him create separation from backmen. - Dinny Navaratnam
Jimmy Webster's pace is an asset to his rebound out of the Saints' defence. Picture: AFL Photos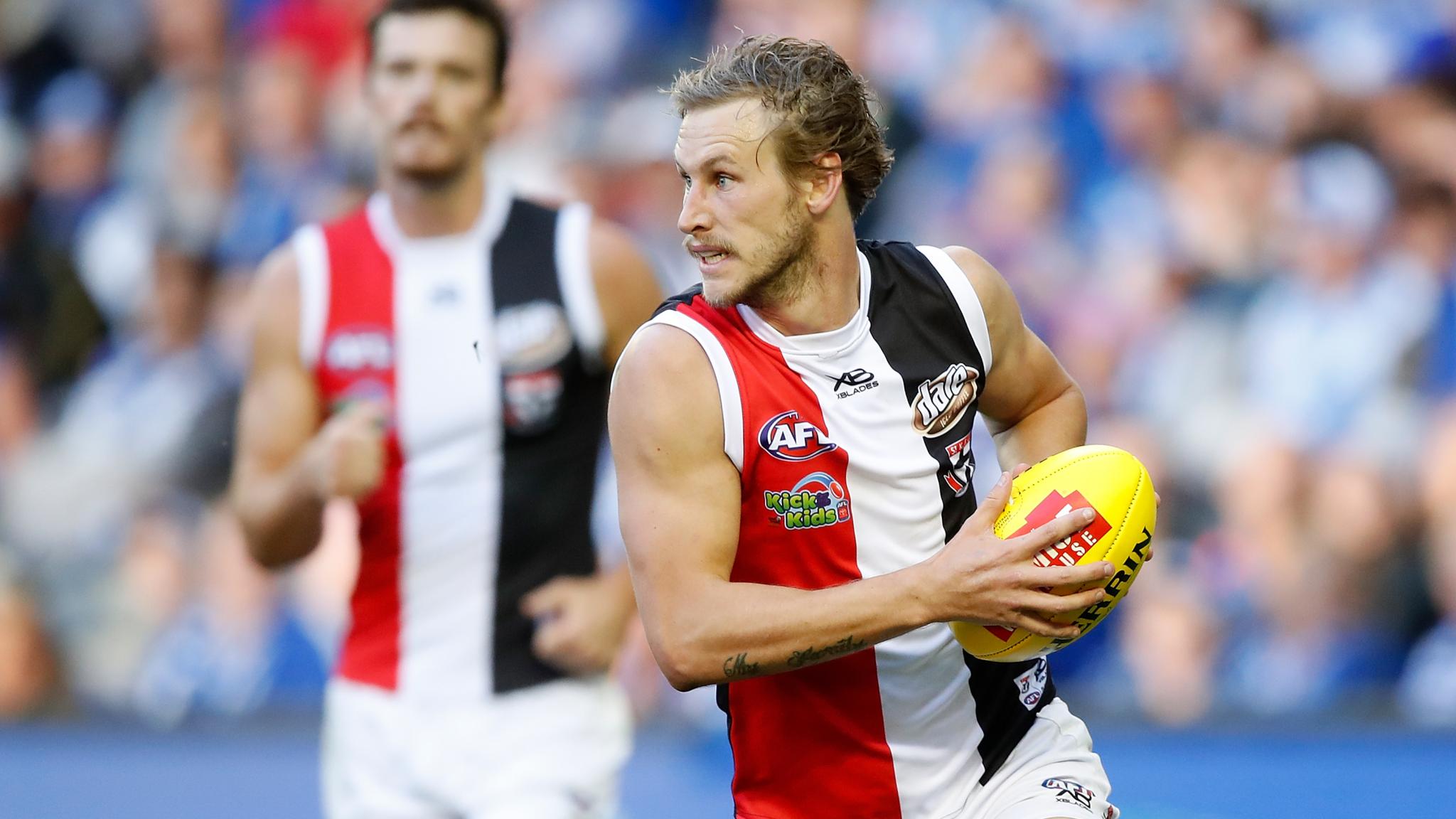 Team distance: 2570.3km
Distance kings
1. Nick Smith 14.2km
2. Callum Mills 14.1
3. Isaac Heeney 14.0
Smith and Mills lead the way from the back half, with the Swans' midfielders more known for their inside work, rather than covering distance. Heeney has been given more time on-ball this year and is an athletic beast.
Speedsters
1. Gary Rohan 35.3km/h
2. Dane Rampe 34.9
3. Lance Franklin 34.6
Rohan has regained his lightning speed after his horrific broken leg, which makes him tough to stop on the lead, while Franklin is as quick as he is powerful. Rampe's speed helps him shut down the League's best deep forwards. - Adam Curley

Team distance: 2544.8km
Distance kings

1. Andrew Gaff 15.9km
2. Chris Masten 14.9
3. Mark Hutchings 14.4
Gaff usually clocks up at least 15km each week. He pulls up terribly after games, but always gets himself ready to go again the following match. Masten's aerobic ability has been on show in a clearly defined role covering as much territory as possible on a wing this year.
Speedsters
1. Brad Sheppard 34.9km/h
2. Lewis Jetta 34.9
3. Nic Naitanui 34.9
Sheppard regularly gets the toughest job on the opposition's most dangerous small forward and is almost never beaten, especially for pace. Everyone knows about Jetta's wheels after he burnt off Cyril Rioli in the 2012 Grand Final, and Naitanui, at 201cm, is just a freak power athlete. - Travis King

Team distance: 2538.6km
Distance kings
1. Lachie Hunter 14.8km/h
2. Lewis Young 14.5
3. Josh Dunkley 13.8
It should come as no surprise Hunter is the hardest runner at the Whitten Oval, with the ball-magnet seemingly at every contest and averaging a second-best 28.6 possessions a game for the Dogs. Second-year key defender Lewis Young is a surprise packet in second place in the endurance stakes.
Speedsters
1. Jason Johannisen 33.6km/h
2. Ed Richards 33.1
3. Hayden Crozier 33.0
Johannisen has been the fastest player on the Dogs' list since they drafted the South African-born flyer in 2011, but he now faces a challenge to retain that title with defensive playmakers Richards and Crozier adding much-needed pace to the team this season. - Ryan Davidson
Jason Johannisen's speed has proven a handful for his opponents. Picture: AFL Photos