• NAB AFL Draft Combine: latest news and video
• Inside the Combine: the tests and top performers
• The draft pool: Cal Twomey analyses this year's best prospects
WE ARE moving very quickly towards this year's NAB AFL Draft, with clubs swapping selections and throwing picks around during the trade period.
Clubs, too, are getting closer towards settling on the prospects they want to select after last week's NAB AFL Draft Combine at Etihad Stadium.
Indicative draft order: What picks will your club take to the draft
This is the fourth update of AFL.com.au's Phantom Form Guide for this year, with a final ranking of the best 30 players to come a week before the November 25 draft in Sydney.

This is simply our ranking of the best players in the country and it's not a mock draft. It does not take into account what selections clubs hold or where bids may fall on academy products.

POS: Midfielder, Ht 185cm, Wt 75kg, DOB 3/3/1998
From North Ballarat Rebels/Vic Country
The classy goalkicking midfielder carried his brilliant form right throughout the season until his very last game, a four-goal effort from 17 disposals in the NAB All Stars game. McCluggage is unrelenting in his own unassuming fashion: even when copping a tag or close attention, McCluggage powers through and uses his smarts to get his hands on the footy. His goalkicking gives him a special edge over most prospects in the pool. He kicked 25 goals at TAC Cup level from 12 games and took out the competition's Morrish Medal. A quad injury kept him from testing at the combine – something he was disappointed about – but he didn't need to prove anything. His season has been there for all to see. He could have done no more.

POS: Midfielder, Ht 179cm, Wt 75kg, DOB 2/6/98
From Sandringham Dragons/Vic Metro
Nobody expected McGrath to have the season he had, not even him. But the Sandringham Dragons star has gained momentum seemingly with every game to now be a No.1 pick contender. McGrath's best footy has come as a rebounding defender, who kickstarts the play and breaks the lines. But he has also shown he can easily shift into the midfield and find the ball, and he gathered 38 disposals in the TAC Cup Grand Final to guide his side to the flag and claim best afield honours. The former elite junior athlete is powerful, quick and tough, and is ready to play. He won the running vertical jump, came second in the repeat sprints and top-10 for agility at the combine to underline his physical prowess.

POS: Small forward, Ht 179cm, Wt 74kg, DOB 10/2/98
From Gippsland Power/Vic Country
The exciting small forward finished his season in great form for Gippsland Power, and then set himself for a draft combine that would end his 2016 on a high note. He achieved that, recording personal bests in the sprint (2.90 seconds) and beep test (level 14.4), and he was also top-10 in the repeat sprints, agility and running vertical jump. All of that proved the 2015 All Australian to be a powerful, exciting athlete. Match that with his footy skills and you have a pretty enticing package. He's this high because he's a match-winning type who steps up and plays well when games are up for grabs.

POS: Midfielder, Ht 189cm, Wt 82kg, DOB 23/8/98
From Murray Bushrangers/Vic Country
It probably wasn't the finish to the season the ultra-competitive midfielder would have hoped for. After a long year and lots of big performances, the load got on top of Brodie and he battled an ankle injury for the last month of the season. Added to that a back problem, and he was ruled out of the NAB All Stars game and the combine testing after the Murray Bushrangers' Grand Final loss. But everyone knows about Brodie's traits: he's a big, tough, strong and consistent ball-winning midfielder who gets his hands dirty and puts his body in harm's way to feed it out to teammates. Late in a game, when it's up for grabs, he's the one you want on your team.

POS: Midfielder, Ht 187cm, Wt 78kg, DOB 26/1/98
From Gold Coast Academy/Queensland
The Gold Coast academy product is a smart, classy, composed midfielder who shapes games. He doesn't waste possessions, he brings others into the action and makes it easier for forwards leading at him with the ball. He finished the year in great touch for the Suns' NEAFL side with a strong showing in the finals, and has added a little bit of muscle to his light frame. He'll attract an early bid on draft night due to his ability to set up the game from the midfield. In time he looks likely to have a nice balance of inside and outside midfield traits. Lock him in for some senior footy next year.

POS: Midfield/half-forward, Ht 181cm, Wt 76kg, DOB 19/2/98
From Claremont/Western Australia
The West Australian had an up and down season after being an All Australian in 2015. He didn't manage to break into Claremont's senior side, and played most of the year in its colts under-18 team, which won the premiership. Petrevski-Seton was relatively consistent at that level without being breathtaking, and one of his best games of the year came in the All Stars clash when he had 23 disposals, eight tackles and six clearances. Petrevski-Seton's best is very good and ranks among the best in the draft pool as a creative, speedy half-forward/midfield option.
Sam Petrevski-Seton is tipped to be one of the top picks. Picture: AFL Photos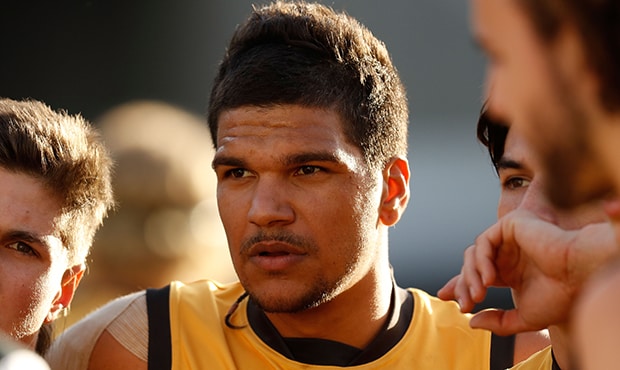 POS: Midfielder, Ht 190cm, Wt 80kg, DOB 5/2/98
From Sandringham Dragons/GWS Academy/NSW-ACT
Unfortunately Setterfield's poor luck with injury continued late in the year when he copped an AC joint injury in Sandringham's preliminary final win. It ruled him out of their Grand Final victory and from testing at the combine, but he's only a week away from being fully fit again now. Before the crunching bump that ended Setterfield's season, the smooth midfielder was in the form of his season. He showed an ability to win clearances, lay tackles and also use the ball with poise and precision. Some rank the GWS academy product as one of the best couple of midfielders in the pool.

POS: Midfielder, Ht 186cm, Wt 82kg, DOB 28/1/98
From Sandringham Dragons/Vic Metro
Taranto finished his year in a blaze of good form. He kicked four goals from 23 disposals in the preliminary final before having 31 disposals and 11 tackles in the Grand Final. He then continued that hot streak with four goals and 19 disposals in the All Stars game, before a hamstring strain three days before the combine ruled him out of testing. Taranto proved across the year he stands up at the big moments. He's a tall midfielder with a great overhead mark, and he ran a level 15.5 beep test at the start of the year. Put those attributes together and he should suit the rigours of modern footy pretty well.

POS: Midfielder/half-forward, Ht 184cm, Wt 75kg, DOB 19/12/98
From Collingullie-GP/GWS Academy/NSW-ACT
Perryman is a natural footballer. He can play all over the ground – from half-back to the midfield and half-forward – and has had a solid season in all parts. The GWS Academy prospect finished his season playing for Collingullie in the Riverina region, and did well. The versatile 17-year-old has a knockabout approach but takes his footy seriously, and won honours this year as NSW/ACT's MVP in division two and backed it up by taking the same title for the Allies in division one.

POS: Defender/midfielder, Ht 194cm, Wt 80kg, DOB 4/9/98
From Sandringham Dragons/Vic Metro
An excellent end to the season makes Scrimshaw an interesting player for clubs to assess. The left-footer was a key contributor in the Dragons' TAC Cup success with his ball use out of half-back and composure. He likes to have the game in his palm, to hold onto the ball and hit his targets to set up forward forays. Scrimshaw wasn't a standout in the testing, but he did run a 3.04-second 20 metre sprint which is good for a 193cm prospect. He envisages a career in the midfield in time.
Jack Scrimshaw is a composed half-back with a strong left foot. Picture: AFL Photos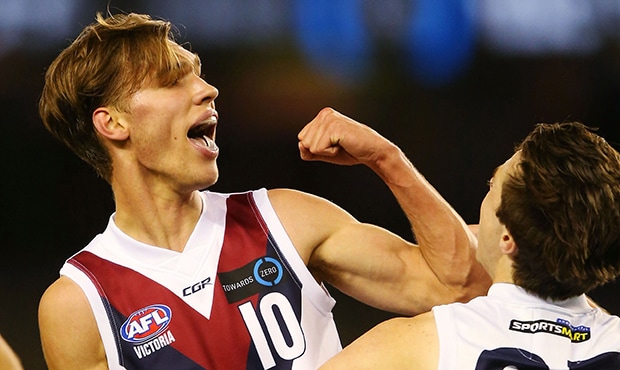 POS: Ruckman/tall forward, Ht 204cm, Wt 86kg, DOB 10/8/97
From South Fremantle/Western Australia
The 204cm ruckman has genuine upside, which is why he's ranked this highly (and could be drafted even earlier than this point). After some confusion around his eligibility for the draft last year, English burst onto the scene earlier this season and is the most prominent ruckman in the pool. His skill level for ability at ground level are exceptional for a prospect his size, and he can roam around the ground with ease. He played senior football towards the end of the season in Western Australia and handled the step-up smoothly.

POS: Tall forward, Ht 198cm, Wt 87kg, DOB 8/10/98
From Murray Bushrangers/Deniliquin/NSW-ACT
Marshall is here on potential. The lean key forward is the best tall goalkicker in the draft, with an ability to pick the ball off his toes, whip around and snap great goals. He can also mark well on the lead. His lack of physical frame at this stage of his development means he doesn't take heaps of marks in contested situations, and he was quiet in the TAC Cup Grand Final with just two kicks (both were goals). But he has some unique and brilliant attributes for a player his size.
POS: Midfield/half-back, Ht 191cm, Wt 80kg, DOB 5/2/98
From North Ballarat Rebels/Vic Country
It was a good week for Berry at the combine. He was a joint winner of the beep test (level 15.1) and claimed the 3km time trial outright (9:46 minutes), and also placed in the top-10 for repeat sprints, agility, clean hands and kicking tests. It reminded everyone of his exceptional athletic qualities and how he can perform when fit after an injury-ravaged year. At 191cm, Berry can move into different areas of the ground but in time sees himself in a midfield role. His leadership qualities stand out.

POS: Key defender, Ht 194cm, Wt 92kg, DOB 13/4/98
From Swan Districts/Western Australia
The West Australian key defender was a star at the combine, recording a 9:58 minute 3km time trial and being the equal winner of the beep test. He matched the endurance efforts with being top-10 in the repeat sprints and taking out one of the running vertical jumps. The weekend at Etihad Stadium proved what many had seen coming for a little while: that Logue is one of the most bankable big defenders in the pool. He could play straight away, such is his body size, maturity and athletic profile. Logue is a good intercept marker and helps out teammates, too.
Griffin Logue ran himself into the ground at the combine. Picture: AFL Photos

POS: Half-forward/midfielder, Ht 181cm, Wt 71kg, DOB 5/3/98
From Murray Bushrangers/Vic Country
Simpkin will be a difficult one to assess for clubs this year, and he knows that. He only played a handful of games at the start of the season before breaking his leg and missing the rest of the season. He is gradually working up his program, however, and was back running recently and doing some light lane work. The exciting half-forward flanker is creative, he kicks goals and makes things happen. If not for his injury he would have pushed for top-10 contention such is his spark and energy in attack.

POS: Half-back, Ht 189cm, Wt 79kg, DOB 10/9/98
From Geelong Falcons/Vic Country
A broken leg during a school game earlier this made 2016 all but a write-off for Witherden, who nursed the injury for the rest of the season. His recovery has been relatively straightforward, however, and by day one of the pre-season he should be ready to go. He will need to improve his running but the attacking half-back brings polish and class to the draft with his ball use. He's also a nice size – tall enough to match up on a range of players – and he likes to have the footy in his hands. He could be a steal if he gets through to the latter parts of the first round.

POS: Midfielder/half-forward, Ht 186cm, Wt 81kg, DOB 19/11/98
From Western Jets/Vic Metro
It was a challenging season for Venables that included injury and inconsistent form but snippets of genuine excitement. Perhaps his best moments on the big stage came in Vic Metro's last gasp win over Vic Country in the under-18 championships, when he coolly set up the second last goal before booting the final one to hand his side a come-from-behind victory. Venables is explosive, tough and quick, and powers himself at the contests before bursting away. A foot injury limited him in the back end of the year, including ruling him out of the combine testing.

POS: Midfielder/Half-forward, Ht 183cm, WT 74kg, DOB 22/7/98
From Sandringham Dragons/Vic Metro
Florent was craving more midfield time as the year went on and got that late in the piece, including a starring performance in the NAB All Stars game on Grand Final eve. He gathered 29 disposals and seven clearances and was judged one of the best afield. Florent's pace, zip and classy ball use makes him stand out in this year's midfield class. He backed up his good end to the season, which included 24 disposals and a goal in Sandringham's TAC Cup premiership win, with a top combine. He was a joint winner of the beep test and was top-10 in agility, running vertical jump (left foot) and clean hands test to cap what has been a tough year for the resilient teenager.
Oliver Florent breaks free of a Shai Bolton tackle. Picture: AFL Photos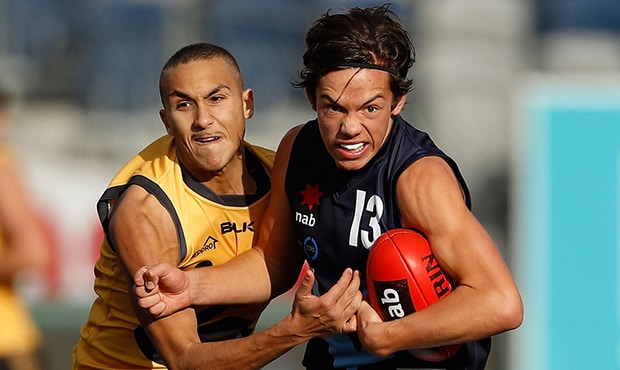 POS: Midfielder, Ht 183cm, Wt 75kg, DOB 3/5/98
From Eastern Ranges/Vic Metro
Gallucci broke an all-time record at the combine, leaping 89cm in the standing vertical jump. It was 13cm clear of the next best at this year's combine, showing the Eastern Ranges' prospect's power. Gallucci uses that burst to effect on game day. He loves to dig in and grab the footy and then run out of a stoppage to boot the ball long. He has the zig-zag running style that gets him out of trouble, and he isn't afraid to go and win the ball himself either. He ranked second in the mid-forward category of players for metres gained at the championships for Vic Metro, which he co-captained to its division one title.

POS: Half-forward, Ht 178cm, Wt 68kg, DOB 8/12/98
From South Fremantle/Western Australia
Bolton could be picked a bit earlier than this range, and maybe a little bit later, too. His talent is undeniable; that's why we have him placed in the top-20 draft prospects. He can jump high for marks, grab it at ground level, and swoop on a loose ball to convert a difficult chance at goal. Bolton's stocks lifted in the All Stars game, when he picked up 16 disposals and kicked a goal. Most impressive, perhaps, was his ability to have seven inside-50 entries. He's the type of quick, outside running half-forward who sends the ball long and deep into forward lines. He could be a little more defensive but that should come in time. If he can add consistency he could be special.

POS: Key forward, Ht 192cm, Wt 90kg, DOB 1/9/98
From Dandenong Stingrays/Vic Country
A six-goal haul for the Dandenong Stingrays in the TAC Cup finals proved Battle to be one of the leading key forwards in this year's pool. His efficiency that day (and throughout the year) was a standout quality, and he finished the season by kicking 24.13 for the Stingrays. Battle is an endurance athlete – he finished in the top-10 at the combine for the 3km time trial with a run of 10:07 – and he could use that more in games. At the next level he's probably going to be a third tall forward rather than the main man.

POS: Midfielder/half-forward, Ht 186cm, Wt 83kg, DOB 8/1/98
From East Perth/Western Australia
Powell-Pepper is all power and strength. He's a bull at stoppages, pushes past players at the clearances and gets the ball moving his team's way. His kicking has been questioned at different stages but he won the goalkicking test at the combine (he was the only player to get a perfect score) and backed it up athletically, running 14.7 in the beep test and third in the agility test (8.24 seconds). Powell-Pepper was probably Western Australia's most consistent player this season.

POS: Half-forward, Ht 186cm, Wt 76kg, DOB 26/10/98
From North Adelaide/South Australia
The medium forward has been the late bolter with his finish to the season. The talented medium forward starred in the SANFL under-18 finals, booting nine goals in the preliminary final and four in the Grand Final for North Adelaide. He finished the year with 29 goals for the club at under-18 level, and showed his marking ability overhead and great sense around goal. At his size you could see him slotting in nicely in most forward set ups. Seems likely to be the first South Australian drafted.
Will Hayward has come home with a wet sail, performing well at the right time. Picture: AFL Photos

POS: Half-back, Ht 184cm, Wt 70kg, DOB 19/8/97
From North Ballarat Rebels
Cox came onto the scene this year for North Ballarat having previously been in the under-16 system for Western Australia. The exciting prospect played his best footy for the season as a running and attacking half-back who uses the ball well and breaks the lines. He moved a bit further up the ground late in the year, including across half-forward, but is best suited to the running back position. Cox hails from Halls Creek in the Kimberley region of WA and has plenty of development left in him.

POS: Midfielder, Ht 184cm, Wt 83kg, DOB 31/8/98
From Palm Beach Currumbin/Queensland
A heel injury late in the year stopped Scheer from testing at the combine, but the hardened midfielder had done enough throughout the season to prove himself. Gold Coast will get first access to Scheer as a member of its academy, and he sits around this mark due to his inside ball-winning. He averaged the most contested disposals (15.7 a game) and clearances (seven a game) in the under-18 championships for the Allies. He also kicked the Allies' match-winning goal in the final game at Simonds Stadium, highlighting his ability to push forward and hit the scoreboard when he can.

POS: Midfielder, Ht 183cm, Wt 83kg, DOB 25/2/98
From North Adelaide/South Australia
The Larke medallist averaged 25 disposals at the carnival for South Australia and captained his state. Graham is a mature-bodied ball-winner. He wills himself to push the ball forward at all opportunities, and he ranked third overall at the championships for centre clearances. Graham is the type of prospect who clubs can see stepping into AFL footy nearly immediately given his frame and competitive nature.

POS: Midfielder, Ht 177cm, Wt 69kg, DOB 27/4/98
From Eastern Ranges/Vic Metro
Brown is the type of draft prospect who just plays well no matter what. He's a touch undersized, but that hasn't stopped him from having a consistent year at under-18 level. After failing to make the squad at the Oakleigh Chargers, mainly for his smaller frame, Brown was left to try his luck at the Eastern Ranges and has pieced together a strong season that included being nominated in the All Australian side. Collingwood will nominate Brown (the son of 1990 premiership star Gavin) as a father-son pick and see where the bid falls for him on draft night.
Callum Brown is the son of Collingwood's 1990 premiership hero, Gavin. Picture: AFL Photos

POS: Key forward, Ht 194cm, Wt 93kg, DOB 31/7/98
From Oakleigh Chargers/Vic Metro
Kerr led the under-18 championships for marks on the lead, which indicates how he plays. The Oakleigh Chargers goalkicker is a traditional key forward who enjoys to lead out of the goalsquare, take his marks and go back and slot goals. He's reasonably aggressive, and has a solid body on him that isn't afraid to crash into packs and bring the ball to ground. There is maybe a slight query on his pace but he posted a time of 3.03 seconds for the 20-metre sprint at the combine but his agility was among the lowest.

POS: Tall defender, Ht 194cm, Wt 90kg, DOB 13/8/98
From Woodville-West Torrens/South Australia
Cox won All Australian honours for his performances in the under-18 carnival, where he gave good rebound and run from defence. The 18-year-old from Woodville-West Torrens is good overhead and moves well at ground level and shows plenty of promise. Cox goes well in one-on-one contests and you can see some clubs looking at him in the second round as a developing tall back.
POS: Defender, Ht 192cm, Wt 79kg, DOB 25/2/98
From West Perth/Western Australia
There was no surprises in Rotham's 20-metre sprint result at the combine, which saw him place in the top-three overall (2.92 seconds). The West Australian defender's speed off the mark is his point of difference: it gives him great separation and also allows him to close space on an opponent in quick time. Rotham is a good overhead mark and strong athletically, but needs to build up his body to be able to take on some key forwards he'll come up against.