LADIES and gentlemen, please allow us to introduce to you the new 2014 AFL premiership favourites, the Sydney Swans.
In a top-four showdown between heavyweight Geelong and the Swans at the SCG, only one team showed up, with the slick outfit in red and white steamrolling its way to a 22.16 (148) 5.8 (38) triumph.
Five talking points: Sydney Swans v Geelong
Underlining the Swans' dominance, the 110-point margin is the seventh biggest loss in Geelong's 118-year history and the highest score it has conceded since also giving up 148 points to Port Adelaide in 2001.
Ladder leader Port Adelaide has been the standout side of the season so far, but the new-look Swans were always going to take a little while to jell, something they have now done in frightening style.
Thursday night's victory is their sixth in a row and elevates them to second place with a 7-3 record, behind only the 8-1 Power.
Cats in uncharted territory, admits Scott
And the Swans and Power are still scheduled to meet twice this season, in round 13 at the SCG and again in round 20 at Adelaide Oval.
Adding to the Swans' merriment, 37,355 fans were at the re-modelled SCG, the biggest crowd at the venue since 39,079 attended the famous 'Nick Davis game', the semi-final triumph over Geelong in 2005.
Afterwards, Swans coach John Longmire tried his best to keep a lid on expectations, preferring not to rate where the performance sits during his time at the club.
But he did acknowledge the balanced display across the board, particularly considering the opposition.
"Probably the weight of numbers across the entire 22 and the consistency over the four quarters," Longmire said when asked the most pleasing aspect.
"It's very difficult in AFL football to get all players playing well and playing well over four quarters for as long as we did tonight.

It's not utopia, but very close: Longmire
"We've got enormous respect for the Geelong footy club, they've been able to do it for 10 years.
"They've been incredible with what they've been able to do and so we need to make sure we continue to try to put the pressure on like they've been able to do for such a long time."
The Cats were undermanned, particularly in the backline, with Tom Lonergan and Corey Enright ruled out this week and joining Josh Caddy, Allen Christensen and Nathan Vardy on the injury list.
They will surely bounce back over the remainder of the season, while Hawthorn and Fremantle will also have a big say this year.
But the manner of the Swans' victory will have sent a scare through the entire competition, coming against a Cats outfit that still had far too much talent on the field to explain this blood bath.
It was the type of suffocating, all-encompassing performance the Cats simply haven't encountered at any stage of their glorious run that began with their drought-breaking 2007 flag.
Not surprisingly, Geelong coach Chris Scott seemed intent on moving on from the result as quickly as possible.
"We played poorly, the opposition were good, so our focus shifts really quickly to doing what we need to do to rectify it," Scott said.
"If we were to walk through all the things that went wrong it would be a very long list.
"We've got to focus on the ones that are the most important and fix them as quickly as possible."
Nick Malceski and Rhyce Shaw were brilliant off half-back, Craig Bird was outstanding through the middle and Tippett (five goals), Lance Franklin (four) and Adam Goodes (three) kicked 12 goals between them.
But in truth, every Swan played their part in an ominous opening to Indigenous Round.
The massacre began from the opening minute, with the Swans' clean ball use and run from the back half giving Tippett plenty of service and allowing him to virtually toy with the much smaller Jared Rivers.
Tippett had 2.2 by quarter-time in the home side's 25-point lead, with the Cats held to just three behinds for the term.
It was only the third time in the past three seasons they failed to kick a goal in a first quarter, both previous occasions coming against Fremantle.
Those expecting Geelong to hit back hard after such a sorry first term were left disappointed as the Swans continued on their merry dance.
The Cats finally kicked their first goal with a Dawson Simpson effort from the boundary line 16 minutes into the second quarter, but four more Swans goals gave them a 48-point half-time lead.
It should have been even more demoralising for the visitors, with the Swans missing a number of straightforward chances and kicking two shots out on the full.
Geelong's display had scribes searching through the record books, and it made for some sorry reading, with its half-time score of 1.3 its lowest since kicking 0.4 against Carlton way, way back in 1977.
And the home side never let up in clearly one of the most impressive efforts of 2014.
Geelong's Jesse Stringer looks on forlornly as Kieren Jack and Kurt Tippett celebrate. Picture: AFL Media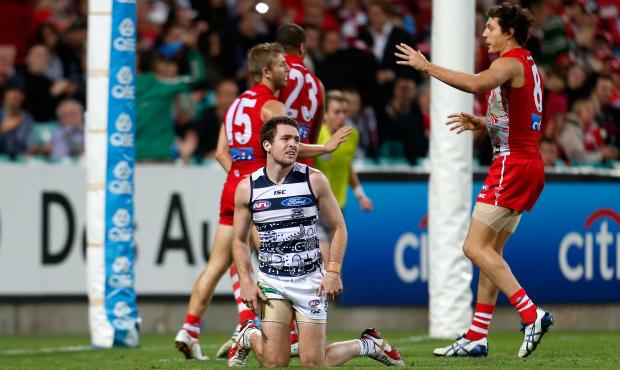 SYDNEY SWANS 4.4 8.9 14.11 22.16 (148)
GEELONG CATS 0.3 1.3 2.4 5.8 (38)

GOALS
Sydney Swans:
Tippett 5, Franklin 4, Goodes 3, Jack, Derickx, Hannebery 2, Bird, Lloyd, McGlynn, Jetta
Geelong Cats:
Hawkins 3, Simpson, Johnson
BEST
Sydney Swans:
Bird, Tippett, Malceski, Shaw, Goodes, Franklin, McGlynn, Richards,
Geelong Cats:
Bartel, Horlin-Smith, Stokes, Johnson
INJURIES
Sydney Swans:
Rampe (knee)
Geelong Cats:
Mackie (back)
SUBSTITUTES
Sydney Swans:
Harry Cunningham replaced Dane Rampe in the third quarter
Geelong:
Jackson Sheringham replaced Andrew Mackie at three-quarter time.
Reports:
Nil
Umpires:
Fisher, Nicholls, Ryan
Official crowd:
37,355 at SCG
Twitter: @AFL_JD