FOR NINE long seasons, Tom Hickey wondered when he would finally experience playing in September.
So it stands to reason that footy dominated the West Coast ruckman's thoughts leading into last Thursday night's elimination final against Essendon, right?
Wrong.
Hickey and his wife Chloe had even more important things to worry about, as self-proclaimed "rookie" parents who had just welcomed the arrival of their son, Lou, a week prior.
View this post on Instagram
"It's been real fun and a nice little distraction coming into finals," a chuffed Hickey told AFL.com.au.
"Loving every second of it. It helps you not think about footy, that's for sure.
"I was still nervous once I got to the game but that lead-up is a bit different, because you're trying to keep someone alive."
FINALS FIXTURE Who plays who in weeks two and three
It's been a whirlwind 12 months for the Hickeys, but it's obvious the former Sun and Saint couldn't be happier.
Just days after getting married, he arrived in the west last November to join the reigning premiers after free agent Scott Lycett's departure to Port Adelaide, hoping for the success which had eluded him his entire career.
After ticking off his first goal of playing in round one Hickey has, when fit, held down a spot as the regular in a chopped and changed ruck division.
Starting as support for premiership big Nathan Vardy, he has since led the ruck with backing from pinch-hitter Oscar Allen, and become the preferred choice to partner Nic Naitanui.
The Bombers clash was just Hickey's fourth outing with Naitanui this year, and a momentous occasion to finally play in a final in his 98th career game at 28 years of age.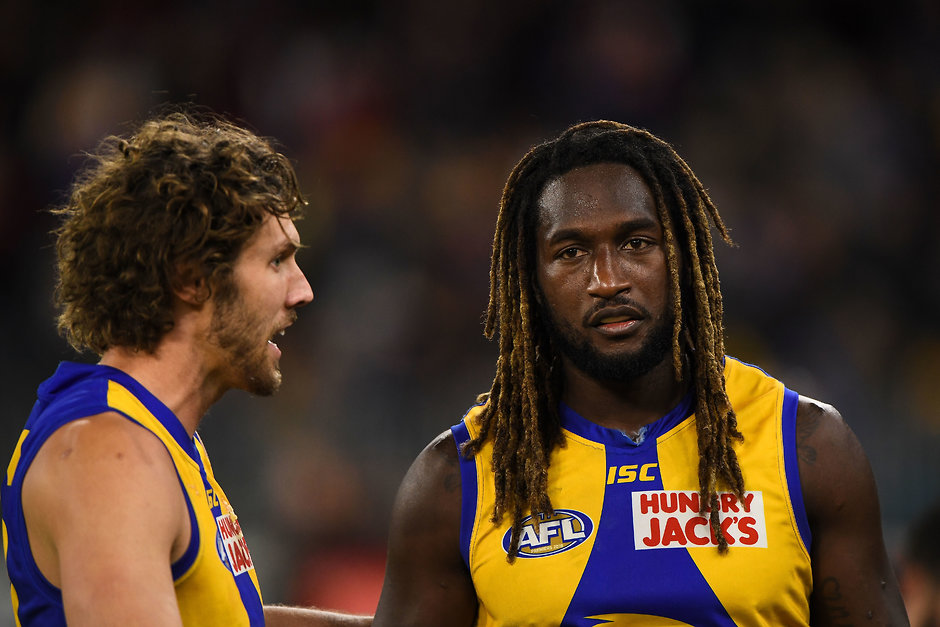 "It was incredible," he said.
"To play in front of 60,000, I think we're lucky in the fact we get to play in front of big crowds every week when we're at home, but they were just so loud.
"Matty Rosa, one of our midfield coaches, spoke to me before the game and said 'It's unlike regular games because there's just no lull in it, it's just constantly high intensity' and that was exactly it.
"I was a bit shaky early, couldn't really get myself into the game, but as it wore on I got a bit more comfortable and settled into it.
"I probably got more nervous once I started on the bench and felt the intensity of it.
"Once you're in the game, you forget about it, but sitting there and watching it for the first five minutes I was like 'Oh, it's pretty hot'."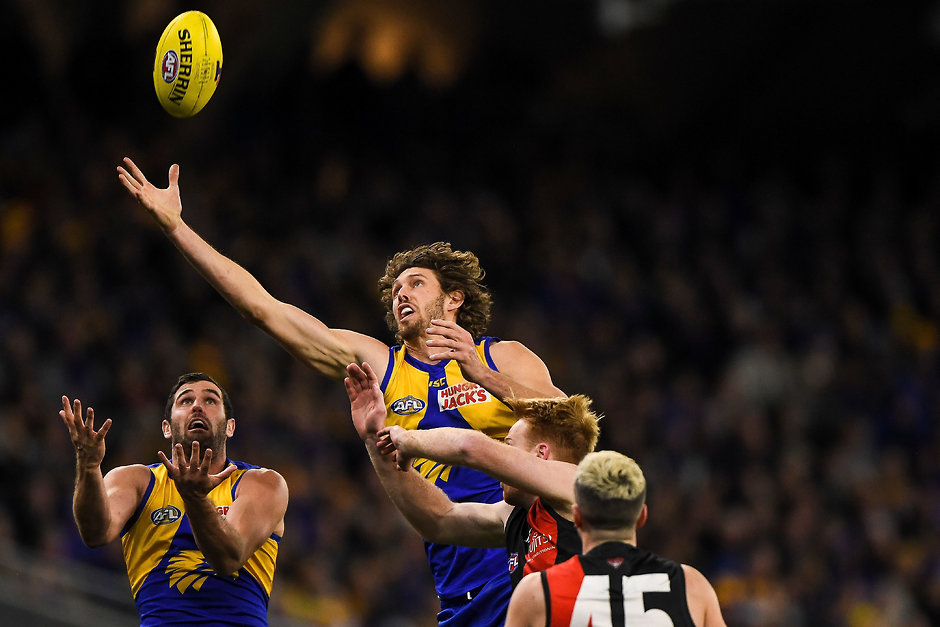 While Hickey's six disposals, 13 hitouts and one behind might not jump off the page, he willingly sacrificed his game for Naitanui to take centre stage.
In his comeback from a two-month ankle injury, the Eagles talisman's presence renewed belief that West Coast remains a flag contender, despite finishing fifth.
FINALS PREDICTOR Who will win the 2019 premiership?
"I love playing with Nic, he's a tremendous talent and what he does around the ground is so inspirational," Hickey said.
"He's been dubbed a bit like the Patrick Dangerfield of our team, and Dusty Martin, just because he does stuff on the ground that lifts his teammates.
"It's more his tackling, follow-up, aggression around the ball that people just walk taller when he's on the ground.
"When you come into the ruck after he's worn a ruckman down, it's a little bit easier for you, because so much attention and energy has been put into quelling his influence.
"Obviously I've got to play a little bit more forward as well now, and I'm really enjoying just trying to make a contest there and trying to help out 'JD' (Jack Darling) and 'JK' (Josh Kennedy).
"I'm just loving being part of the team and trying to contribute."
Ahead of its next assignment, West Coast flew east with 24 players to pick from on Wednesday, including unlucky rising star Allen and defender Liam Duggan.
Coach Adam Simpson could stick with the same side, and will almost certainly unleash Naitanui and Hickey in tandem in a bid to exploit Geelong's troubled ruck situation at the MCG.
It would be Hickey's 20th game for the season – equalling his most appearances from 2016 at St Kilda.
Twelve wins this year, including the 55-point Bombers belting, is already the most success he has tasted.
There is a bigger prize still on offer, but events could scarcely have fallen better for Hickey after being encouraged by the Saints to look around last year as they chased Lycett.
Tom Hickey in Saints colours does battle with Scott Lycett last year. Picture: AFL Photos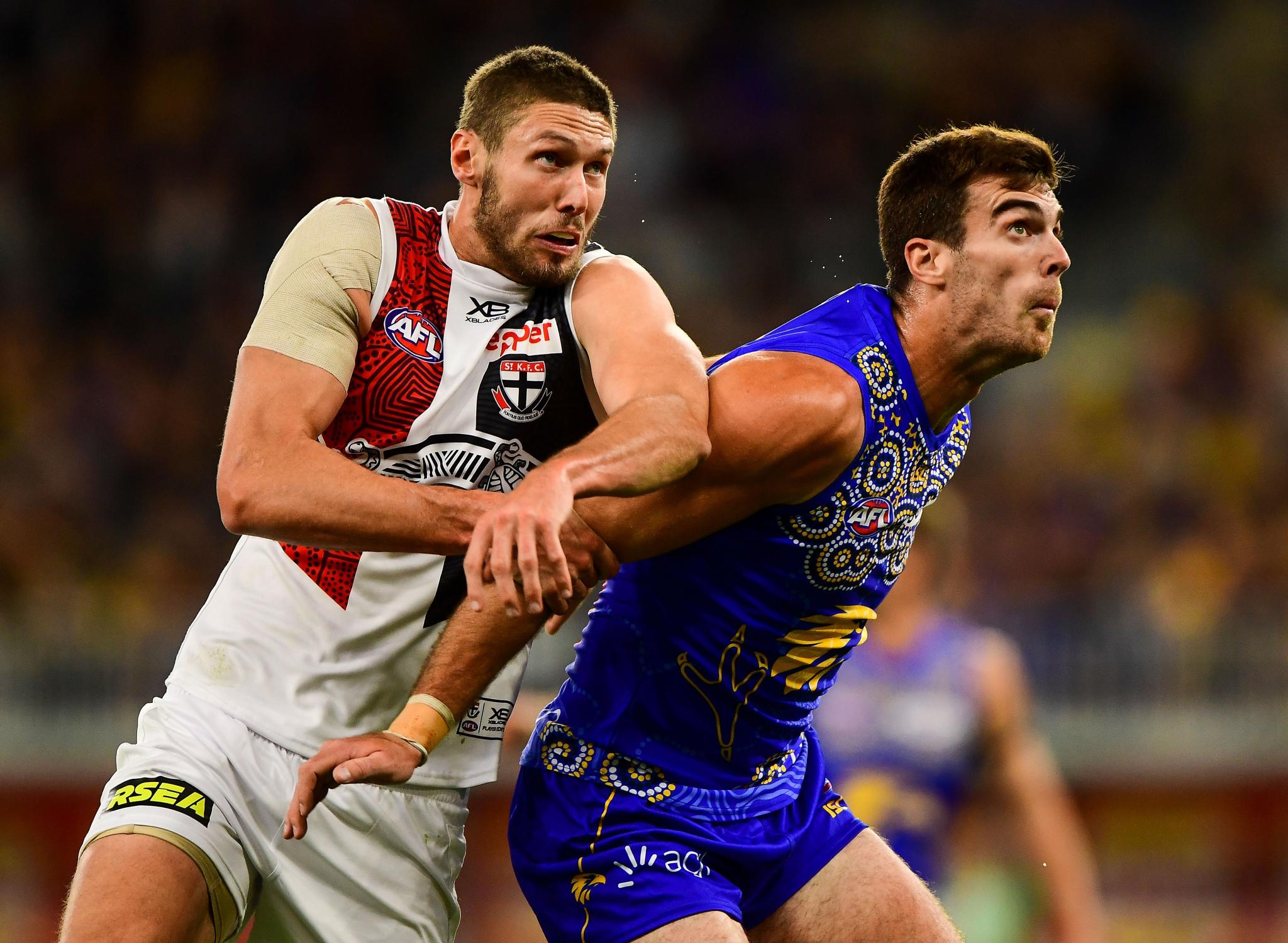 "That kind of gave me the green light to have a chat to West Coast (who had already shown interest)," Hickey recalled.
"At that stage they were top two and hadn't won the flag yet, but to have a finals contender that wants you in the team was really humbling.
"I had a good meeting with 'Simmo' and met a few of the coaches and they're such a good organisation.
"Winning games makes footy a lot more enjoyable as well.
"Every week coming in and not having crisis meetings and what not, it's been real fun to get that enjoyment back in the game.
"We were a pretty flat group after that Hawthorn game (loss in round 23).
"But we picked up on things we'd probably been letting slip the last five or six weeks.
"It might have been a bit of a blessing in disguise that we could review it really harshly.
"All the guys who have played finals before, they just love it and that's why they play footy, and you could just sense that they lifted the intensity and got the job done.
"We've just got to keep it going now."