NEW HAWK Jack Scrimshaw's brilliant TAC Cup Grand Final performance is always handcuffed to any commentary around his draft audition in 2016.
But about two months earlier, in his private school football swansong for Haileybury, Scrimshaw's AFL bona fides shone through the gloom on a boggy Wesley College oval.
Most of the then-17-year-old's teammates and opponents struggled to move the Sherrin effectively, whereas he struck perfect 50m passes others knew they were incapable of and not to attempt.
That extraordinary ability is why Gold Coast's list manager at the time, Scott Clayton, who is now part of West Coast's recruiting department, raved about Scrimshaw's "unbelievably huge" upside.
His Haileybury assistant coach, Matthew Lloyd, acknowledges Scrimshaw's Grant Birchall comparison, but raises the bar to Collingwood's five-time Copeland Trophy winner Scott Pendlebury.
WATCH DEADLINE DAY LIVE Get exclusive insider access LIVE from the deal room
"I saw something very special in Jack Scrimshaw at his first-ever training session at Haileybury," Lloyd told AFL.com.au.
"He reminded me of Pendlebury, where it seemed like he had a basketball background, in that he'd grab the ball in one hand and other kids would gravitate to him and he'd just dance around them.
"He was never rushed, panicked or pressured, and he played a couple of school games like that, where he was playing a different game to everyone else."
High praise indeed, the type typically reserved for a player selected at No.7 in the draft, as Scrimshaw was two years ago.
Yet AFL.com.au understands, from multiple sources, that about half of the AFL's 18 teams would not have picked him at all.
That jarring assessment seems peculiar on the evidence above, until the layers are peeled back.
"He wasn't a real hard worker and we knew it'd be a challenge for him, the AFL environment, and that he'd take some time, if he got it at all," one club recruiter said.
"We would have battled (to draft him). He's a nice kid, Jack, but it's just such a hard environment.
"He certainly had the ability, but whether he had that real self-drive was the question. The ball's in his court, really."
Some recruiters were put off by Scrimshaw's injury history, including hip surgery the previous year and a foot problem in his draft season.
Most had concerns like the recruiter raised and that contributed to the Suns shipping him off to Hawthorn – despite having two years to run on his contract – on Tuesday.
Scrimshaw, now 20, has struggled living away from his family, particularly his dad, who is an influential figure in his life.
NAB AFL TRADE HUB Latest news, videos and live blog
There is a school of thought that he lacks the desire and understanding of what's required to be an AFL footballer, at least for the moment.
Gold Coast's new list manager, Craig Cameron, hinted at that on radio station 3AW's Sportsday program a fortnight ago.
"We spoke to him about the fact he might find he plays his best footy elsewhere," Cameron said.
"I just don't think he's embraced the lifestyle he needs to embrace on the Gold Coast to get himself to an elite level to play football at this stage."
Jack Scrimshaw with former coach Rodney Eade after being drafted in 2016. Picture: AFL Photos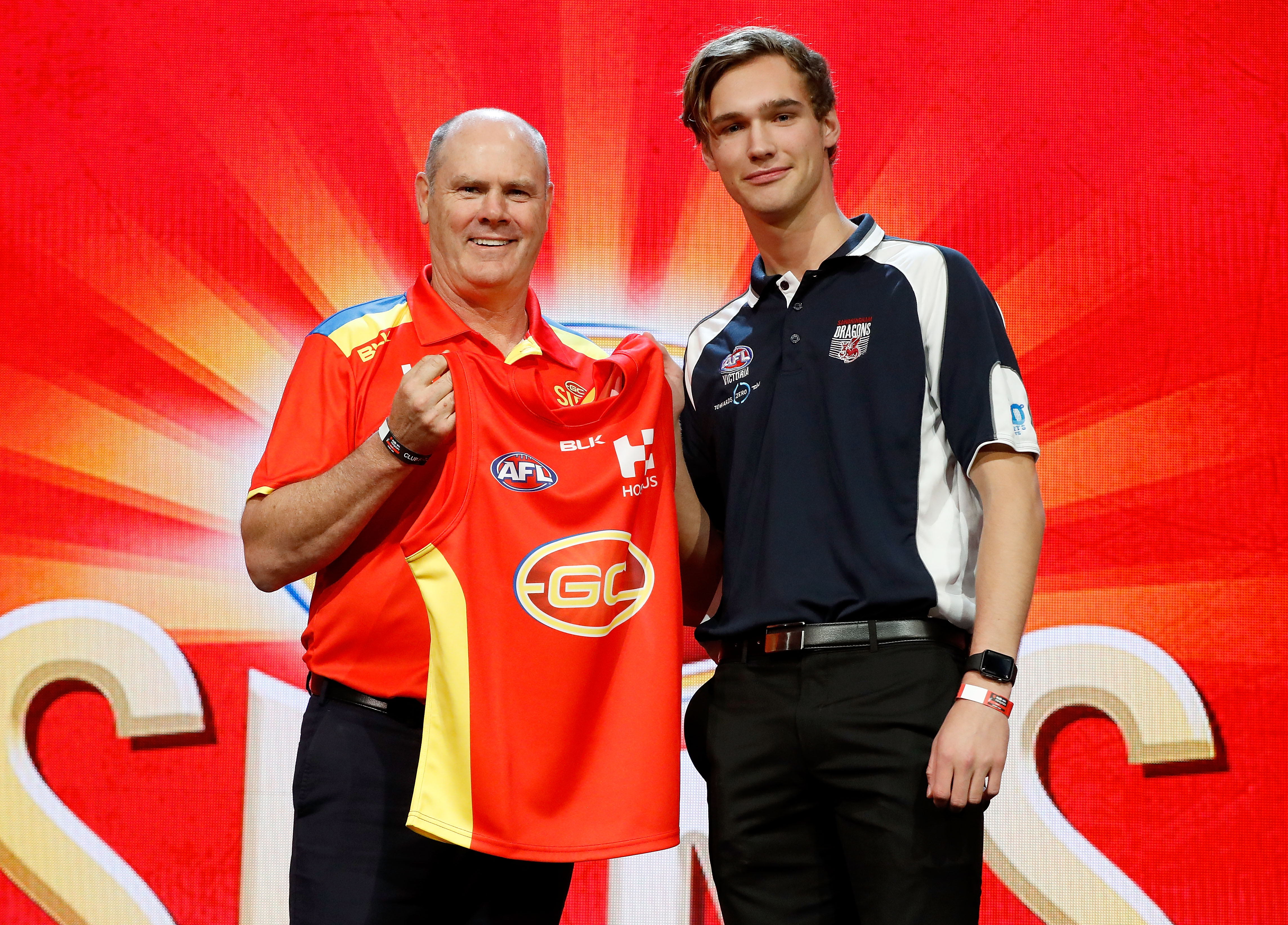 Gold Coast teammates aired their disappointment on one occasion when instead of engaging in what was supposed to be an educational viewing experience at an AFL match, Scrimshaw played games on his phone.
It wasn't an isolated incident, either.
A development coach became so concerned with Scrimshaw last year that he approached then-senior coach Rodney Eade – who played with the left-footer's uncle, Ian, at the Hawks – to say "some tough love" might be necessary.
But the sight of a fidgeting, nerve-riddled Scrimshaw in Eade's office after that made the coach realise a hardline approach was not necessarily going to work with the teenager.
"I've seen it so many times, where people give up on kids," Eade told AFL.com.au.
"I can see why people get frustrated with him, but I look at it another way. He's such a good kid and I think he wants to learn, but coaches need to find a way to get the best out of him.
"There will be growth, both emotionally and physically. He's a quiet lad and, in some ways, he lacks a bit of confidence; not so much with his football, but the whole AFL scene."
TRADE TRACKER See every move as it happens
All four of Scrimshaw's AFL matches were played last year under Eade, who was attempting to "fuel his appetite", but he didn't progress from the NEAFL in 2018.
Lloyd shared similar frustrations with Scrimshaw in his two years at Haileybury College, and urged him to learn from his experienced Hawthorn clubmates.
"He had injuries, so the two years we had him at Haileybury, he could just never get his body right and he'd cite that (in his defence)," Lloyd said.
"Jack going to the Gold Coast Suns, being an inexperienced group, was never going to be the best environment for him.
"I always thought he needed to walk into an established environment with a strong core of senior players for him to thrive and learn, and obviously he didn't get that.
"That's not fully blaming the Suns – some of the blame's got to go onto Jack as well."
Jack Scrimshaw (general defender)

NEAFL 2017-18

Averages

Rating

Disposals

20.4

Above Average

Rebounds 50s

2.6

Above Average

Marks

4.5

Above Average

Intercept Marks

1.4

Above Average

Intercept Possessions

5.5

Above Average

Spoils

1.6

Average
Scrimshaw himself spoke excitedly at the Connors Sports breakfast function on Monday about the prospect of shadowing another potential incoming Hawk, Tom Scully, this pre-season.
Scully, a fellow Haileybury alumnus, is renowned as the AFL's best two-way runner and arguably no other footballer is more professional.
INDICATIVE DRAFT ORDER Your club's picks
Alastair Clarkson met with Scrimshaw as part of the recruitment process, and the former Gold Coast defender looms as an ideal project for Hawthorn's four-time premiership coach.
There is a belief that if the Hawks can instill resilience in him and "show him a bit of love" that the sky is the limit, adding more intrigue to the situation.
"I had a few battles happening off-field and it sort of affected my performance a little bit, and I just felt like if I was around family and friends it would make it a bit easier," Scrimshaw said.
"It would be a dream come true (to join Hawthorn). I barracked for them as a kid and watched them closely over the last few years and they've got an exciting future.
"Clarkson is a great coach, so I feel like I'd really be able to improve there and get better as a player and a person."