IT'S THE mixtape that might change AFL prospect Matt Neagle's life forever.
One year after Gold Coast's Wil Powell used his video-editing prowess to put his name on recruiters' radar – and went from obscurity to a first-round pick in the process – Neagle is treading a similar path.
FINAL CUT PRO How Wil makes a movie, gets on an AFL list
Neagle, 20, has ex-Swan Daryn Cresswell, his Wodonga Raiders coach, in his corner and together they've made sure no talent scout could use the excuse they haven't seen him.
Former AFL coach and player Rodney Eade is also on the campaign trail for Neagle.
The highlights package displays his breakneck speed, bold playing style – reminiscent of Essendon defender Adam Saad – and strong kicking skills, with several perfectly weighted passes inside 50.
He's a no-brainer (selection) as an AFL player. He won't prove me wrong - Daryn Cresswell
The son of late Essendon premiership footballer Merv Neagle, who played 56 of his 203 VFL/AFL games for Sydney, will attend the Victorian State Combine after a surge of interest in him.
Cresswell told AFL.com.au he had spoken with seven recruiters about Neagle, only saying that three were from non-Victorian clubs – two of which are believed to be the Swans and Crows.
The Bombers retain Neagle's father-son draft rights, if they are prepared to take the punt.
Breakneck speed is a feature of Matt Neagle's game. Picture: The Border Mail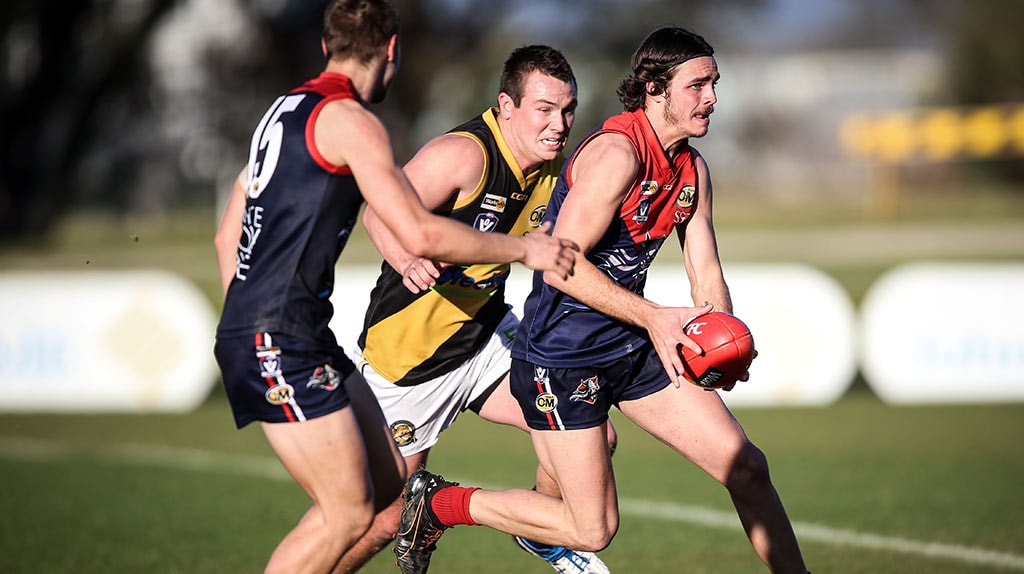 He trained with their VFL side in recent weeks and was going to play, but sustained a grade two hamstring tear that he is due to return from this weekend.
Neagle would be the first player to go from local football to the big league since another Raider, Collingwood dasher Sam Murray, joined Sydney in the 2015 rookie draft.
"A lot of interest has come from his leg speed – and he's got a great step," Cresswell said.
"He finds a way through traffic, is a good decision-maker, and he just plays the modern game as well as anyone.
"He's a no-brainer (selection) as an AFL player. He won't prove me wrong."
The question that always comes up, according to Cresswell, is about why it has taken Neagle until now to blossom.
He played a handful of games for TAC Cup team Murray Bushrangers without standing out, but Cresswell believes the "penny's dropped" and his training intensity and preparation has improved out of sight.
Neagle was only 14 years old when his father died in a truck crash near Griffith, in south-west New South Wales, almost six years ago to the day.
Merv's loss deeply impacted the family, including his wife Donna and sons Jay, 30 – who played 28 games for Essendon – Jydon, 23, Nathan, 22, Matt, 20, and Jaxon, 18.
"Matty's matured, and Sam (Murray)'s success has had a little to do with that, but he had a pretty rough childhood with Merv dying," Cresswell said.

Below: Jay Neagle in action for Essendon in 2010. Picture: AFL Photos

"People don't understand until they've been through it, like I did in '96, when my dad drowned.
"I've been helping him, but it knocked the boys around a lot, because they were really close with their dad and they all have tattoo symbols with his name.
"Everyone has their own story, but he's shown really strong resilience and he wants to follow in his dad's footsteps, so hopefully he gets the opportunity."