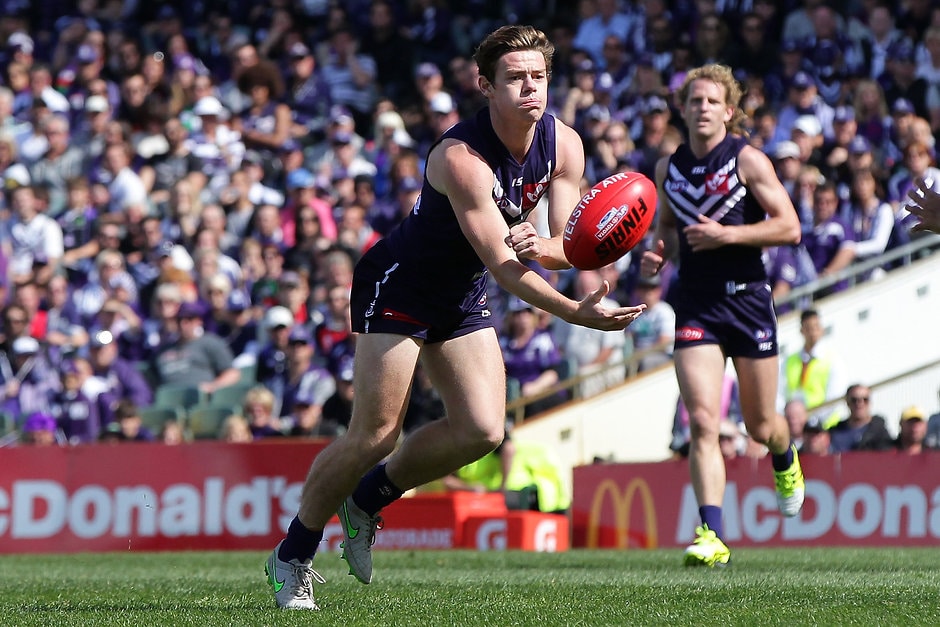 DAVID Mundy (MID, $584,000) led the way for the Dockers in 2015, after celebrating a less conventional 11th year break-out where he improved his average by ten on the previous season and reached triple figures for the first time in his career with 105. Unfortunately this season, he loses DEF status and is available purely as a MID.
Brownlow medalist Nat Fyfe (MID, $581,000) was a picture of consistency last year, averaging a career high 105 from his 18 games. He managed 13 tons over the course of the season and dropped under 90 on only two occasions. Unfortunately, there is an element of 'buyer beware' this year after Fyfe's pre season was disrupted by injury. On the flip side, he might slip down the draft order in Fantasy Elite, providing a potential bargain pick.
Click here for every Docker's starting Fantasy price and position
More Fantasy prices:
> Carlton: Will Brendon play the kids?
> Brisbane Lions: Fantasy Pig and friends
> Gold Coast: Sunshine and Fantasy points aplenty
> Essendon: Don't you know about the Bird?
> St Kilda: Big four won't come cheap
> Melbourne: The devil is strong in these youngsters
> Collingwood: Midfield delight but thin front and back
> GWS: Can Stevie J wind back the clock?
> Geelong: Danger in making Paddy a lock
> Port Adelaide: More than one shade of Gray
> Western Bulldogs: Young pups to score freely
> Richmond: Roll the dice on Dusty?
> Adelaide: Crouch-ing mids pounce on Fantasy points
> Sydney Swans: Buddy and the mids
> North Melbourne: Build your team around Goldy
Click here to subscribe on iTunes.
Lachie Neale (MID, $563,000): It could be argued that we missed the boat with Neale, after he experienced a huge break-out last season where he improved his average by 19 to a very impressive 104. However, he is every chance to continue to improve, as he has done in every season of his four-year career. One of his most exciting attributes is his ability to 'go big', demonstrated last season with seven scores over 120, including two thumpers of 151 and 162. He could be still considered slightly underpriced after receiving a red vest in round 23 and playing through illness for a score of just 36 in round four.
Matt de Boer (FWD/MID, $319,000): It will be interesting to see where de Boer sits in the pecking order after receiving the green vest six times and the red vest on one occasion last year. I mean, you wouldn't wish that upon your worst enemy - but on a positive note, it reduced his average to 58, meaning he is heavily underpriced for a player capable of averaging 84, as he did in 2012. If you ignore the one vest he received in the last six weeks of 2015, he averaged 88 in that time. Solid Fantasy form.
Michael Barlow (FWD/MID, $515,000): Coming off a career-high average of 111 in 2014, Barlow was uncharacteristically inconsistent last season as he battled for form while playing a variety of roles. Eventually he finished the season with an average of 93, his worst over the past four years. Despite this, he will be a popular selection this season as he has been granted DPP status and could be considered a value pick based on his scoring potential.
Harley Bennell (FWD/MID, $509,000): After losing a lot of popular dual-position players this season, it will be hard to say no to the talented Bennell, especially given the potential improvement at his new club. He has shown Fantasy value, averaging 85 for three-straight seasons before a career high of 92 in 2015. Keep an eye on his likely role over the pre-season, but he is certainly an exciting prospect in all Fantasy formats.
Harley Balic (FWD/MID, $161,000), Darcy Tucker (DEF, $158,000): Traditionally it is tough to get a consistent game for the Dockers in your first year on the list, but keep an eye on Balic and Tucker, picks No.27 and No.38 respectively as they put their best foot forward over the pre-season.
Hayden Ballantyne (FWD, $306,000): Hardly a Fantasy stud, but it is tricky to argue that Balla isn't under-priced this season. After battling injury for much of the year, he was a shadow of his former self in 2015, recording the worst average of his career apart from his rookie season. In the four years previous, he averaged respectable numbers of 72, 74, 71 and 72 which should be a good indication of what he can return to. A pass for me in Classic, but could be a serviceable slider in Fantasy Elite.
Matthew Pavlich (FWD, $382,000): Despite being a future Fantasy Hall of Famer, Pav's best years are beyond him. His continual decline in average saw him record his lowest output since 2001, with just 69 last year. Pay respect to the great man, but don't go clicking on his name.
MONDAY: The Traders are back to reveal the Eagles' Fantasy prices and positions for 2016.