"THE data changed."
That was how Carlton Football Club publicly sold its decision to end its association with coach Brendon Bolton, citing the mounting losses as the reason it acted after round 11.
For St Kilda and its relationship with coach Alan Richardson, the data isn't changing. 
RICHO TO STAY 'IF WE KEEP IMPROVING' Lethlean on under-fire coach
Richardson can't beat teams above him on the ladder, a situation which if unchanged in the final nine matches will compel the Saints to make the same hard call on their coach. 
St Kilda's thrashing by Brisbane at Marvel Stadium on Saturday was damning on so many fronts. It highlighted the lack of high-end ball use of too many Saints players, and the third quarter, where the Lions booted nine goals to one, was a patch of football that will be almost impossible for Richardson to recover from when the directors of his club formally meet to determine his future. 
THINGS WE LEARNED The player Freo can't afford to lose
You can't stop him!

CHARLIE CAMERON #AFLSaintsLions pic.twitter.com/qxV5HbSrbY

— AFL (@AFL) June 22, 2019
The Saints' 6-7 scoreline is an OK one in isolation of Richardson's previous five years as St Kilda coach, as it has come with several serious injuries to key players. 
But coming off just four wins in 2018, and with the victories in 2019 being against 17th-placed Gold Coast (twice), last-placed Carlton, third-last Melbourne, 12th-placed Hawthorn and 10th-placed Essendon, it is simply not enough. 
St Kilda has rightly and respectfully deferred the need to finalise Richardson's future until the completion of the season. 
But there is now a body of work which five full seasons (without finals) and 14 weeks long.
For Richardson, the data simply hasn't changed enough.

The Demons deserve credit for their in-season reset
The news of it may have been released in taking-out-the-trash manner, but full credit for Melbourne for not just beginning a full-scale review of the disaster that is the 2019 season but for being prepared to immediately enact its findings.
Five assistant coaches were assigned new roles amid several changes to the Demons football department announced after 8pm last Tuesday when the AFL industry was mired in a betting scandal, a club president who felt the need to racially stereotype, a pinching and stomping club captain and a baying group of disgruntled club supporters. 
THE RUN HOME Who will make finals?
The changes to personnel had nothing to do with Melbourne's encouraging win against Fremantle at the MCG on Saturday – that was largely due to Max Gawn, Tom McDonald and Jack Viney – but it has clearly served as an in-season reset. 
Max Gawn again stood tall for the Dees. Picture: AFL Photos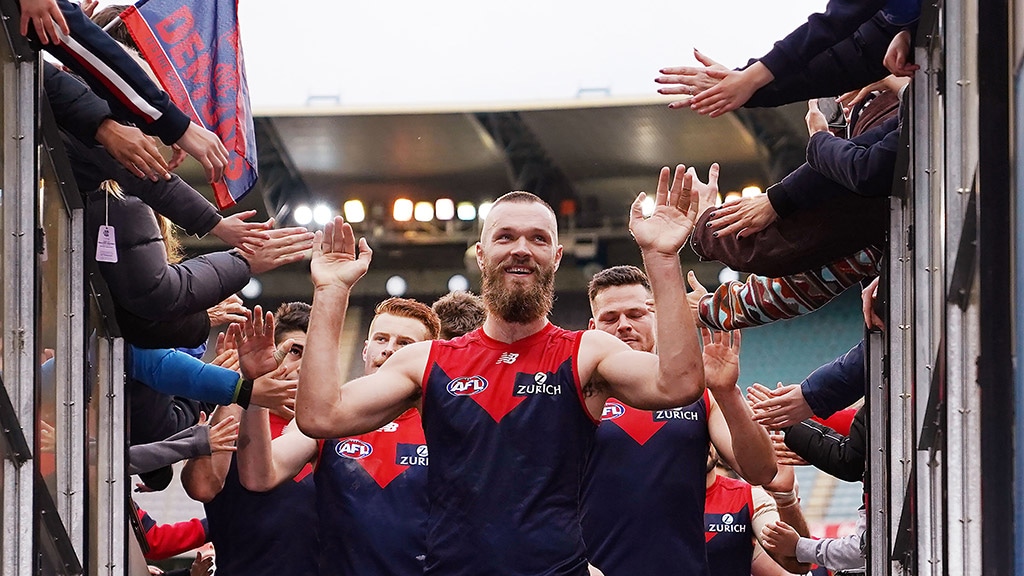 For Melbourne, finals are off the agenda, but so much can be gained in the remaining nine matches of 2019. 
The 2020 pre-season has started. Smart business. 
Tom McDonald with a dribbler from the boundary!

Have Melbourne done enough to get over the line?#AFLDeesFreo pic.twitter.com/3DaXDZmfM9

— AFL (@AFL) June 22, 2019
Why Burton might have the last laugh
Ryan Burton was shattered when told in October last year by the Hawks that he was to be shipped off to Port Adelaide. 
He was liked, he was told. But simply not enough as the thought of having Chad Wingard on the list. 
Reluctantly, he allowed the Hawks to secure Wingard in agreeing to a swap. 
Burton is putting together a nice debut season for the Power and was among the side's best in a big win against Geelong at Adelaide Oval on Saturday night.
AROUND THE STATE LEAGUES Veteran Hawk back, young Cat sizzles
After a Launceston-Shanghai-Perth sequence of matches before and after the bye, Saturday night's game was the first of four consecutive matches at Adelaide Oval for Port Adelaide. 
The Western Bulldogs, Adelaide and Brisbane are next. Wins in two of those three would nicely place the Power and Burton for a finals tilt, something the Hawks won't be doing.
Ryan Burton celebrates a goal with Tom Jonas. Picture: AFL Photos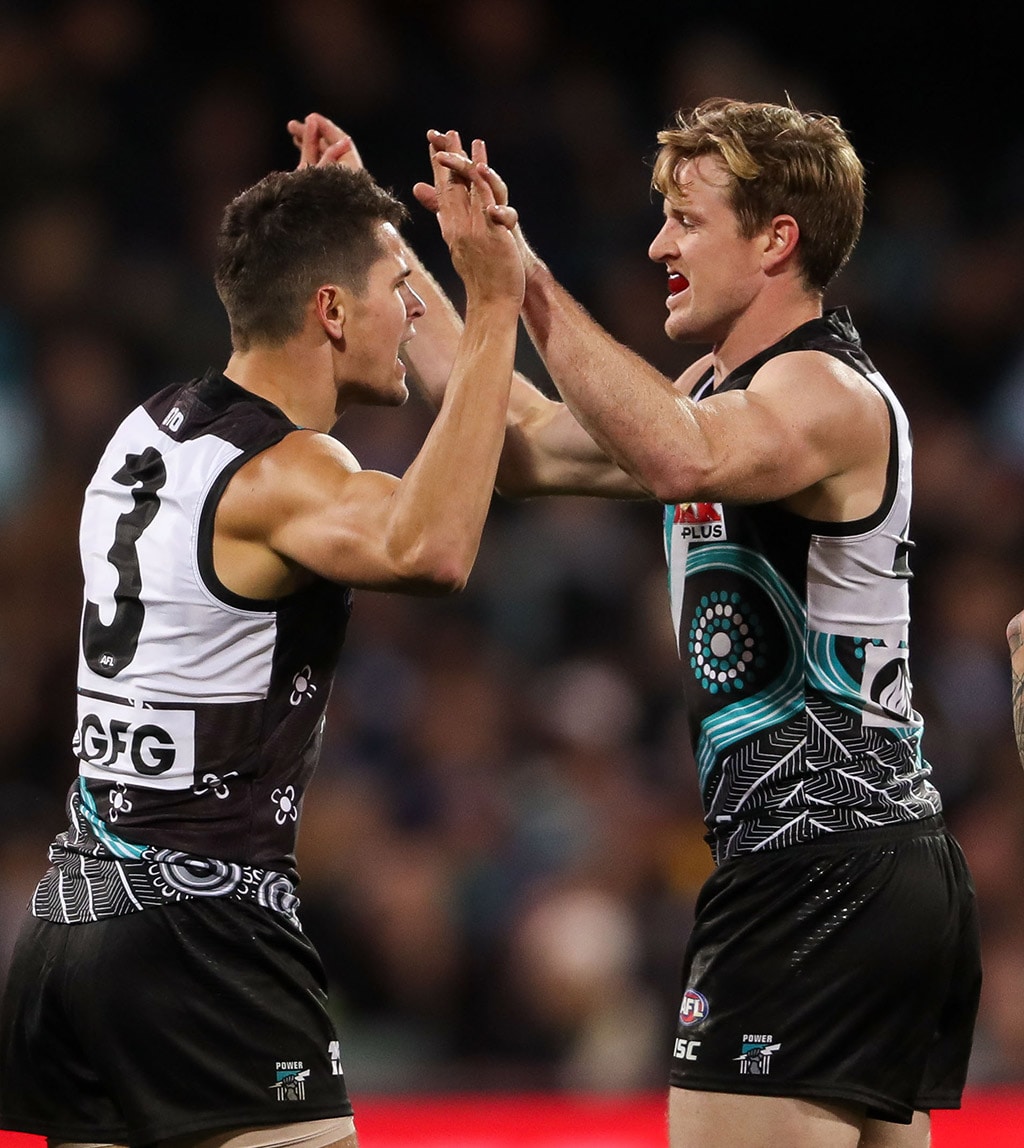 Stranded superstars looks 'amateurish' 
Coaches will use any reason to bemoan the AFL ban on them using runners to deliver a message in a game.
Luke Beveridge took on AFL football department boss Steve Hocking in the pre-season, Alastair Clarkson barely allows a week pass without firing up about it, and on Friday night, after his side's win against Hawthorn at the SCG, Swans coach John Longmire had his say, too.
FANTASY FORM WATCH Bye byes, hello normality
Longmire did it cleverly, musing that the nine minutes that his superstar Lance Franklin spent on the interchange might not have been advantageous for him when he finally returned to play, where he immediately pinged his hamstring. 
'Buddy' Franklin with his strapped hamstring after the Swans' win. Picture: AFL Photos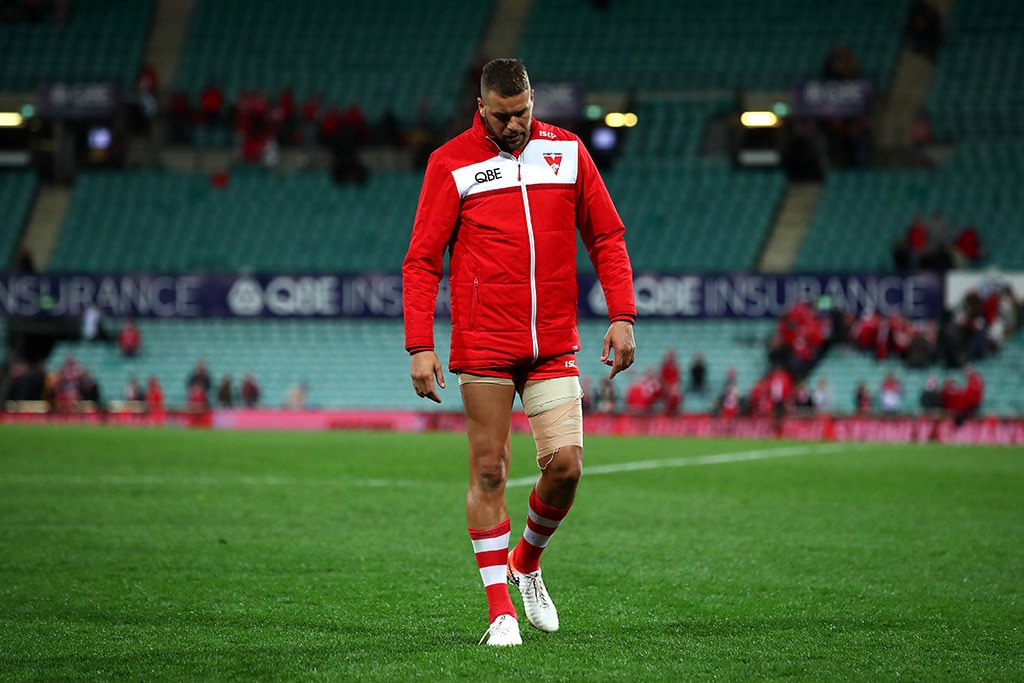 That may be a valid point, but there were no rules that required Franklin to be on the bench for such a prolonged period, and there was nothing stopping Franklin exercising his hamstrings while on the sidelines.
Hopefully, Hocking holds firm on this issue, for the coaches had long abused their use of runners.
Lance Franklin will take no further part in #AFLSwansHawks as he ices his hamstring. pic.twitter.com/uRQv1rxoR5

— AFL (@AFL) June 21, 2019
And, there is nothing stopping players like Franklin entering the field whenever they want – they obviously just need a teammate to step off. 
It's actually amateurish that so many superstars get stranded on the bench for such lengths of time, and also late in matches which are decided by a kick.
Find In the Game on Apple Podcasts, Google Podcasts or Spotify