BY HIS own admission Phil Walsh is intense, but it's this personality trait and his no-nonsense approach that he hopes will drive Adelaide into a new era of success.
Having worked across six AFL clubs, including Port Adelaide, West Coast and Geelong, Walsh came to the Crows with a reputation of not only being a brilliant tactician but also a hard man.
His tenure as coach began with a veiled threat to the playing group in his first press conference in October last year.
Walsh's message was: "Success does not come looking for you. You've got to chase it, and as a team the only way to do that is through hard work and elite habits."
And it didn't take long for the 54-year-old make his presence felt.
The playing group's first training session under Walsh's watchful eye was an arduous one, with the coach barking orders and punishing errors with push-ups.
He then further stamped his authority on the team by overlooking midfield stars Patrick Dangerfield and Rory Sloane to appoint forward Taylor Walker as the new skipper.
The captaincy press conference on Monday this week left no doubt that Walsh was the man in charge at West Lakes.
"As a coach you have to have really good communication with your players, and I'm endeavoring to do that at the moment," Walsh told AFL.com.au.
"But at the same time, I am the coach, and I have to give the direction on how the game needs to be played, and that's what I'll be doing."
"My coaching philosophy is team first, elite standards and training to get the absolute best out of your ability."
Walsh, who played at Richmond, Collingwood and Brisbane, is consumed by football, soaking up as much knowledge as he can about the game.
Phil Walsh has quickly placed his stamp on Adelaide. Picture: AFL Media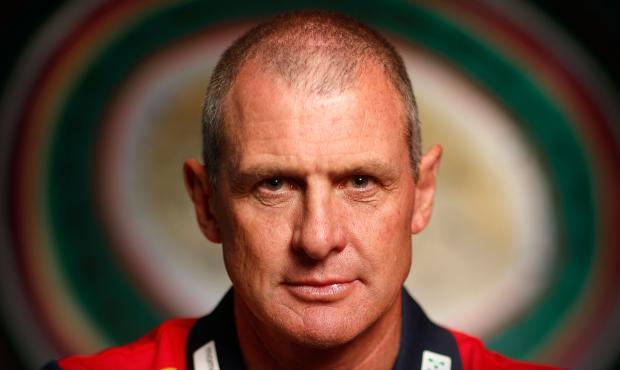 He watches almost every game of AFL, continually brainstorms new ideas and analyses other sports in the hope of adopting their strategies.
Two years ago, Walsh was hit by a bus while he was on holiday in Peru.
The accident left him with a broken pelvis and collarbone - and a desire to "make every moment count".
It's this philosophy that drives him.
"I've got standards that I think should be reached," Walsh said.
"I'm trying to set really high elite standards at the Adelaide Football Club and I'm intense in chasing those."
Making every moment count means there is little rest for Walsh.
Surfing, a hobby he began when he was studying teaching in Ballarat, is his release from football.
But during the off-season, his love for travel takes over, although football is never far from his mind, with the coach taking leadership courses in Europe as well as watching soccer games in the hope he'll find inspiration.