MENTION the name Lenny Hayes to Ross Lyon at any stage of his five years as St Kilda coach, and his eyes would move into dreamy mode. 
He'd never admit it, but Hayes was Lyon's favourite.
Nick Riewoldt and other Saints greats in Nick Dal Santo and Leigh Montagna all had a special place in Lyon's heart, just not as special as that reserved for Lenny.
Ross Lyon congratulates Lenny Hayes after a win in 2007. Picture: AFL Photos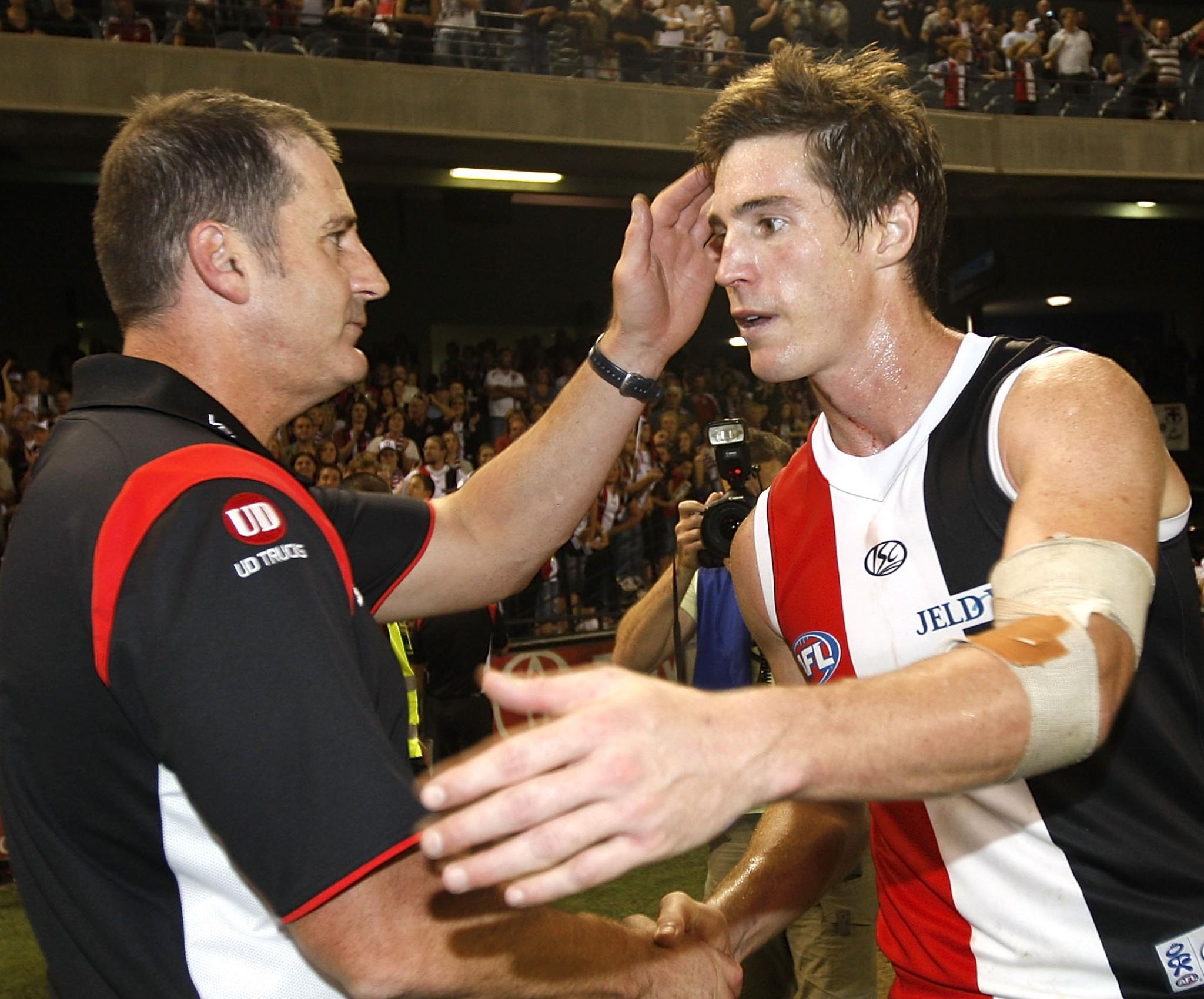 As incredible as it sounds, Michael Walters could be nearing Lenny territory in Lyon's world.
Lyon certainly now talks in a very different, glowing way whenever Walters' name is raised in conversation.
Provided he stays fit, Walters is now a lock for a place in the 2019 Virgin Australia AFL All Australian team. He is compiling one of the great seasons.
Only very special players can single-handedly influence three consecutive matches.
In round 10, he thumped a 50m kick after the siren into the goal post to win a game against Brisbane.
MICHAEL WALTERS STEALS VICTORY!

An incredible after-the-siren @Gatorade Game Changing Moment!#AFLFreoLions pic.twitter.com/TzSV05x7na

— AFL (@AFL) May 26, 2019
The following weekend, he again found himself with the ball in the final seconds, this time requiring, and delivering on, a goal to beat Collingwood. 
Michael Walters has done it again! He kicks a set shot goal at the death to give the Dockers the win! pic.twitter.com/mp08BjkMrO

— AFL.com.au (@AFLcomau) June 1, 2019
On Saturday night, after the Dockers had a bye in round 12, he compiled possibly the standout game of his 141-match career with six goals, including two late in the game which sealed the Dockers' seventh win for the season. 
Michael Walters has hit the Power for six!#AFLFreoPower pic.twitter.com/1wvqmLZN4W

— AFL (@AFL) June 15, 2019
In 2012, Lyon's first year as Fremantle coach, Walters was suspended by the club when he presented in poor condition. He was at the bottom of Lyon's favourite list back then. 
After Saturday night's win, Lyon spoke of Walters as he once did Hayes: "He's a class act. He's a great story. A great role model."
Michael Walters celebrates his sixth goal against the Power. Picture: Will Russell, AFL Photos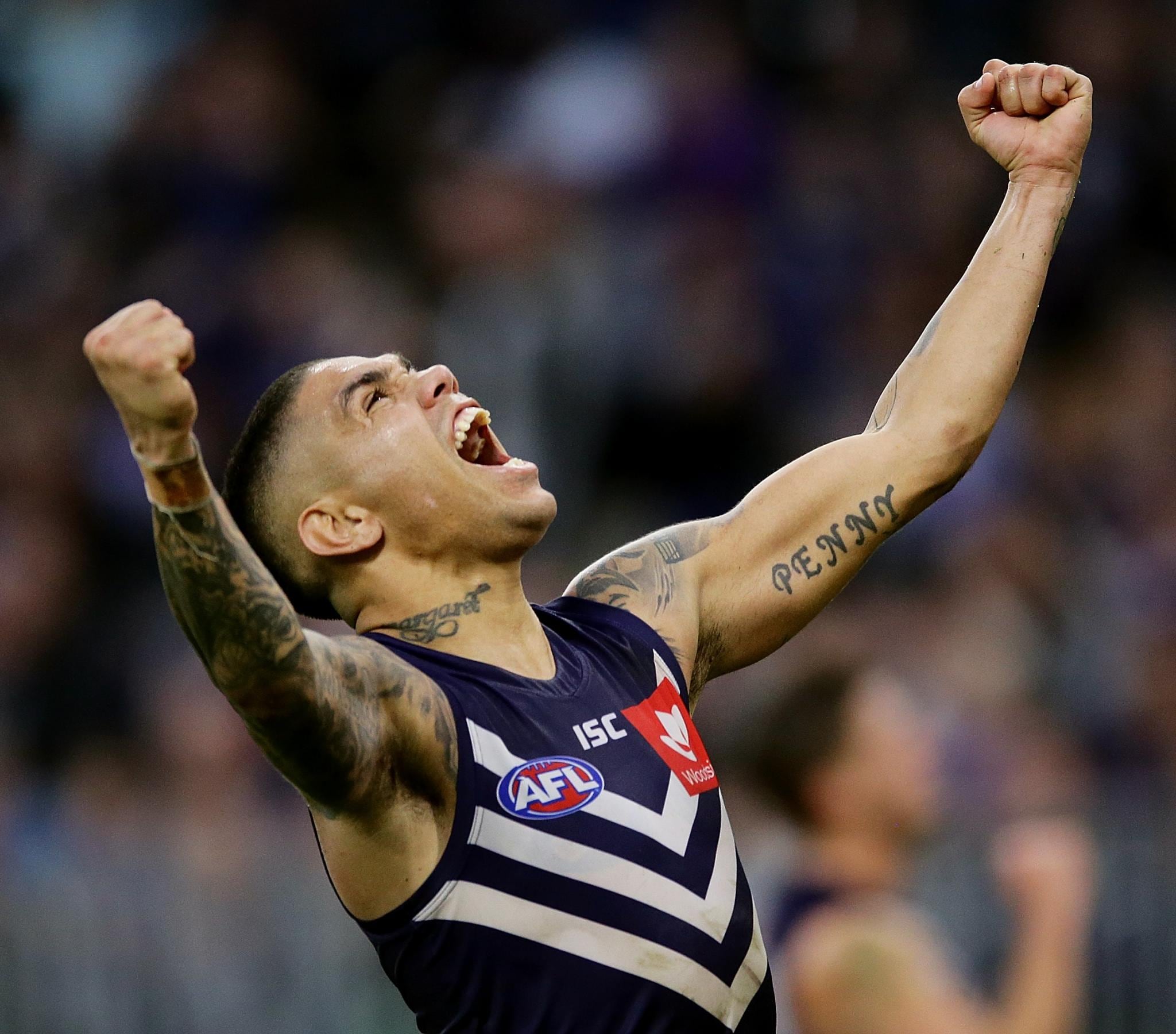 Stratton not the only culprit in pinch, punch, stomp saga
The blame game needs to start with the pincher and puncher himself, Ben Stratton.

But it should quickly head to two sets of umpires, and his coach Alastair Clarkson.
AROUND THE STATE LEAGUES Jack out of the box, Hawk among the goals
What Hawk captain Stratton did to Essendon's Orazio Fantasia on Friday night, when he pinched him relentlessly, leaving him badly bruised on the back of his left upper arm, was actually not all that different to the same embarrassing, punching treatment he gave Lion Charlie Cameron in his previous match.
Orazio Fantasia was left with bruises to the back of his left arm. Picture: Channel Seven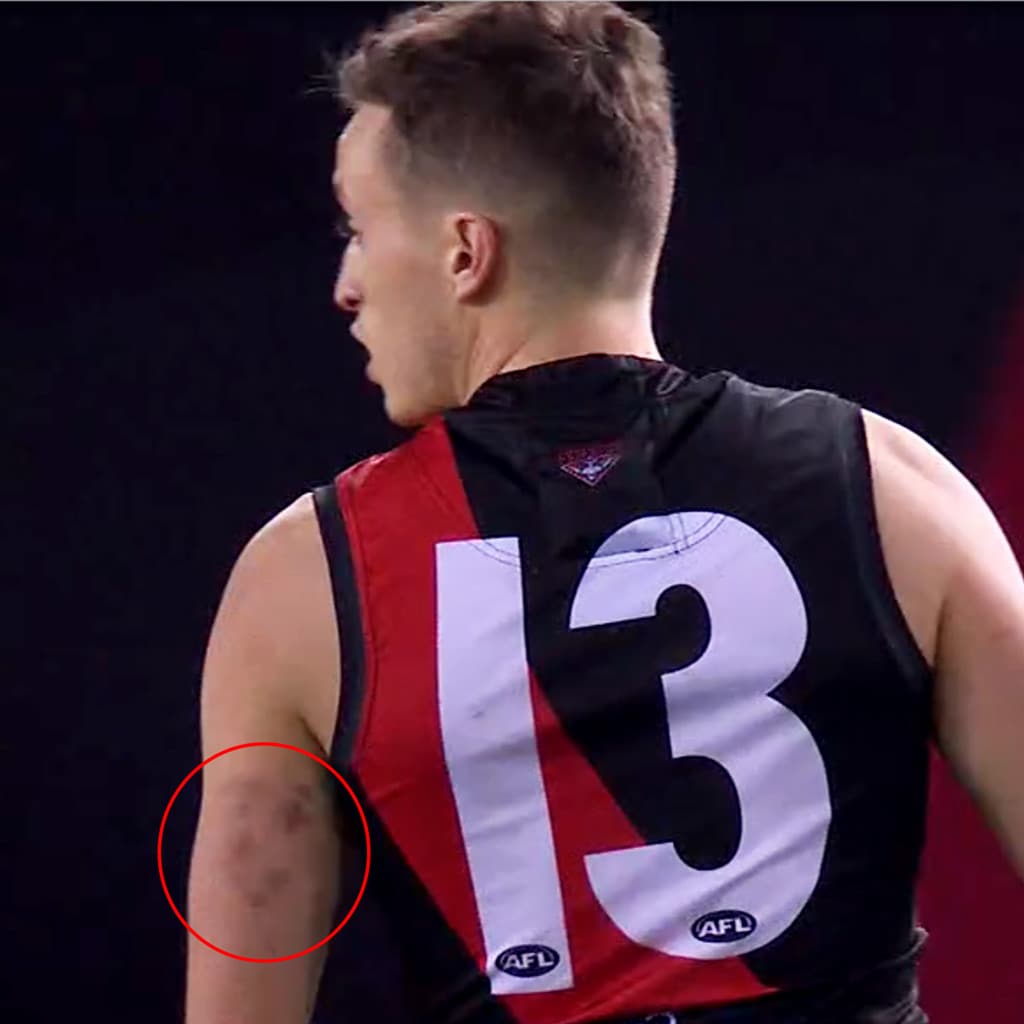 On that occasion, which actually happened on the first day of June – remember the saying: pinch, punch, first day of the month – a field umpire ridiculously laughed when he saw Stratton punching Cameron, who was left just as badly bruised as Fantasia.
THINGS WE LEARNED Time to make some big calls, Clarko
Umpires on that night did nothing, and again on Friday night, despite being made aware of the pinching of Fantasia, allowed it to go without penalty.
Pinching and pushing.

How have you perceived Stratton's treatment to Fantasia? #AFLDonsHawks pic.twitter.com/ECsZzvei9e

— AFL.com.au (@AFLcomau) June 14, 2019
Surely, the AFL football department needs today to reprimand all umpires involved in the Hawks' past two matches. It is understandable if one or two off-the-ball pinches or punches are missed, but not if it goes on for an entire match.

Since Fantasia admirably spoke publicly about his treatment by the Hawks skipper, Stratton himself and club CEO Justin Reeves have said it is not what they stand for.
This is not the sort of thing he or we want to be known for and he understands the need to adjust his behaviour moving forward

- Hawthorn CEO Justin Reeves
But Clarkson clearly knew what Stratton did to Cameron, and given his captain thought he could go into his very next game with a similar niggling plan, he either didn't raise it with him properly, or didn't raise it at all.

Stratton should be suspended for two weeks by the Tribunal this week – one for his treatment of Fantasia, and one for his foot stomp on Bomber Shaun McKernan.
Ben Stratton has been sent directly to the Tribunal for this stomp on Shaun McKernan. Details: https://t.co/ZbjmEdrDxb pic.twitter.com/6eRYxVWOOh

— AFL.com.au (@AFLcomau) June 15, 2019
Simple solution to fan 'crackdown'
I have zero issue with the crowd behaviour/security crackdown issue.
In fact, I hope it continues.
A Carlton supporter is spoken to by Marvel Stadium security staff. Picture: Quinn Rooney, Getty Images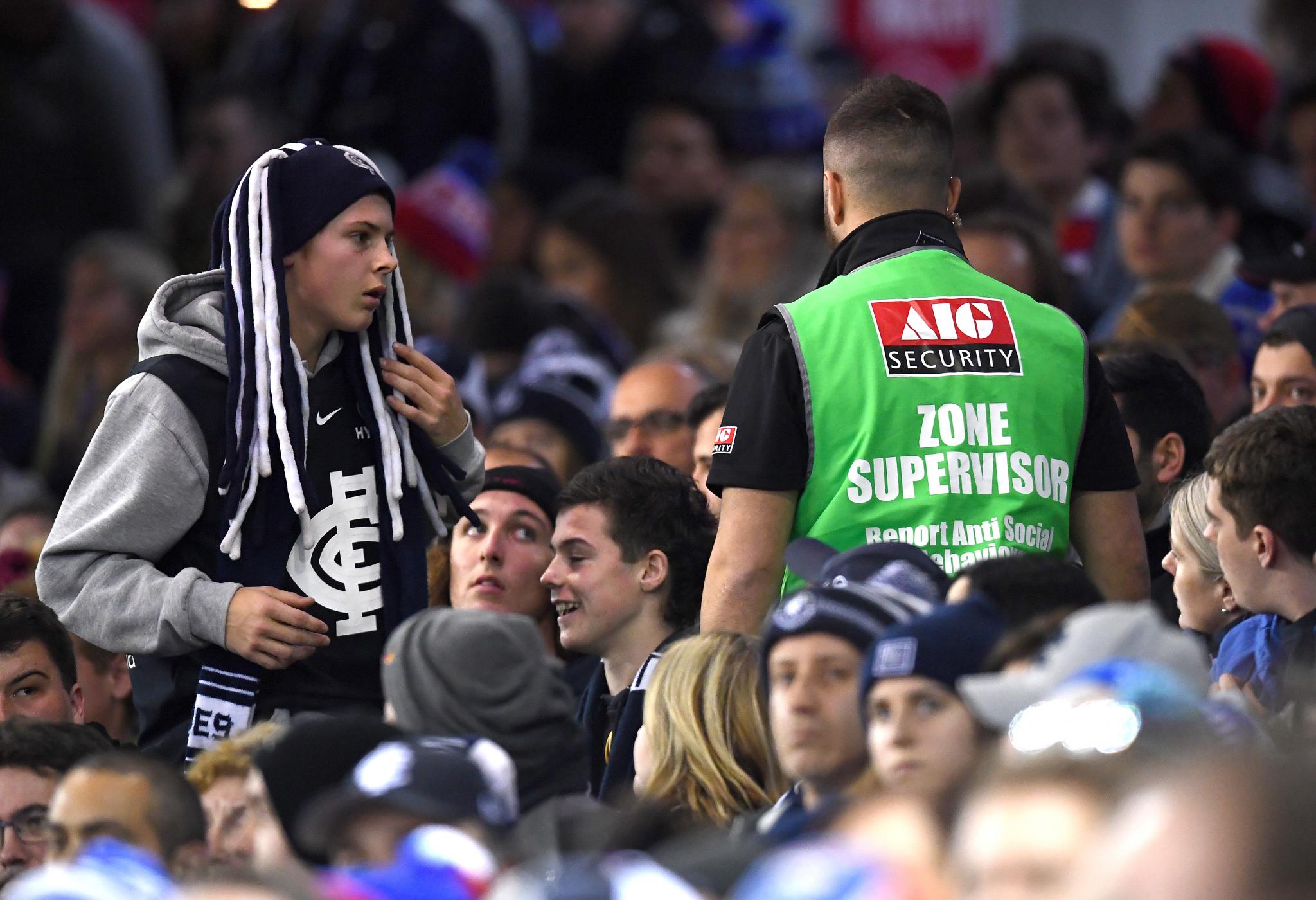 Some fans need to get over themselves. Paying for admission to an AFL game does not come with a right to say abuse anyone or anything you see in those ensuing two and a half hours.
'WE'VE GONE TOO FAR' Marvel Stadium to review security measures
Sure, yell as loud as you want. Be witty. Be passionate. Scream your lungs out. But, behave respectfully, and there won't be an issue. For way too long, the game and its stadium operators have allowed fans to act and say things that would be drastically dealt with outside the venues. 
For every fan who has worked themselves up over this issue into the state everyone loves to reach these days – maximum outrage – there are just as many who have been refusing to attend matches because of the words and actions they have experienced at venues.
Twitter: @barrettdamian
Police break up a post-siren scuffle in the crowd after the Blues' win over the Bulldogs. Picture: Quinn Rooney, Getty Images

Find In the Game on Apple Podcasts, Google Podcasts or Spotify