A CONTENT Nick Riewoldt "couldn't be more convinced" the time is right to retire, after the St Kilda champion announced on Monday his illustrious career would finish at season's end.
Riewoldt admitted the decision wasn't easy after having been adamant at times he wanted to play on into an 18th season.
"Like any big decision, it takes time and that's certainly been the case in this situation. Retirement's something that I would never have consciously gone out and explored myself, but that's just the way I'm wired," Riewoldt said.
"There's been a bit of noise this year that's dragged on. The more that's been spoken about, the more that's forced me to really evaluate myself and where I'm at and at times, I've been really defiant in my desire to continue to play."
The first person drafted in 2000 shared the internal struggle he went through when it came to deciding whether he wanted to go on.
"At times, when I was asking myself (about) the decision (and thinking) is it time, because of all the noise … I was just fighting myself, saying 'Don't be weak, don't be weak, you've gotten yourself out of that many situations of adversity before that this is no different'," Riewoldt said.
"But the longer it went, the more I really internalised the conversation. With a big decision, you speak to those around you that you trust and the more I did that, the more the decision crystallised in my mind that it is the right time. I've given everything I possibly can to the game and the footy club."
With his wife Catherine, sons James and George, parents Fiona and Joe and the family of his brother Alex watching on, as well as the entire club, Riewoldt declared at Seaford the time was right.
Nick Riewoldt's family at Monday's announcement. Picture: AFL Photos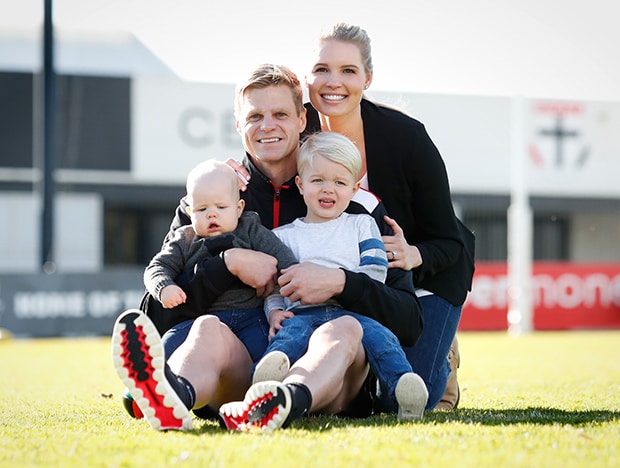 "I couldn't be more convinced that the time is right for me to retire. I'm really proud that I'm doing so with a litre or two of petrol left in the tank, rather than being run out on the side of the road with the hood up, begging for help," he said.
Speculation had swirled around whether the forward, who turns 35 in October, would be awarded another contract.
His knees have caused him grief in recent years, and in 2017 especially.
Riewoldt's career seemed in danger when he hyperextended his right knee late in the round one loss to Melbourne and had to be stretchered off, with fears the Saint would require a reconstruction.
However, he missed just a week and collected 28 disposals and three goals in his round three return against the Brisbane Lions.
The club admitted consecutive six-day breaks between rounds five and seven, with a trip to Tasmania to face Hawthorn included in that, took a toll on Riewoldt's knees.
"It has been (a struggle) for 10 years, but my mindset's always been, and I think it's a strength, to be able to push and find a way and get through that. This whole process was no different. The want for my mind to keep defying and continuing but, no, the time is right and clearly the body plays a part in that," Riewoldt said.
'Rooey' will go down as one the greatest Saints. Picture: AFL Photos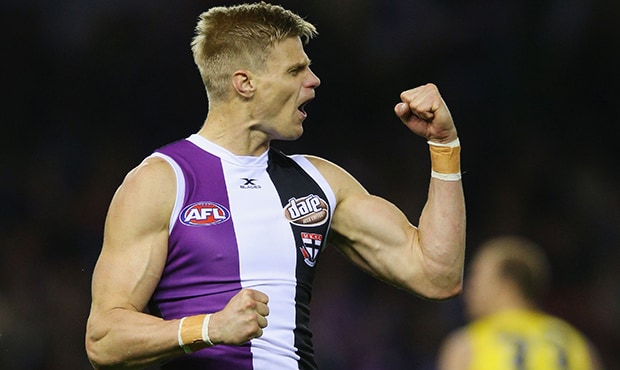 His coach Alan Richardson expressed surprise that Riewoldt chose to retire.
"'Rooey' is a person that's been able to find a way for such a long time (so) I was a little bit surprised (about the decision) from that perspective," Richardson said.
"The reality is that probably the last couple of conversations, I could just sense that he was really thinking about his future and fundamentally, if you're thinking about (whether) you're done, you're done."
The 11th-placed Saints are 9-9 ahead of their clash against West Coast at Etihad Stadium on Sunday, which Riewoldt said he would line up in.
Riewoldt has played in 333 career games to date, and going into the clash with Sydney two weeks ago, his thoughts began to firm up.
"There wasn't a real epiphany or a fall of the cliff type moment but (it was) more gradual. Probably more recently, going into the Sydney game, I was having more and more of those thoughts internally, in my own quiet time, that reaffirmed that the time was right," Riewoldt said.
He won the NAB AFL Rising Star Award in 2002, when he averaged 15 disposals, eight marks and a goal per game.
After he booted 67 goals in 2004, being named the AFL Players' Association MVP, and helped the Saints reach a preliminary final before losing to eventual premiers Port Adelaide by six points, Riewoldt was named skipper for 2005 as part of coach Grant Thomas' rotation policy.
Under Ross Lyon's tenure, Riewoldt was made co-captain with Lenny Hayes and Luke Ball in 2007 before taking on the role by himself the following year, with the Saints falling short of Hawthorn in a preliminary final.
Great player even better person #ThanksRooey

— Ross Lyon (@RealRossLyon) July 31, 2017
The key forward led the Saints to unsuccessful Grand Finals in 2009 and 2010 and officially gave up the captaincy at the 2016 best and fairest award, handing over to Jarryn Geary.
Riewoldt led the Saints for a club-record 11 seasons and is third on the all-time list of games as captain (220), with only Carlton's Stephen Kernahan (226) and Essendon's Dick Reynolds (224) ahead of him.
Riewoldt will retire having played more games than any other No.1 draft pick.
He was rested for last Saturday's two-point loss to Port Adelaide.
A decision on out-of-contract veteran Leigh Montagna is yet to come from the club. The 33-year-old is sidelined with a right hamstring injury that means he may have played the last of his 287 games.
Nick Riewoldt
Games played: 333
Goals: 714
Captain: 2005, 2007-16
All Australian: 2004, 2006, 2008, 2009 (captain), 2014 (vice-captain)
Best and fairests: 2002, 2004, 2006, 2007, 2009, 2014
Career Brownlow votes: 149