Skills, spirit and stoicism reached fever pitch at Royal Park in Melbourne on Friday afternoon as Croatia walked away with victory in its first AFL International Cup.
Croatian captain Tomislav Cvetko held the men's division two trophy aloft after the Knights convincingly beat a gallant German team by 66 points in the Grand Final.
Cvetko controlled the game from midfield, kicked three goals and was best on ground. With a huge mark and goal halfway through a tight second quarter, he stamped his authority on the game and went on to score another two, including a 45-metre beauty into the wind.
The 32-year-old also looked to target Ivan Ivoš, who kicked three goals in the first half and a fourth in the final quarter.
"My dream was not that I scored four goals, but that the team would become champions today," said the Zagreb Cvjetno Dockers forward.
"It has been a long journey since the defeat against China [in round one]. From that moment, we have grown together on and off the field.
"I was thinking this would be my last tournament, but I might have to come back in three years when we will compete in division one."
The Melbourne Consulate General of The Republic of Croatia, Dubravko Belavić, provided further inspiration for the Knights at half-time by delivering a personal message from the President of Croatia, Kolinda Grabar-Kitarović, who was in Australia on a state visit.
The Melbourne Knights' soccer club mascot – a white duck wearing a version of the chequered red and white shield from the country's flag – joined the vociferous crowd, and flares went off as the division two champion celebrated.
The Melbourne Knights' soccer club mascot was on hand to cheer Croatia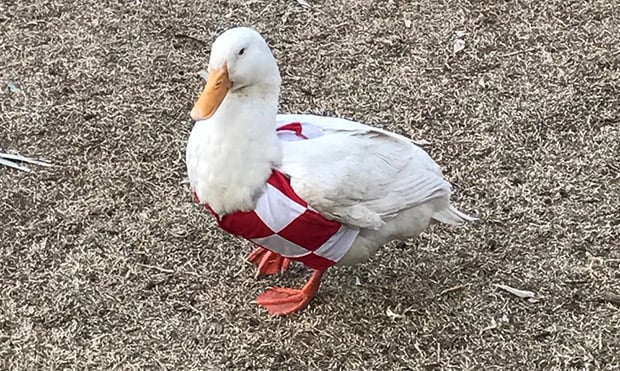 Germany, which was competing at the AFL International Cup for the first time, battled bravely and ensured that no contest was easy.
Canada's women, who face Ireland in the women's Grand Final on Saturday, were out in numbers supporting their male counterparts in a play-off-game.
Protecting a two-goal cushion into the second half, resolute Canadian defending kept Fiji at bay, with the final deficit just three points as Canada secured seventh place in division one.
France and South Africa, the two nations that lit up the competition launch two weeks ago, battled it out to avoid the wooden spoon. South Africa took the spoils with a 30-point victory.
Chinese celebrations were loud and colourful as they secured third place in division two with an eight-point win over Japan. The Samurais, who beat grand finalists Germany en route to the play-off, were ferocious on the ground and fast in tight, but a huge Dean Wei goal with five minutes to go took the game away.
Pakistan beat India, despite a spirited fourth-quarter comeback, after the women's Sheehans team joined them to sing Pakistan's national anthem.
The women were deservedly euphoric after kicking their first goal of the carnival. That moment came after 340 minutes of scoreless football – with full-forward Eraj was swamped by the other 35 players.
The European Crusaders, who had only registered only a single behind in their four previous matches, kicked eight goals and the shared celebrations will be savoured for all involved as both teams look to return in three years.
In the fight for third place, Great Britain Swans kicked a goal at the death to overhaul USA Freedom, who had led since early in the first quarter.
Elsewhere in women's action, Fiji and Papua New Guinea exchanged goals in the third quarter after a scoreless first half, but Fiji ran away with the final quarter, kicking four superb goals.
AFL INTERNATIONAL CUP GRAND FINALS
Men's division one
11.15am Saturday, August 19
New Zealand v Papua New Guinea, MCG
Women's competition
4.30pm Saturday, August 19
Canada v Ireland, Etihad Stadium
Go to AFL.com.au/internationalcup for scores, live streams of selected matches, feature stories and news from the tournament, and worldfootynews.com for reports on all matches.