GEELONG is the only bolter from outside last year's top eight in what is set to be another season of missed opportunity for Collingwood.
That is the combined opinion of AFL.com.au reporters, who have looked into their crystal balls to predict how the 2016 ladder will look at the end of the home-and-away rounds, with West Coast emerging on top.
The Cats' recruiting spree is set to pay off, with Chris Scott's team replacing Adelaide in the top eight. The Crows are the only 2015 finalist to slip out, falling to 12th with not a single reporter tipping them to play finals.
The Sydney Swans have been a tough team to place going into the new season, with some viewing them as a contender and others tipping last year's semi-finalists to fall out of the eight. We have them collectively in fourth.
The Rising Star race is as open as the season itself, with Carlton defender Jacob Weitering, Sydney Swans midfielder Callum Mills and Essendon onballer Darcy Parish inseparable.
Coleman Medal predictions were much more cut and dry, however, with West Coast goalkicker Josh Kennedy a clear favourite ahead of Swans superstar Lance Franklin.
Here are our reporters' predictions:
Ashley Browne
Premier: West Coast
Runner-up: Western Bulldogs
Wooden spoon: Carlton
Moving up: Greater Western Sydney
Set to fall: Hawthorn
Brownlow Medal: Todd Goldstein
Coleman Medal: Jack Riewoldt
NAB AFL Rising Star: Daniel Howe
Recruit of the year: Adam Treloar
Surprise All Australian: Cameron Guthrie
Headline you'll see: Mazel Tov! Goldstein wins Brownlow
Headline you won't see: AFL got it right: McGuire
Coach under the pump: Chris Scott
How many games will Carlton win? Three
Where will Cale Hooker play in 2017? Melbourne (after Jesse Hogan is traded to Fremantle)
Ladder
West Coast
Western Bulldogs
Hawthorn
Fremantle
Richmond
Collingwood
Geelong
Greater Western Sydney
—
Sydney Swans
Port Adelaide
North Melbourne
Adelaide
Melbourne
Gold Coast
St Kilda
Brisbane Lions
Essendon
Carlton
Nick Bowen

Premier: West Coast
Runner-up: Sydney Swans
Wooden spoon: Essendon
Moving up: Collingwood
Set to fall: Adelaide
Brownlow Medal: Luke Parker
Coleman Medal: Josh Kennedy (West Coast)
NAB AFL Rising Star: Jacob Weitering
Recruit of the year: Adam Treloar
Surprise All Australian: Harley Bennell
Headline you'll see: Good Friday footy gets go-ahead for 2017
Headline you won't see: Swans rapt to be back at ANZ for finals
Coach under the pump: Damien Hardwick
How many games will Carlton win? Four
Where will Cale Hooker play in 2017? Fremantle
Ladder
West Coast
Sydney Swans
Hawthorn
North Melbourne
Fremantle
Collingwood
Richmond
Port Adelaide
—
Western Bulldogs
Geelong
Greater Western Sydney
Adelaide
Melbourne
Gold Coast
St Kilda
Brisbane Lions
Carlton
Essendon
There's plenty of support for Jacob Weitering as this year's Rising Star winner. Picture: AFL Media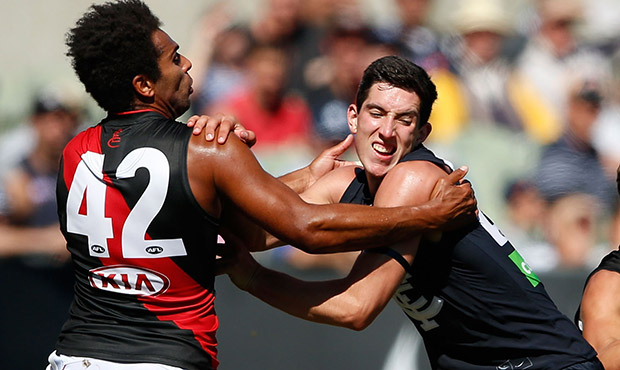 Ben Collins
Premier: Hawthorn
Runners-up: West Coast
Wooden spoon: Carlton
Moving up: Greater Western Sydney and Collingwood
Set to fall: Adelaide
Brownlow Medal: Scott Pendlebury
Coleman Medal: Josh Kennedy (West Coast)
NAB AFL Rising Star: Jacob Weitering
Recruit of the year: Patrick Dangerfield
Surprise All Australian: Steve Johnson
Headline you'll see: Four-thorn
Headline you won't see: Cats coach admits Stevie J blunder
Coach under the pump: Brad Scott
How many games will Carlton win? Three
Where will Cale Hooker play in 2017? Fremantle
Ladder
Hawthorn
West Coast
Sydney Swans
Fremantle
Richmond
North Melbourne
Greater Western Sydney
Collingwood
—
Western Bulldogs
Geelong
Port Adelaide
Adelaide
Gold Coast
Melbourne
St Kilda
Brisbane Lions
Essendon
Carlton
Adam Curley
Premier: Western Bulldogs
Runner-up: Hawthorn
Wooden spoon: Essendon
Moving up: Greater Western Sydney
Set to fall: Adelaide
Brownlow Medal: Robbie Gray
Coleman Medal: Jake Stringer
NAB AFL Rising Star: Callum Mills
Recruit of the year: Steve Johnson
Surprise All Australian: Jason Johannisen
Headline you'll see: 'The Package' helps end Dogs' drought
Headline you won't see: Dockers full strength for round 23
Coach under the pump: Rodney Eade
How many games will Carlton win? Four
Where will Cale Hooker play in 2017? Fremantle
Ladder
Hawthorn
Western Bulldogs
Fremantle
West Coast
Greater Western Sydney
Geelong
Sydney Swans
Port Adelaide
—
Richmond
North Melbourne
Gold Coast
Adelaide
Collingwood
St Kilda
Melbourne
Brisbane Lions
Carlton
Essendon
Ryan Davidson
Premier: West Coast
Runner-up: Fremantle
Wooden spoon: Carlton
Moving up: Port Adelaide
Set to fall: Sydney Swans
Brownlow Medal: Marcus Bontempelli
Coleman Medal: Josh Kennedy (West Coast)
NAB AFL Rising Star: Callum Mills
Recruit of the year: Jack Redden
Surprise All Australian: Jack Redden
Headline you'll see: Journo despair as supplements saga finally concludes
Headline you won't see: Tigers finally end finals hoodoo
Coach under the pump: Damien Hardwick
How many games will Carlton win? Three
Where will Cale Hooker play in 2017? Fremantle
Ladder
Fremantle
West Coast
Hawthorn
Western Bulldogs
Geelong
North Melbourne
Greater Western Sydney
Richmond
—
Port Adelaide
Adelaide
Sydney Swans
Collingwood
Gold Coast
Melbourne
St Kilda
Essendon
Brisbane Lions
Carlton
Josh Kennedy is at short odds to repeat his 2015 Coleman Medal. Picture: AFL Media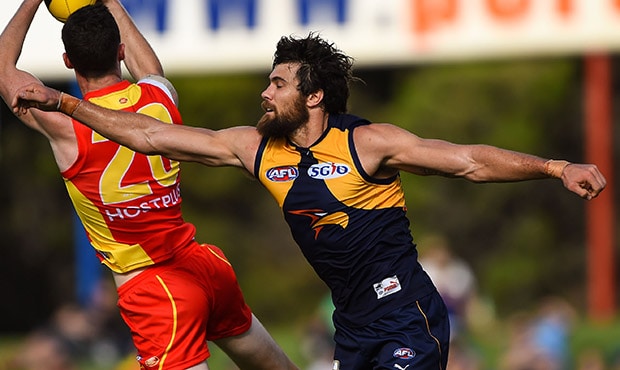 Nat Edwards
Premier: Hawthorn
Runner-up: West Coast
Wooden spoon: Essendon
Moving up: Geelong
Set to fall: Western Bulldogs
Brownlow Medal: Todd Goldstein
Coleman Medal: Lance Franklin
NAB AFL Rising Star: Christian Petracca
Recruit of the year: Ryan Crowley
Surprise All Australian: Cam Guthrie
Headline you'll see: Hogan signs mega-deal with Dees
Headline you won't see: Dangerfield worst recruit of the decade
Coach under the pump: Damien Hardwick
How many games will Carlton win? Three
Where will Cale Hooker play in 2017? Essendon
Ladder
West Coast
Sydney Swans
Hawthorn
Fremantle
North Melbourne
Geelong
Port Adelaide
Richmond
—
Western Bulldogs
GWS
Collingwood
Adelaide
St Kilda
Melbourne
Gold Coast
Brisbane Lions
Carlton
Essendon
Ben Guthrie
Premier: West Coast
Runner-up: Geelong
Wooden spoon: Essendon
Moving up: Geelong
Set to fall: North Melbourne
Brownlow Medal: Scott Pendlebury
Coleman Medal: Taylor Walker
NAB AFL Rising Star: Jacob Hopper
Recruit of the year: Patrick Dangerfield
Surprise All Australian: Mitch Duncan
Headline you'll see: Concussion hit on the head
Headline you won't see: Northern academies a Giant success: McGuire
Coach under the pump: Damien Hardwick
How many games will Carlton win? Three
Where will Cale Hooker play in 2017? Fremantle

Ladder
West Coast
Sydney Swans
Geelong
Richmond
Fremantle
Hawthorn
Port Adelaide
Collingwood
—
Western Bulldogs
Greater Western Sydney
North Melbourne
Gold Coast
Adelaide
Melbourne
St Kilda
Brisbane Lions
Carlton
Essendon
The Swans welcome back Lance Franklin with open arms this season. Picture: AFL Media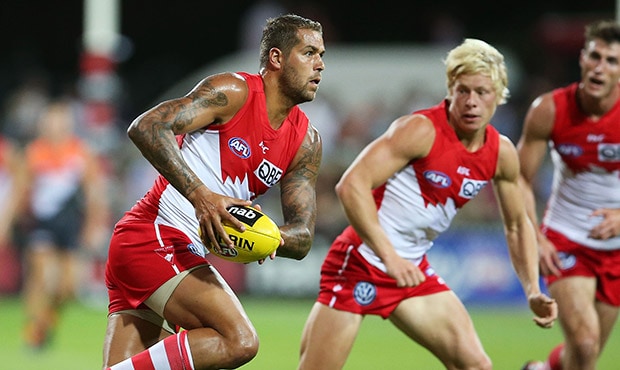 Travis King
Premier: West Coast
Runner-up: Geelong
Wooden spoon: Essendon
Moving up: Geelong
Set to fall: Adelaide
Brownlow Medal: Patrick Dangerfield
Coleman Medal: Josh Kennedy (West Coast)
NAB AFL Rising Star: Callum Mills
Recruit of the year: Patrick Dangerfield
Surprise All Australian: Robbie Tarrant
Headline you'll see: Kennedy on target to kick the ton
Headline you won't see: Pies and Swans kiss and make-up
Coach under the pump: Ross Lyon
How many games will Carlton win? Four
Where will Cale Hooker play in 2017? Fremantle
Ladder
West Coast
Hawthorn
Geelong
Fremantle
Collingwood
Western Bulldogs
North Melbourne
Port Adelaide
—
Richmond
Greater Western Sydney
Sydney Swans
Adelaide
Melbourne
Gold Coast
St Kilda
Brisbane Lions
Carlton
Essendon
Alex Malcolm
Premier: West Coast
Runner-up: Hawthorn
Wooden spoon: Carlton
Moving up: Collingwood
Set to fall: North Melbourne
Brownlow Medal: Nat Fyfe
Coleman Medal: Josh Kennedy (West Coast)
NAB AFL Rising Star: Josh Schache
Recruit of the year: Patrick Dangerfield
Surprise All Australian: Lachie Neale
Headline you'll see: Bucks inks new deal
Headline you won't see: Hogan re-commits to Demons
Coach under the pump: Brad Scott
How many games will Carlton win? Two
Where will Cale Hooker play in 2017? Essendon
Ladder
West Coast
Richmond
Sydney Swans
Hawthorn
Fremantle
Port Adelaide
Western Bulldogs
Collingwood
—
Adelaide
North Melbourne
Geelong
Greater Western Sydney
Gold Coast
Melbourne
St Kilda
Essendon
Brisbane Lions
Carlton
Dinny Navaratnam
Premier: West Coast
Runner-up: Hawthorn
Wooden spoon: Essendon
Moving up: Port Adelaide
Set to fall: Adelaide
Brownlow Medal: Gary Ablett
Coleman Medal: Lance Franklin
NAB AFL Rising Star: Darcy Parish
Recruit of the year: Patrick Dangerfield
Surprise All Australian: Marley Williams
Headline you'll see: Round 23 Blues and Dons clash to decide No.1 pick
Headline you won't see: O'Meara re-signs at the Suns
Coach under the pump: Chris Scott
How many games will Carlton win? Three
Where will Cale Hooker play in 2017? Fremantle
Ladder
West Coast
Hawthorn
Port Adelaide
Fremantle
Richmond
Sydney Swans
North Melbourne
Western Bulldogs
—
Collingwood
Greater Western Sydney
Geelong
Adelaide
Melbourne
St Kilda
Brisbane Lions
Gold Coast
Carlton
Essendon
Chad Wingard and the Power remain a hard team to predict. Picture: AFL Media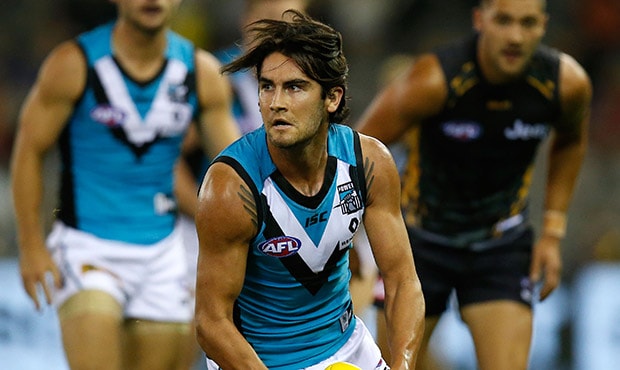 Peter Ryan
Premier: West Coast
Runner-up: Fremantle
Wooden spoon: Essendon
Moving up: Collingwood
Set to fall: Adelaide
Brownlow Medal: Patrick Dangerfield
Coleman Medal: Jack Riewoldt
NAB AFL Rising Star: Darcy Moore
Recruit of the year: Patrick Dangerfield
Surprise All Australian: Jack Viney
Headline you'll see: Is Geelong the real deal?
Headline you won't see: Fairytale streak continues for Bombers
Coach under the pump: Justin Leppitsch
How many games will Carlton win? Two
Where will Cale Hooker play in 2017? Fremantle
Ladder
West Coast
Hawthorn
Geelong
Fremantle
Western Bulldogs
Sydney Swans
Collingwood
North Melbourne
—
Greater Western Sydney
Port Adelaide
Richmond
Melbourne
Gold Coast
Adelaide
St Kilda
Brisbane Lions
Carlton
Essendon
Nathan Schmook
Premier: West Coast
Runner-up: Hawthorn
Wooden spoon: Essendon
Moving up: Greater Western Sydney
Set to fall: Adelaide
Brownlow Medal: Dustin Martin
Coleman Medal: Josh Kennedy (West Coast)
NAB AFL Rising Star: Jacob Weitering
Recruit of the year: Patrick Dangerfield
Surprise All Australian: Devon Smith
Headline you'll see: Fourth time lucky for Tigers
Headline you won't see: Winners all round in new CBA
Coach under the pump: Ross Lyon
How many games will Carlton win? Two
Where will Cale Hooker play in 2017? Essendon
Ladder
West Coast
Richmond
Hawthorn
Geelong
Western Bulldogs
Fremantle
Port Adelaide
Sydney Swans
—
Greater Western Sydney
North Melbourne
Collingwood
Adelaide
St Kilda
Gold Coast
Melbourne
Brisbane Lions
Carlton
Essendon
Matt Thompson
Premier: North Melbourne
Runner-up: Hawthorn
Wooden spoon: Essendon
Moving up: Collingwood
Set to fall: Fremantle
Brownlow Medal: Gary Ablett
Coleman Medal: Lance Franklin
NAB AFL Rising Star: Christian Petracca
Recruit of the year: Patrick Dangerfield
Surprise All Australian: Elliot Yeo
Headline you'll see: Gold Coast curse continues
Headline you won't see: Pies sack Buckley
Coach under the pump: Damien Hardwick
How many games will Carlton win? Four
Where will Cale Hooker play in 2017? Fremantle

Ladder
North Melbourne
Hawthorn
West Coast
Collingwood
Sydney
Geelong
Port Adelaide
Richmond
—

Fremantle
Greater Western Sydney
Western Bulldogs
Melbourne
Adelaide
Gold Coast
St Kilda
Brisbane
Carlton
Essendon
Ryan Crowley has 'topped up' the Dons but they're still wooden spoon favourites. Picture: AFL Media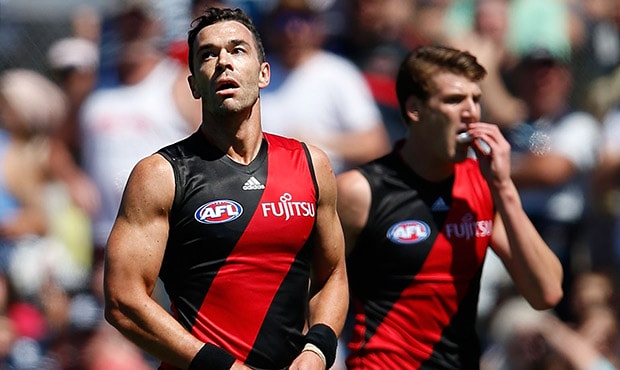 Callum Twomey
Premier: West Coast
Runner-up: Hawthorn
Wooden spoon: Carlton
Moving up: Collingwood
Set to fall: Adelaide
Brownlow Medal: Patrick Dangerfield
Coleman Medal: Lance Franklin
NAB AFL Rising Star: Darcy Parish
Recruit of the year: Adam Treloar
Surprise All Australian: Mark Baguley
Headline you'll see: Strike looms as players fight for more money
Headline you won't see: Paul Roos reneges on handover coaching deal with Simon Goodwin
Coach under the pump: Ken Hinkley
How many games will Carlton win? Three
Where will Cale Hooker play in 2017? Essendon
Ladder
West Coast
Hawthorn
Sydney Swans
Geelong
Fremantle
Western Bulldogs
North Melbourne
Richmond
—
Collingwood
Port Adelaide
Greater Western Sydney
Adelaide
Melbourne
Gold Coast
St Kilda
Brisbane Lions
Essendon
Carlton
Michael Whiting
Premier: Hawthorn
Runner-up: Sydney Swans
Wooden spoon: Carlton
Moving up: Port Adelaide
Set to fall: North Melbourne
Brownlow Medal: Nat Fyfe
Coleman Medal: Josh Kennedy (West Coast)
NAB AFL Rising Star: Darcy Parish
Recruit of the year: Patrick Dangerfield
Surprise All Australian: Stefan Martin
Headline you'll see: Giants make first trip to the finals
Headline you won't see: Bombers defy the odds and storm towards September
Coach under the pump: Damien Hardwick
How many games will Carlton win? Four
Where will Cale Hooker play in 2017? Hawthorn

Ladder
Hawthorn
West Coast
Sydney Swans
Port Adelaide
Richmond
Geelong
Fremantle
Greater Western Sydney
—
North Melbourne
Collingwood
Gold Coast
Adelaide
Western Bulldogs
Melbourne
St Kilda
Brisbane Lions
Essendon
Carlton