ESSENDON'S 2018 season was a write-off by round eight.
On the evidence of its opening two matches this year – losses to GWS and St Kilda – the Bombers' campaign will be hitting that same status a whole lot earlier.
There are so many issues Essendon needs to address.
Leadership is a major problem. Not Dyson Heppell's captaincy, but the structure and effect of the players around him. It's not working.
MIXED MESSAGES Leadership, communication problems at Dons
Michael Hurley is receiving criticism for some of his body language and that is unfair. Unlike some of his teammates, he hurts when his team is struggling, and it is staggering the club chose to take him out of the official leadership group.
John Worsfold took the Bombers to the finals in 2017, and has since benefited from the additions of Devon Smith, Jake Stringer, Adam Saad and Dylan Shiel. It doesn't make sense that this side has regressed, and he needs to rectify that. Instantly.
Matt Guelfi and Kyle Langford walked off to the bench while the ball was still in play.#AFLDonsSaints pic.twitter.com/03SopTq4tM

— AFL (@AFL) March 30, 2019
On Friday night, the Bombers will play the equally disappointing Melbourne in a match that will be billed as intriguing, but for reasons opposite to what we thought before the season started.
DEMONS MISFIRING Clinical Cats romp past Goodwin's men
After a top-four finish last year, the Demons were touted as premiership possibilities. They might still be, but they were smashed by Geelong on Saturday night after a lacklustre opener against Port Adelaide.
Looking forward to seeing who will stand up under the pressure of Friday night lights. Not one player or coach goes into the game without big questions already being asked. It will be season-shaping for everyone involved.
Bevo's Dogs turn back the clock
They're back, the 2016 Western Bulldogs.
Whether that's enough to go deep into the 2019 season doesn't matter right now. What does matter is that the manic and fearless style has returned after a two-year disappearance.
NINE THINGS WE LEARNED Time to find your mojo, Tigers
Hawthorn was without Shaun Burgoyne and Liam Shiels for most of the final term at the MCG yesterday, and questionable umpiring decisions resulted directly in Bulldogs goals late in the last quarter.
But for a team that was the fourth lowest-scoring outfit in the 2018 season to bang through the game's last eight goals was proof that the spark had returned.
WATCH Josh Schache stars in Dogs' comeback
With Tom Liberatore back, the Dogs are now 2-0, with Gold Coast at Marvel Stadium up next. We'll get a proper feel for the Dogs' 2019 standing the following week in round four. Friday night game versus Collingwood. Can't wait – can we fast forward to it?
This is nuts! #AFLHawksDogs pic.twitter.com/NhDgtgf7If

— AFL (@AFL) March 31, 2019
Time to overhaul the Match Review. Again
RECKON it's time for Steve Hocking to revamp the entire match review process.
The current model is just not working, and probably never has. Trent Cotchin gets to play in a Grand Final because it feels right to allow him to, despite the "rules" saying he shouldn't have.
Ben Cunnington punches an opponent last week and is clear to be among the best afield at Marvel Stadium on Sunday.
Ben Cunnington and Nathan Wilson were involved in an incident in the last quarter of #AFLFreoNorth. pic.twitter.com/dd4CIKtKBU

— AFL (@AFL) March 24, 2019
And now Mason Cox is somehow, as it stands anyway, ineligible for round three simply because he braced for Dylan Grimes running into his 211cm, 105kg frame.
While there are checkpoints for the Match Review Officer to apply to each incident, ultimately an opinion on each incident is required to be applied.
Which is why the old Ian Collins style of match review administration is what we'd suggest a return to. Forget the gradings, forget the medical reports, just focus on the intent. And please, apply a "feel" for the game which this suffocating current system doesn't.
It couldn't be worse than the weekly mess we get.
Find In the Game on Apple Podcasts, Google Podcasts or Spotify
53,034 … a beautiful number
It says something about the dominance of a footballer who is unable to play for more than a quarter of a Grand Final and yet still be adjudged best afield.
And so it was beautifully touching, right and sad that Adelaide's Erin Phillips was awarded the medal for the 2019 NAB AFLW Grand Final's best player, as she was in the inaugural AFLW season in 2017.
CROWS ROMP HOME Second AFLW flag heads to Adelaide
Phillips accepted the accolades knowing that a third-quarter buckling of her left knee – the one in which the ACL hadn't previously been ruptured - would require a full reconstruction.
Incredibly, 53,034 people jammed into Adelaide Oval for the Crows-Carlton Grand Final. Pre-match expectations had a ceiling on the crowd of 30,000.
The huge Adelaide crowd was behind their skipper 100 per cent. Picture: AFL Photos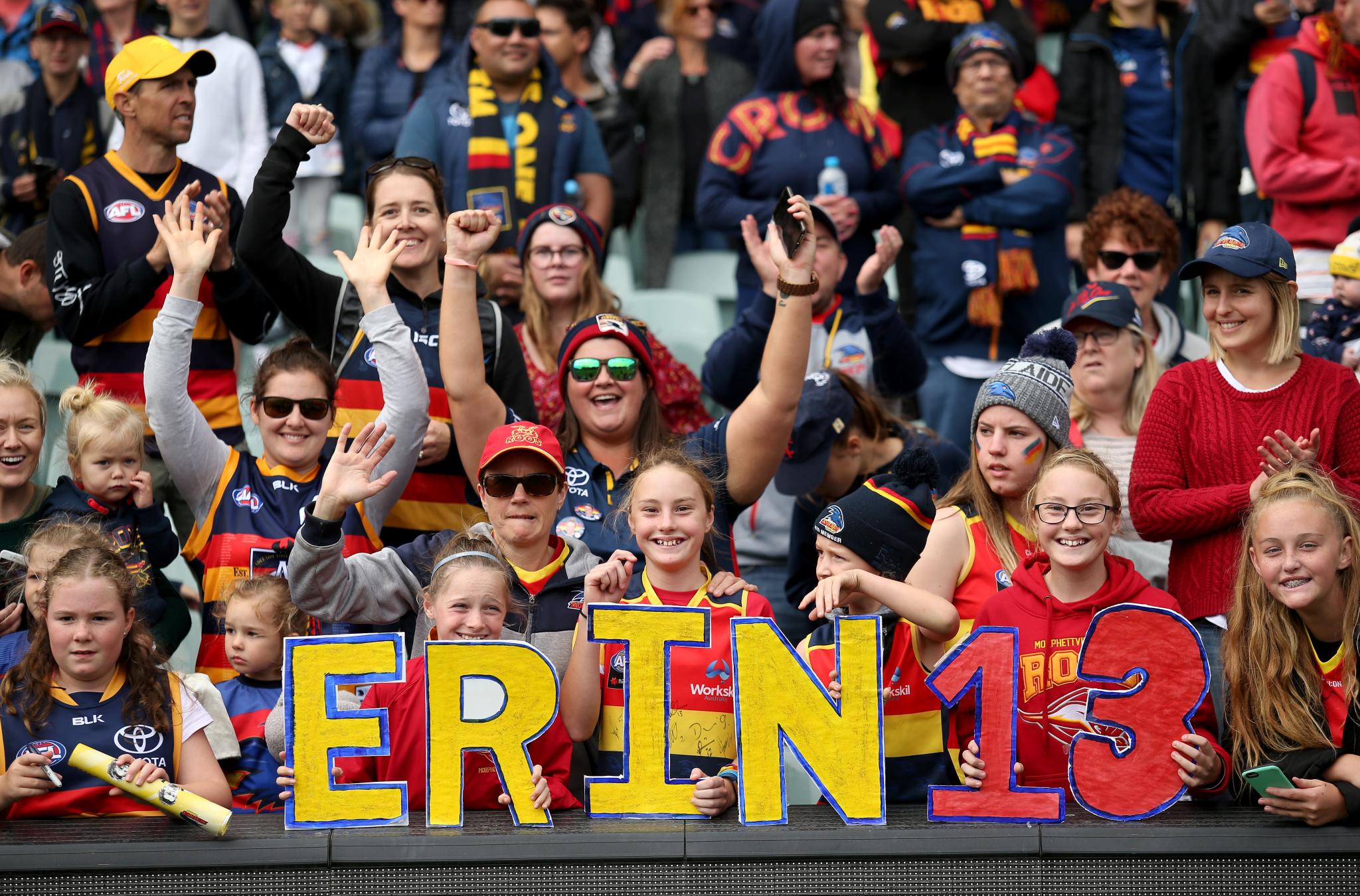 The accolades for Phillips are expected to continue on Tuesday night, where the season's Most Valuable Player will be named.
Phillips is tipped to be that person, as she was in 2017. If she does receive a second MVP gong, AFLW officials should consider naming the competition best-and-fairest award the Erin Phillips Medal.
This. Is. Nuts.
Top level just being opened up now #AFLWGF pic.twitter.com/n1dN3DBVkp

— Sarah Black (@_sjblack) March 31, 2019
McGuire and microphones
Even Eddie McGuire's biggest haters wouldn't be able to accuse him of personally directing his Friday night comments about coin tossing at Cynthia Banham. Because he didn't.
But that doesn't mean his words can be simply dismissed, and that they aren't a problem for him and his network, Foxtel.
So many questions, including: why the need to obsessively talk, and attempt to joke, about something as irrelevant in the broadcasting of a match of football as coin tossing, anyway? And how can one person keep finding himself saying things into a microphone which raise ire?
Sydney chairman Andrew Pridham is still livid over McGuire's 2013 comments about Adam Goodes, and is particularly focused on the latter question. Among the many public offerings Pridham made over the weekend, this cut to his and the Swans' core: "Eddie needs to focus less on his too-frequent sincere apologies and more on tolerance and respect."
Swans chairman Andrew Pridham has aired his anger over Eddie McGuire's comments. Picture: AFL Photos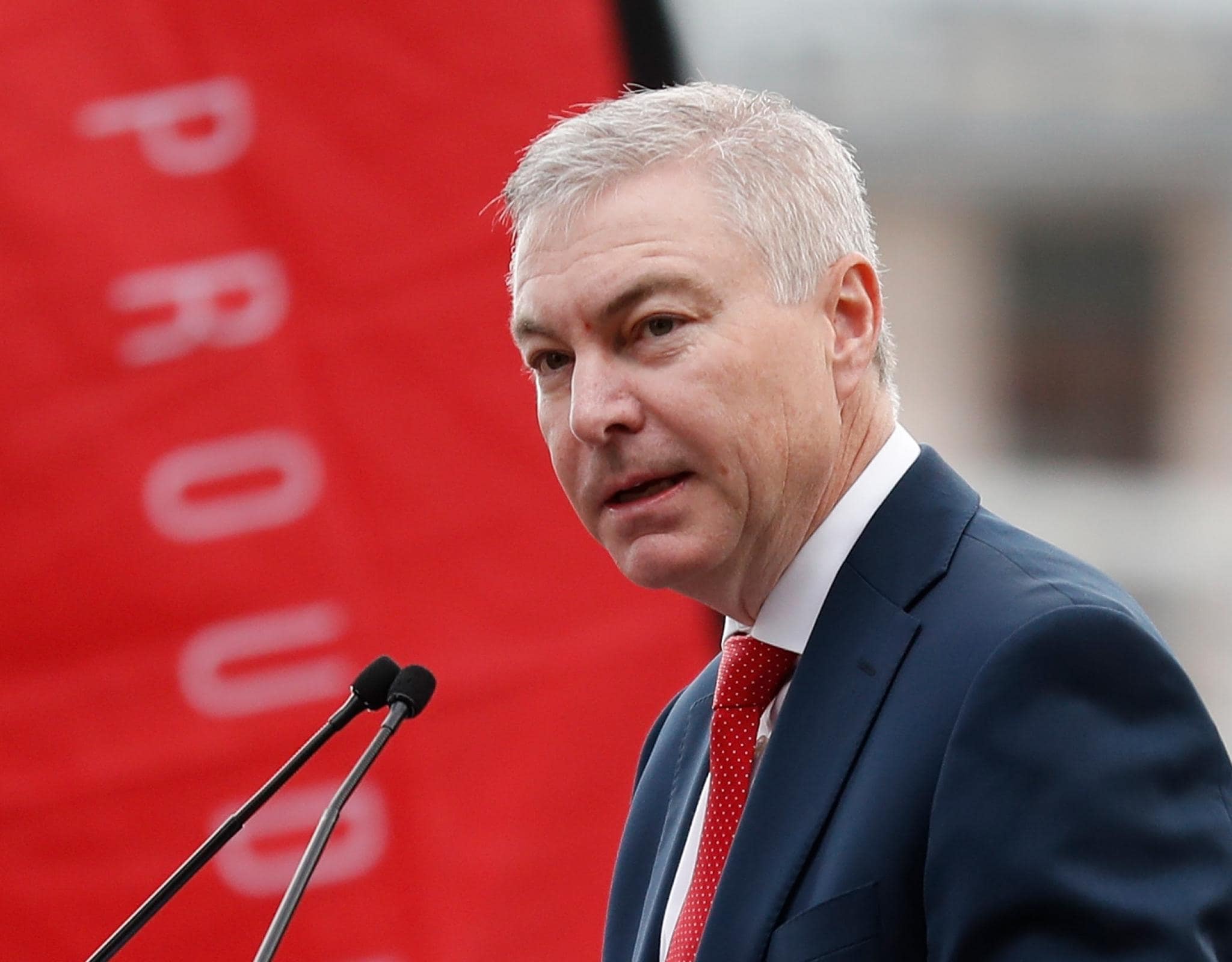 Pridham isn't alone in pushing for consideration to be given to an official AFL headquarters finding against McGuire under the respect and responsibility obligations and policies which apply to everyone operating in the football industry.
McGuire might seek to pre-empt action. He apologised at his first opportunity in Friday night's broadcast, and then did so again throughout the course of Saturday. He stood himself down from broadcasting duties on Fox Footy on Saturday evening, and will address the issue on his Triple M breakfast program on Monday.
Reckon that his read on his latest saga – which has come from conversations with Pridham, the AFL's and Foxtel's highest-ranked executives – will see him self-impose sanctions some time after 6am Monday.
Scott's brave punt on youth pays off
It takes genuine courage as a coach to give four players a debut AFL match in round one of a season.
It takes nearly as much to allow those kids to play meaningful match roles in the first two games of the season, at the expense of Joel Selwood and Gary Ablett.
Chris Scott has revamped Geelong on the back of youth. As it was in round one against Collingwood, against Melbourne on Saturday night it was Paddy Dangerfield who was the best player afield.
CLINICAL CATS Demons handed a lesson down the highway
But also as it was the previous week, it was the faith placed in Charlie Constable, Gryan Miers, Jordan Clark and Tom Atkins which provided the team with the spark.
Tom Hawkins' decision to gift Clark his first AFL goal was a genuinely warm football moment.
FANTASY FORM WATCH Pig, rage trades and your questions
It underlined Hawkins' already highly regarded 'good bloke' status, but more importantly displayed the new, all-inclusive, youth-empowering Geelong of 2019.
Tom Hawkins is looking after the young Cats!

Jordan Clark kicks his first goal in the AFL.#AFLCatsDees pic.twitter.com/vSCZoEiLv8

— AFL (@AFL) March 30, 2019
North in no-man's land
Three clubs – Essendon, Melbourne and North Melbourne – entered round two needing to atone for abysmal season-opening performances.
The first two again failed badly on the weekend, and the Roos were only marginally better.
KANGAS SWAMPED Lions' charge sinks North
They're in no man's land, the Roos. Losses to the 14th and 15th-placed teams from last year, with games against Hawthorn and Adelaide to come in the next fortnight.
Without Ben Cunnington, they would have been even more exposed against the Lions at Marvel Stadium yesterday.
Fagan's men start to walk the walk
The Lions' 2019 surge is real. Whether it takes the club to the finals, who knows? Regardless, it's going to be an exciting journey.
It was the reigning premiers last week, and North Melbourne on Sunday. Last year, Brisbane would've lost both games narrowly and gallantly.
The Lions are still young and developing, but there's enough genuine star power and maturity in Charlie Cameron, Harris Andrews, Lachie Neale and Luke Hodge to make every opponent this year worried about the possibilities.
Lincoln McCarthy comes up clutch!#AFLNorthLions pic.twitter.com/MT5Y3ovtJW

— AFL (@AFL) March 31, 2019
A new Saints' No.1
Jade Gresham may be St Kilda's most important player.
He certainly was on Saturday against Essendon. Jack Billings and Josh Bruce also crucial.
Gresham is tracking beautifully in a career entering its fourth season and is ready to break Jack Steven's and Seb Ross' recent hold on the Saints' best-and-fairest award.
St Kilda deserves sizeable praise for its 2-0 start to 2019, particularly for the way Gresham, Billings and Ross steadied the team when the Bombers challenged.
GRESH!

Is that enough for the Saints? #AFLDonsSaints pic.twitter.com/Z3xHnFHqP3

— AFL (@AFL) March 30, 2019
Dockers sunk by defender they didn't want
SAM Collins. What a story.
Drafted by the Dockers at 21. Fourteen AFL games in two years. Delisted. More VFL time. A reprieve late, when the Suns used special AFL rules to add him late to their 2019 list.
AROUND THE STATE LEAGUES Who starred for your club?
Then in the final 30 seconds of a round two AFL match for the Suns against the Dockers, a towering, match-saving and ultimately match-winning mark.
Co-captain David Swallow was again the Suns' best. Official leadership works for him. Jack Martin, Alex Sexton and Jarrod Harbrow were also great, but it was Collins' act which best captured this new Suns team, nine years into their AFL life.
̶L̶E̶O̶ ̶B̶A̶R̶R̶Y̶ ̶

SAM COLLINS YOU STAR! ⭐️#AFLSunsFreo pic.twitter.com/vQdq5eVQLW

— AFL (@AFL) March 31, 2019