ALEX Young recalls a chat last year with Joel Crocker, son of Kangaroos premiership forward Darren, while they toured South Africa with an Australian schoolboys' team.
The conversation centred on Crocker's father-son eligibility for North Melbourne, where his dad played 165 games.
Young's father, Matt, also made triple-digit AFL appearances between 1994 and 2001.
The problem is 21 of them came for Hawthorn and the other 97 were for St Kilda, leaving the Dandenong Stingray three matches short of being a Saints father-son option.
Young, a St Kilda fan, doesn't get caught up in his misfortune-of-sorts and is more concerned with putting himself back on the AFL map.
The 17-year-old's past two seasons since returning from South Africa were a nightmare, with a broken finger and multiple ankle and hamstring problems curbing his on-field progression.
Young, who lives in Pakenham and plays locally for Beaconsfield, also missed Vic Country under-16 selection, in a further blow.
He has redemption in mind next year, including a strong TAC Cup start for the Stingrays to try and earn an audition for Vic Country's under-18 squad.
"I was the only Australian boy (from the schoolboys' side) not to make a state team, so it was pretty devastating," the 179cm forward-midfielder told AFL.com.au.
"It made me feel pretty bad about myself. It makes you realise things don't just happen for you – you've got to earn it."
But none of that compared to Young losing his mother, Adele, in July this year.
His parents split a long time ago and Adele moved to Perth in 2015, but they remained close and in regular contact.
"Your world turns upside down, but all the Stingrays leaders, like (Saints top-10 recruit) Hunter Clark, were really good to me," Young said.
"It'd be an honour (to make the AFL), especially with mum passing away. I want to make her proud – and my dad, too. It would mean the world to me."
Young's father, who is VFL club Casey Demons' general manager, wants his son to live his own dreams and thinks falling short of father-son eligibility might be "a blessing in disguise".
"That doesn't guarantee they're going to take you," Matt Young said.
"He'll get to a club if he's good enough and can forge his own career. He's got the attributes to do that.
"He's a good competitor, has good pace and can kick the footy with depth and penetration, but he's got some things he's got to work on, like getting fitter."
That's been the knock on Young for a while and saw him play in an unfamiliar role as a small forward in his three games for the Stingrays in 2017.
The TAC Cup club has put the teenager, who has shaken a hamstring issue, on a running program in the Christmas break with an eye to him graduating to the midfield next season.
"It's a good learning tool (having an ex-AFL player for a dad), just to understand what it's like and how you get to the level," Young said.
"He's still at Casey now, so he knows what the system's like and can explain it in more detail to me, which is good.
"But he wants me to want it more, instead of him giving it to me. If kids want to be good, they'll do it themselves and feel better about it."
Matt Young (r) celebrates a St Kilda win with Steven Baker and Damian Monkhorst. Picture: AFL Photos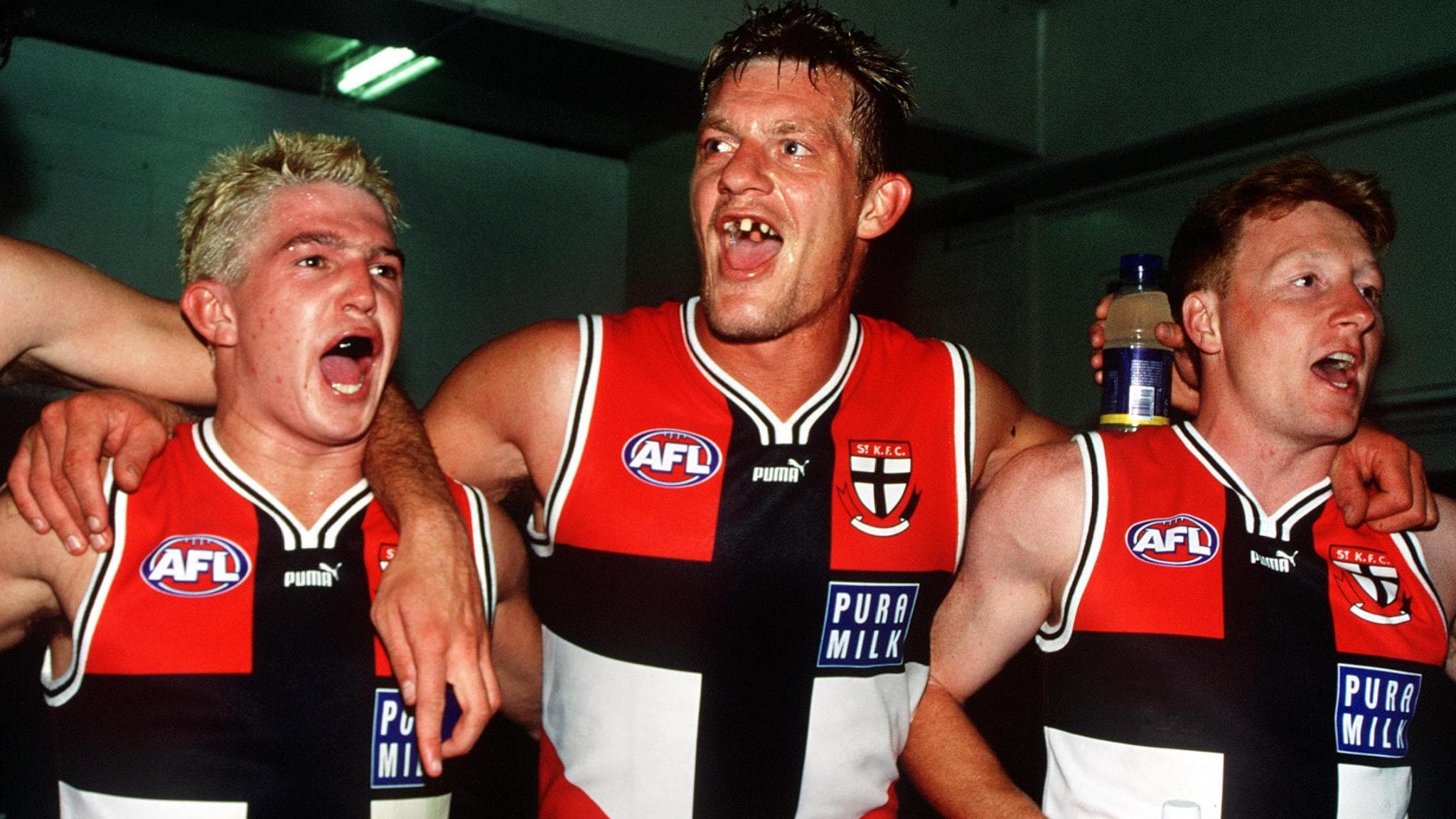 2018 FATHER-SON PROSPECTS
Nick Blakey (son of John)
Jake Bradshaw (son of Daniel)
Oscar Brownless (son of Billy)
Joel Crocker (son of Darren)
Mason Fletcher (son of Dustin)
Zac Hart (son of Ben)
Will Hickmott (son of Adrian)
Lochlan Hocking (son of Garry)
Will Kelly (son of Craig)
Oskar Manton (son of Glenn)
Baxter Mensch (son of David)
James Rendell (son of Matt)
Bailey Scott (son of Robert)
Ben Silvagni (son of Stephen)
Casey Voss (son of Michael)
Rhylee West (son of Scott)