VETERAN Sydney umpire Frank Kalayzich will notch his landmark 500th first grade game this weekend, with two very special guests blowing the whistle alongside him.
'Razor' Ray Chamberlain and AFL umpiring games record-holder Hayden Kennedy will join Kalayzich as AFL Sydney field umpires with Chamberlain backing up after officiating the Swans and Richmond game the night before.
Adding to the occasion, the match is a top-of-the-table clash between East Coast Eagles and Manly at Weldon Oval in Manly at 2:30pm.
Kalayzich, born and bred in Manly, will become the first umpire to 500 games in NSW/ACT and one of the few field umpires in Australia to achieve the feat.
An almost permanent fixture in Sydney umpiring circles, Kalayzich also officiated in 50 VFL reserves games, a couple of years in rural Queensland and five years of junior umpiring.
The man affectionately dubbed 'Frankie K' has been close friends with Chamberlain for more than 15 years, bonding during Razor's time plying his trade in Sydney in the late 1990s.
"I will be absolutely pinching myself on Saturday, to have the opportunity to umpire alongside Ray and Hayden in a community game is something no other umpire has been afforded," Kalayzich said.
"I won't want the game to end, and I am really grateful to Hayden for coming out of retirement and Ray for backing up after what I'm sure will be a tough match at the SCG less than 24 hours beforehand."
Kennedy and Kalayzich umpired a VFL reserves game together in 1987 at the SCG, the year before Hayden was added to the AFL umpires list.

The Swans played Richmond that night, and coincidentally the exact same fixture will play out on Friday night in Sydney, with Chamberlain in charge on the field, Kennedy taking notes in his role as AFL Umpires coach and Kalayzich the keenest of spectators.

Kalayzich began umpiring in 1978 in the North Shore Junior Football competition and has umpired every year since, bar 2001.

In 1983 he umpired his first senior match, presiding over his first top-level Sydney fixture three years later.
In a career flush with highlights, Kalayzich has umpired 10 first grade Grand Finals, including last year's decider at 52 years of age.
Despite his stocky frame, Frankie K is an elite runner, beginning his career in the days where only two field umpires where permitted, where he estimates he'd clock "close to 25 kilometres" over four quarters.
As a 19-year-old he once beat future Sydney Swans Team of the Century inductee Tony Moorwood over a mile at half-time of a 1982 AFL Sydney Grand Final, pocketing $500 for his troubles.
"It felt like being handed a million dollars back in those days," Kalayzich says.
Keeping fit while enjoying the vagaries of high level football have been the main reasons Kalayzich has lasted long after most 'fieldies' have hung up their whistles.
He also credits his longevity to chiropractor Damien Benson, whose magic fingers have ensured Frankie K has never missed a home and away game through injury.
Unsurprisingly for a man who has been involved with football for almost the entirety of his 53 years, Kalayzich has plenty of interesting anecdotes he enjoys touching on.
There was the time after a pre-season match when dual Brownlow medallist Greg 'Diesel' Williams implored him to 'show more mongrel' with the whistle - the earnest advice coming in the combined player/umpire showers!
Frank Kalayzich in action in the late 1980s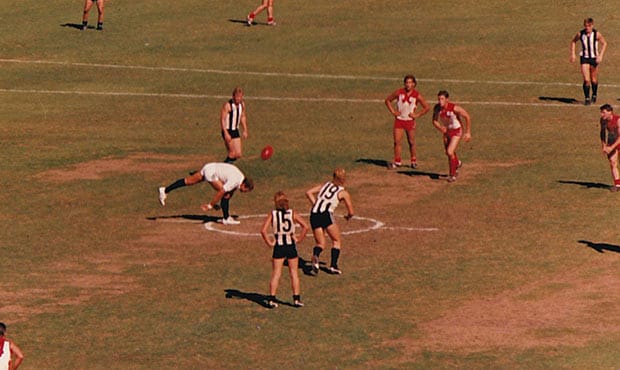 Or the moment during his two-year stint in Toowoomba in the late 1980s when he was adamant he'd play with the local University side for $60 a game, before being persuaded to continue umpiring instead when he found out he could make an extra $10 per match and "not get bashed around."
That decision marked a turning point in his umpiring career, and the move to continue officiating rather than returning to playing is something Chamberlain will be eternally grateful for, so strong was Kalayzich's mentorship long before the kid from Canberra was ever branded 'Razor.'
"Frankie K has, without doubt, been one of the strongest influences on my career in umpiring, his selflessness, support of others, loyalty and work as an educator/mentor of fellow umpires is incredibly admirable," Chamberlain says.
"From the very first time I met Frank he impressed me enormously with his high standards, an unrelenting desire to improve and learn, humility, passion for the game, and his authentic, transparent manner.
"I am extremely excited and humbled to be able to share in Frank's magnificent achievement of 500 games.
"But I am most proud to be able to call 'Frankie K' my mate."